There's been a flame war waging on Seeking Alpha pitting the "dividend growth crowd" against the "invest for total return crowd." Underneath it all, there seems to be this rationale that an investor needs to be either or. However, we would argue that you can have and be both. You can position your portfolio as a dividend growth investor with the objective of investing in companies that offer the potential to increase their dividend every year. Simultaneously, and by definition, you can and should also expect capital appreciation that is consistent with your expected dividend growth rate.
This is simply because dividends come from earnings, and the only way that one could rationally expect to see an increase in dividend income each year is to expect to see a corresponding increase in the company's earnings as well. However, in order for this increasing income and above-average total return objective to successfully happen, you have to be careful to only invest in an above-average growing business when valuation is aligned at the earnings justified level. Do this correctly, and you can achieve a growing income stream coupled with attractive capital appreciation. This article will present our view of how to implement a strategy that can accomplish both of these goals.
In order to efficiently fulfill our objective, we are going to borrow from the good work of Seeking Alpha author Norman Tweed and his recent article titled "Retirement Portfolio For Do It Yourselfers." The following excerpt from his article presented a real-life portfolio of blue-chip dividend growth stocks that support the thesis of the dividend growth crowd, a.k.a. "dividend zealots". However, we intend to also illustrate that his article and this real-life portfolio simultaneously supports the "invest for total return" diehards. In other words, a sound and successful investing strategy does not have to be either or.
From Norman Tweed's article - "Retirement Portfolio for Do It Yourselfers": "Recently, a friend who is still working sent me a list of dividend growth stocks, which has had a good income growth since 2006. He asked me to present the results and here they are.

The portfolio consists of 10 dividend growth stocks: Abbott Labs (ABT), Colgate (CL), Johnson & Johnson (JNJ), Coca Cola (KO), Procter & Gamble (PG), AT&T (T), Exxon Mobile (XOM), Kimberly Clark (KMB), McDonald's (MCD), and Wall-Mart Stores (WMT). An initial investment (01/04/2006) of $100,000 was divided equally into 10 positions and the dividends were not re-invested. These are all Dividend Champions with 25 or more years of dividend increases. The results are as of 12/31/2010. Although this portfolio grew over the 5-year period through price appreciation, the point of interest is the income and income growth over the period. Dividends and Income growth are presented below:"
Norman Tweed included the following graphic illustrating the capital appreciation component of each of his 10 featured blue-chip dividend growth stocks. He also presented two additional graphics showing the increase in dividend income for each company on his list. Although his article focused first on a growing income stream and secondarily on capital preservation for his friend, it also supported the total return objective. Note from the below graphic only American Telephone (NYSE:T) failed to hold its value.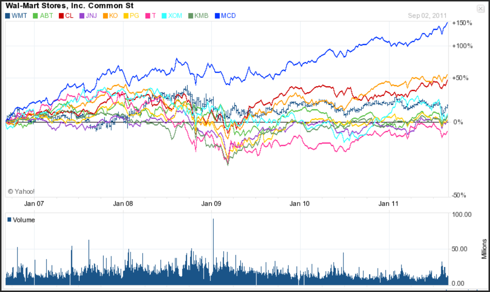 Click to enlarge
(Click to enlarge)
The Reasons Why the "Retirement Portfolio For Do It Yourselfers " Succeeded
Norman Tweed's article presented a solid case for the dividend growth crowd to hang their hat on. However, with this article we intend to go beyond Norman's excellent work by providing insights into the reasons why this real-life portfolio performed so well. Although the above graphic showed that there was price volatility (a euphemism for falling stock prices) during the great recession, it's important to realize that each of these companies increased their dividend above what they paid each prior year right through and including the great recession years.
The following table generated courtesy of F.A.S.T. Graphs™ summarizes these same 10 companies plus the S&P 500 as a benchmark, covering the period January 31, 2006 to September 6, 2011. (Note that this is a slightly different but similar time frame as compared to Norman Tweed's graph). The third column titled annualized performance shows the total return including dividends for each company and the S&P 500 index.
Clearly, each of these blue-chip stalwarts outperformed the S&P 500 on a total return basis, capital appreciation plus dividends. Although many of my dividend growth investing friends would argue that they care little about beating the S&P 500, it's nevertheless interesting that each of these companies did. Moreover, they not only generated more capital appreciation, but they also generated significantly more dividend income. The table lists these blue chips (plus the S&P 500) in order of highest total return (annualized performance) to lowest.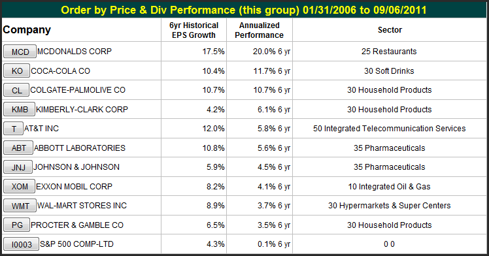 Click to enlarge
(Click to enlarge)
In order to provide the promised reasons why this portfolio outperformed, we will look at each company individually through the lens of the graphs. However, first a few positioning statements and investing principles are in order. The following graphical study provides undeniable insights into where and how performance comes from. First of all, it should be clear to the reader that performance is ultimately a function of earnings growth. However, a most important secondary consideration is the value or valuation you pay to buy those earnings. In other words, long-term performance is a function of earnings growth coupled with valuation.
Here are a few explanatory words on how to interpret these historical graphs. The orange line plots earnings per share each year and represents the True Worth™ value of the company. The green shaded area represents earnings and the light blue shaded area shows dividends paid out of those earnings. The dark blue line shows the historically normal PE ratio that the market has applied to the company's stock price. The black line represents monthly closing stock prices.
Very simply stated, when the black price line is above the orange earnings justified valuation line, the stock is overvalued. When the price touches the orange line it's fairly valued, and when the price is below the orange line the stock is undervalued. The key takeaway when reviewing these earnings and price correlating graphs is to notice the effect that beginning valuation and ending valuation has on performance in conjunction with and adjusted to earnings growth.
The impacts of valuation and earnings growth can be seen through closing annualized ROR (rate of return) on the associated performance tables accompanying each graph. For clarity, a brief commentary on valuation and earnings growth will be provided. The dividend cash flow table shows the dividend per share growth, the dividend growth rate, the payout ratio, and the actual cash dividend. The last column shows the impact of growth yield (yield on cost) generated by the dividend increasing every year.
The F.A.S.T. Graphs™ research tool bases its performance table on the assumption of investing $100,000 in each company. (Note: by merely moving the decimal points the reader can think of this as $10,000, $1,000 or merely 100% if any of those numbers are more comfortable). Therefore, this study is theoretically depicting a $1 million stock portfolio where $100,000 increments are invested in each of these 10 Dividend Champion companies. Norman Tweed used a $100,000 portfolio, but the percentage results are the same. A summary performance table showing the investor's annual income and the growth of that income each year will be provided at the end of this article.
McDonald's Corp.
It's easy to see why the best performing stock of this group is McDonald's Corp. First of all, its earnings growth rate of 17.5% was the highest, and second, both beginning and ending valuation were almost perfectly aligned. Consequently, their historical normal PE ratio and their orange earnings growth rate line are in perfect alignment with each other.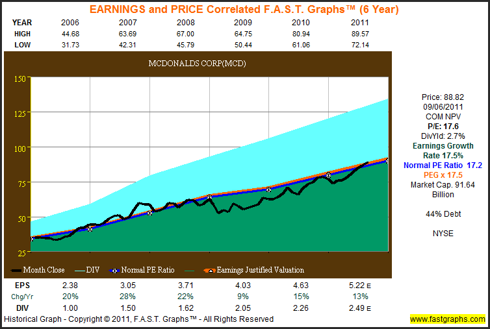 Click to enlarge
(Click to enlarge)
McDonald's growth yield story (yield on cost) is exceptional thanks to their strong earnings growth. A starting yield of 2.9% blossomed into an estimated yield on cost of over 7% for 2011. McDonald's total return is exceptional as compared to the very poor return from the S&P 500.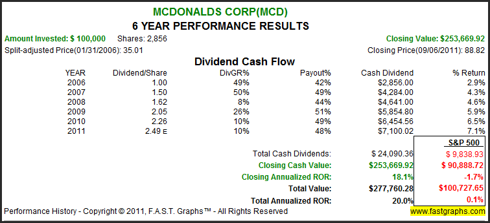 Click to enlarge
(Click to enlarge)
Coca-Cola Co.
Coca-Cola started out moderately overvalued relative to earnings, but in alignment with its historical normal PE ratio. Coca-Cola's share price ended only modestly below their normalized PE ratio. Therefore, the impact on capital appreciation should closely approximate earnings growth (see performance table).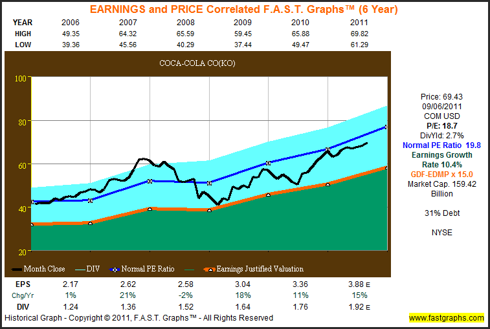 Click to enlarge
(Click to enlarge)
Coca-Cola's closing annualized ROR (rate of return) of 9.7% is very close to the earnings growth of 10.4%. The difference is attributed to its current price sitting modestly below its normal historical PE ratio. Coca-Cola's dividend increases tracks their earnings growth very consistently thereby generating a growth yield of approximately 10% per annum.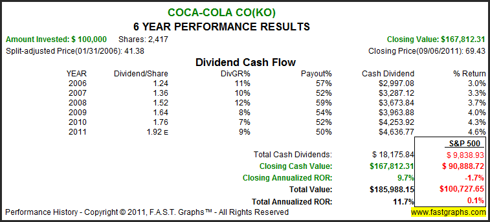 Click to enlarge
(Click to enlarge)
Colgate-Palmolive Co.

Colgate-Palmolive's earnings growth rate and starting and ending valuation closely approximate the situation we saw with Coca-Cola. Therefore, similar long-term results should be modestly discounted relative to their earnings growth because of modestly lower ending valuation.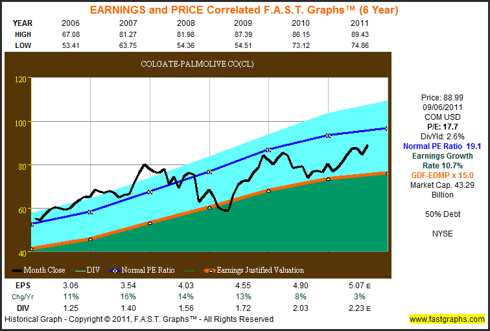 Click to enlarge
(Click to enlarge)
Colgate-Palmolive generated slightly lower total cash dividends than Coca-Cola due to their less generous dividend payout ratio. However, all other things being equal, the comparisons between Coca-Cola and Colgate-Palmolive are very similar.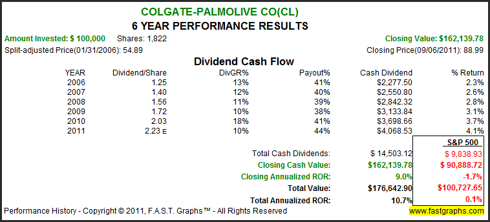 Click to enlarge
(Click to enlarge)
Kimberly-Clark Corp.
Kimberly-Clark achieved the lowest growth rate of earnings during this time frame. However, thanks to their stock beginning and ending at close to fair value and a higher than average dividend yield, they ended up being the fourth best performer of the 10.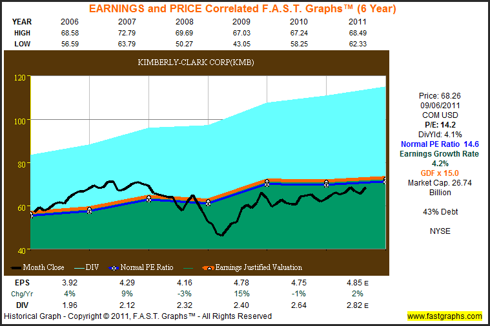 Click to enlarge
(Click to enlarge)
Kimberly-Clark only provided modest capital appreciation, but their strong dividend record almost doubled their total annualized ROR (rate of return). Nevertheless, Kimberly-Clark provided their shareholders an acceptable increase in pay every year from their dividend increases each year.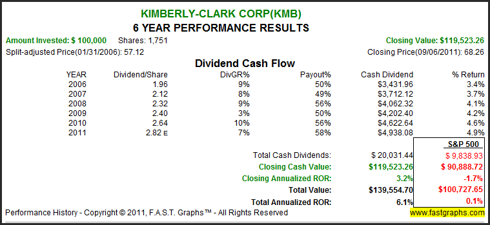 Click to enlarge
(Click to enlarge)
AT&T Inc.
The 12% earnings growth rate for AT&T is highly skewed due to a strong 68% earnings growth rate in 2006. This large increase in earnings growth is a result of the company's earnings recovering off of a very low base after four consecutive years of falling earnings. If you exclude the 2006 number, AT&T's earnings growth for the subsequent five-year period is only 3.2%.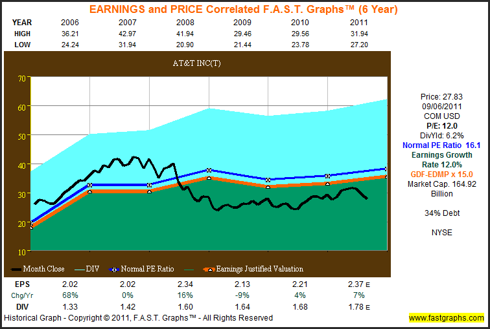 Click to enlarge
(Click to enlarge)
The performance table associated with AT&T shows that the majority of their performance can be attributed to their high dividend. Capital appreciation of 1.3% closely correlates to their average earnings growth since calendar year 2006, adjusted by ending low valuation. Nevertheless, their total income component was very strong; however, growth yield (yield on cost) is low but increasing each year.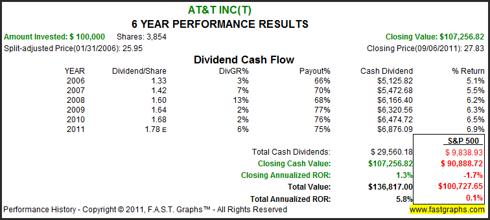 Click to enlarge
(Click to enlarge)
Abbott Laboratories
Abbott Laboratories generated earnings growth that was very similar to Colgate-Palmolive and Coca-Cola Co. However, a moderately high beginning valuation and a more moderately low ending valuation somewhat counteracted exceptional operating performance of Abbott Laboratories.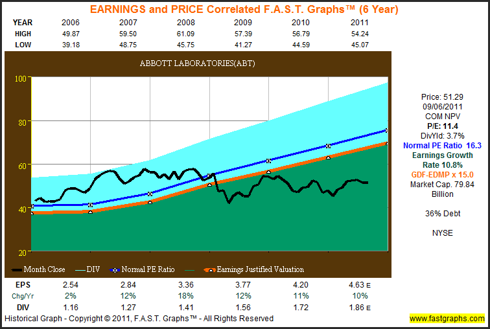 Click to enlarge
(Click to enlarge)
Abbott Laboratories' closing annualized ROR (rate of return) of only 3.1% is attributed to valuation issues. Earnings growth was very strong during this six-year time frame, but because the company started out overvalued and ended this time frame moderately undervalued, their capital appreciation component was minimized. However, their growth yield consistently tracked earnings growth resulting in a nicely growing annual stream of income.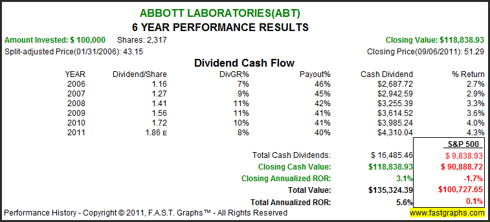 Click to enlarge
(Click to enlarge)
Johnson & Johnson
Johnson & Johnson grew their earnings at just under 6% per annum. This AAA rated blue-chip was moderately overvalued starting out and has ended this time period at a historically lower than normal valuation.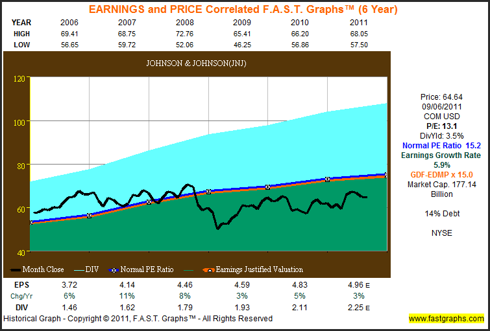 Click to enlarge
(Click to enlarge)
Johnson & Johnson did manage to outperform the S&P 500, however, capital appreciation of only 2.1% is a function of their 5.9% earnings growth reduced by low valuation. Their dividend record is quite nice providing their shareholders an increasing dividend income stream each year.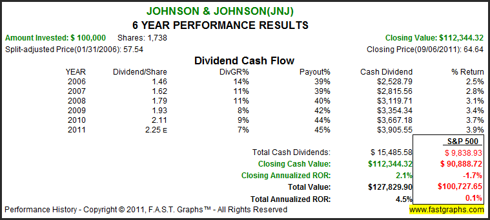 Click to enlarge
(Click to enlarge)
Exxon Mobil Corp.
Exxon Mobil Corp. is the only company in this group of 10 that showed any real earnings stress during the great recession. Earnings-per-share fell from $8.55 in 2008 by 53% to $4.02 in 2009. Nevertheless, average earnings growth of 8.2% was achieved thanks to earnings recovering in 2010 and 2011.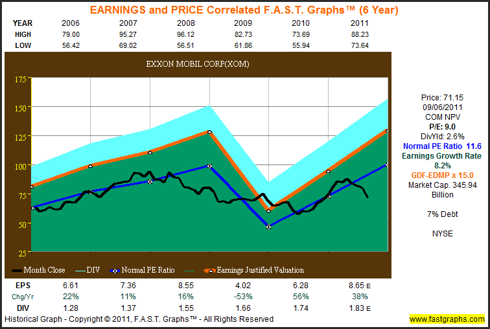 Click to enlarge
(Click to enlarge)
Although Exxon Mobil Corp. did suffer some earnings stress during the great recession, their strong balance sheet and cash flow generation allowed them to increase their dividend in spite of falling earnings. Current undervaluation has caused their total return to be less than their earnings record justifies. Although they do show growth yield, dividend growth in recent years has been lower than normal.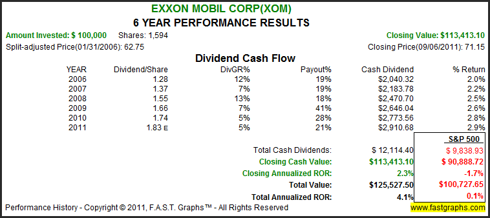 Click to enlarge
(Click to enlarge)
Wal-Mart Stores Inc.
Wal-Mart generated very consistent earnings growth averaging 8.9% since calendar year 2006. However, the company was moderately overvalued based on earnings in the beginning of this time period and currently undervalued based on their historical norm.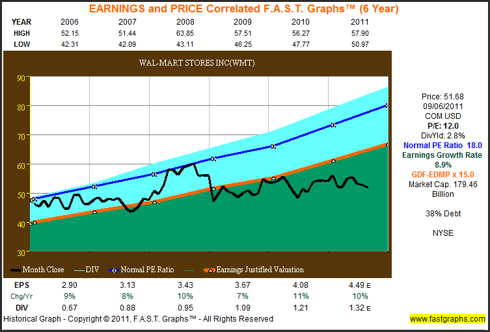 Click to enlarge
(Click to enlarge)
Wal-Mart did manage to outperform the S&P 500 even though performance suffered from valuation headwinds. Nevertheless, because of their consistent earnings growth their dividend has consistently grown year after year. The reader should note that today's low valuation offers an above-average entry-level dividend yield for this blue-chip.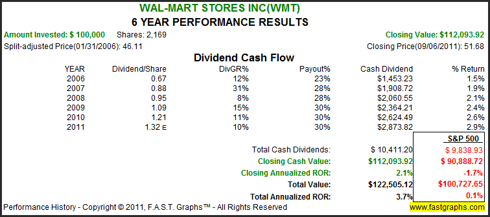 Click to enlarge
(Click to enlarge)
Procter & Gamble Co.
Procter & Gamble produced the lowest total return of this group of 10 companies attributed mostly to an excessive beginning overvaluation. Also, their average earnings growth rate of 6.5% ranked as the third weakest.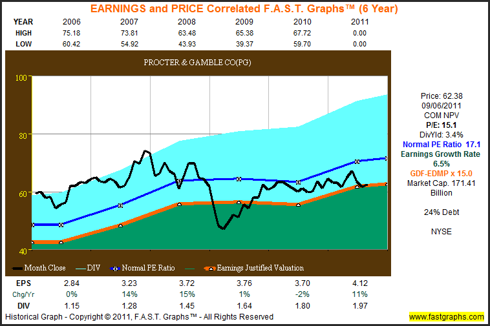 Click to enlarge
(Click to enlarge)
Even though Procter & Gamble started out the most overvalued company in the group, their dividend growth rate was not affected. Procter & Gamble grew their dividend at a double-digit rate during this time frame of below normal earnings growth, thanks for the most part to an expanding payout ratio.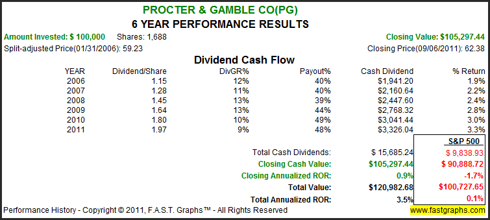 Click to enlarge
(Click to enlarge)
The S&P 500
The S&P 500 is included in order to provide a benchmark that the "invest for total return" diehards insist upon. The dividend growth investors are most concerned with their income increasing every year through dividend increases.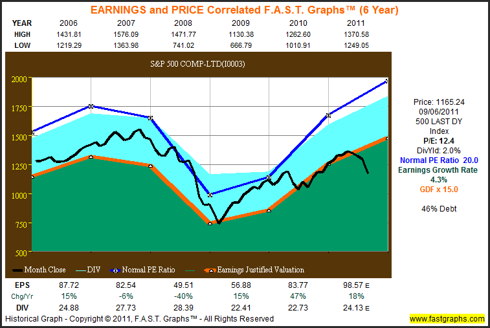 Click to enlarge
(Click to enlarge)
There are several interesting points that can be gleaned from showing the S&P 500 in comparison to these 10 blue-chip "Dividend Champion" dividend growth stocks. First of all, based on capital appreciation, and even fighting overvaluation headwinds, each of these 10 blue-chips outperformed the S&P 500. Additionally, not only did these Dividend Champions increase their dividend each year while the S&P 500 did not, their total cumulative dividends for each of these companies was also greater than what the S&P 500 generated.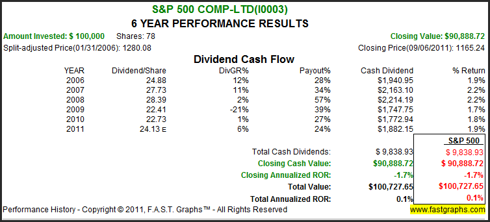 Click to enlarge
(Click to enlarge)
Summary
The following graphic shows the benefit that a portfolio of blue-chip dividend growth stocks can provide investors. The assumption is that the investor accumulated the million dollars over a lifetime of investing. Whether it came from investing in dividend growth stocks, pure growth stocks or a diversified portfolio that included other asset classes is of no consequence to this essay. What this writing is designed to illustrate is how attractive a well-designed portfolio of dividend growth stocks can be in terms of a growing dividend yield and capital appreciation.
Sample Portfolio 10 Blue-Chips ABT, CL, JNJ, KMB, KO, MCD, PG, T, WMT, XOM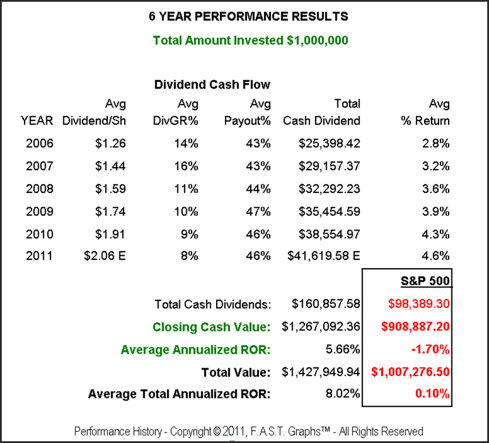 Click to enlarge
(Click to enlarge)
If this same portfolio were built today the entry average yield of 4.6% is much more attractive than the original 2.8% starting yield. Assuming reasonably similar earnings growth in the future implies a greater opportunity for stronger capital appreciation and a cumulative and growing dividend income stream. In other words, these blue chips appear to better bargains today than they were in 2006. This is the strategy we mentioned at the beginning of this article of how the investor can safely achieve both capital appreciation and a growing dividend income stream. Invest in high quality growing businesses when their prices reflect sound and attractive valuations.
Conclusions
This article was intended to point out the attractive benefits that dividend growth portfolios can provide. Frankly, we run both a growth portfolio and separately a dividend growth portfolio. Therefore, we see the advantages of both forms of investing and appreciate them both. Furthermore, we often mix a dividend growth stock such as Abbott Labs or McDonald's into our growth portfolios when we can buy them at attractive valuations. When the valuation is low enough and you add in a growing dividend yield, the total return provided by a conservative dividend growth stock can be exceptional. Consequently, these selections can reduce the risk without sacrificing the return of a portfolio comprised of the likes of Apple (NASDAQ:AAPL) or Google (NASDAQ:GOOG).
Furthermore, we are on the record of currently eschewing investing in bonds based on what we consider their aberrant risk profile because of today's low yields. We acknowledge that bonds have been strong performers in recent years due to the precipitous drop in interest rates. However, we also acknowledge that the future prices of bonds could fall precipitously when interest rates eventually rise and move to more normal and realistic levels. When this happens, and we are certain that it will, bond prices could fall as much or more than stock prices did during the great recession.
Consequently, we believe that the argument that bonds are a safer alternative than blue-chip dividend paying stocks is a hollow one today. There was a time when that was true, and there will surely be a time in the future when it is true again, but not now. In today's world stock valuations are low and dividend yields high, whereas bond valuations are high and yields low.
Dividend growth investing has always been a sound and prudent way to invest in equities. Companies with long proven records of earnings growth and increasing their dividends have long been considered blue-chips. Most importantly, the dividends from these kinds of companies have a history of increasing regardless of what's happening to their stock prices.
This is why so many so-called dividend growth zealots appreciate this asset class so much. When they say they don't care what happens to the stock price, we believe they don't mean forever. We believe they mean that as long as they are not planning to sell the stocks, current price volatility is of no consequence. What they really care about is the increasing dividend payment they received every year.
Disclaimer: The opinions in this document are for informational and educational purposes only and should not be construed as a recommendation to buy or sell the stocks mentioned or to solicit transactions or clients. Past performance of the companies discussed may not continue and the companies may not achieve the earnings growth as predicted. The information in this document is believed to be accurate, but under no circumstances should a person act upon the information contained within. We do not recommend that anyone act upon any investment information without first consulting an investment advisor as to the suitability of such investments for his specific situation.
Disclosure: I am long MCD, KO, CL, KMB, T, ABT, JNJ, XOM, WMT, PG.