On September 2, Chinese online game company
Giant Interactive Group (NYSE:GA)
launched the open beta of Xian Tu (XT), a 2.5D online role-playing game. My research shows XT has performed well so far: The game has quickly reached 90K peak concurrent users (PCU) and currently accounts for 11% of Giant's total game usage, surging from 1% one month ago.
Chart 1 shows that in the past 12 months, Giant has mainly relied on its latest hit game ZT2 to sustain overall usage growth. The launch of XT has been timely, reversing a brief downtrend in Giant's overall game usage possibly caused by the ending of students' summer holidays. The timing of XT's open beta provides gradual growth stimulation for Giant's Q3 and Q4 operating metrics: XT will have one-month contribution in Q3 and full-quarter contribution in Q4, an arrangement that will help Giant's quarter-over-quarter usage growth for two consecutive quarters, especially Q4. It should be noted that Giant's revenue is likely to grow at a slower pace than usage in Q3 and Q4 due to the typical pattern that new games (XT in this case) need several months to climb the monetization curve and reach an optimal level of revenue.
Investment strategy.
In my review of
China Internet stocks' August performance
, I mentioned that an evenly-distributed portfolio consisting of the "Big Six" Chinese online game companies - Tencent (
OTCPK:TCEHY
)), NetEase (NASDAQ:
NTES
), Shanda Games (NASDAQ:
GAME
), Perfect World (NASDAQ:
PWRD
), Changyou (NASDAQ:
CYOU
), and Giant (
GA
) - will outperform the overall China Internet industry for the rest of 2011. For investors who are not satisfied with an equally-weighted portfolio, I suggest adding the weight for Giant while reducing the total weight of the other companies. The rationale for emphasizing Giant in the portfolio is that its usage chart (Chart 1) shows its latest games ZT2 and XT have grown at the expense of mainly the other companies' games, not Giant's own games. As a result, Giant's overall usage has been in an uptrend during the past 12 months, which should translate into positive investor expectations and support the stock price. The risk of doing so is that some of the other companies such as Shanda Games and Perfect World have been trading at depressed price levels, and they may actually outperform their peers in the next several quarters because of easier-to-beat market expectations.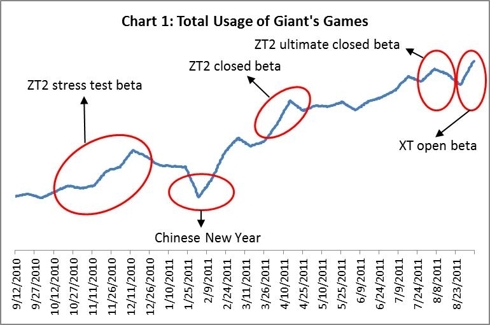 Disclosure:
My virtual investment portfolio has a long position in GA and NTES.