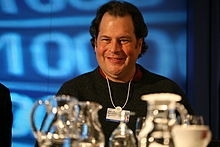 Salesforce.com (NYSE:CRM) CEO Marc Benioff (right) made headlines this week railing against VMWare (NYSE:VMW) and Oracle (NASDAQ:ORCL) for selling what he termed a "false cloud."
It's true a fog of war has enveloped the cloud space as companies like Salesforce, as well as VMWare, Amazon.com (NASDAQ:AMZN), Rackspace (NYSE:RAX) and Red Hat (NYSE:RHT) try to defend their eye-popping PE ratios from the enterprise computing pack.
There are three main cloud plays investors need to understand:
Clouds For Rent – Public clouds like Amazon's let companies take full advantage of cloud economics by renting capacity and offering basic infrastructure.

Everybody Gets A Cloud – Cloud software companies like VMWare and Red Hat offer software tools that let companies build their own private clouds.

The Full Cloud Monty – Salesforce believes it is offering a full cloud stack, including applications that actually do what businesses want done, a full replacement for enterprise computing systems.
Everyone in the enterprise computing space is now spouting a strategy based on some combination of the above. What Benioff calls "false cloud" is the idea that current enterprise stacks – hardware with an operating system, databases at the center, applications built on the databases – can be quickly evolved into anything like what he's selling, and what investors should be buying.
The big money investors are throwing at cloud companies represents faith that he's right, that the current enterprise stack is a dinosaur, and that the economics of a cloud that can turn the might of a fully-distributed system onto problems on a dime, with virtual operating systems, and hosting that drives out all extraneous costs, is the wave of the future.
Why should this be true? Because social networks like Facebook, Groupon and LinkedIn (NYSE:LNKD) are simply open source applications, built by small teams and run on clouds. All of them were able to scale infinitely with demand, at minimal cost, generating traffic and revenue in the time it would take an enterprise company to describe what it wanted to do.
The cloud boom is built on social networking's success.
That kind of speed-to-market, on a cost structure even a start-up could love, was unheard of until just a few years ago. Facebook could not have been built on the Internet of 1998. It would have taken many years, hundreds of employees, tens of millions of dollars. But today it can reach a valuation in the tens of billions in just a few years, based on its mastery of cloud computing.
Which brings us back to Benioff and cloud profits. What he's arguing is that he has the full Facebook, Software as a Service – not just infrastructure, not just a platform – that lets his customers gain the economic advantages of the cloud, and justify investors' faith.
Meanwhile HP (NYSE:HPQ), Dell (NASDAQ:DELL), IBM (NYSE:IBM) and every other enterprise player is building out their own public-private cloud, committing to some stack of cloud software, and telling customers to be patient.
This threatens Type 1 and Type 2 clouds, the hosts and the software companies. What Benioff is saying is it doesn't threaten him, that his "real cloud" is way ahead of the pack, because it can do now what those parts companies are only promising to do later.
What investors need to decide is whether business customers move as fast as Benioff believes, whether entrepreneurs might replace those customers, using systems like Salesforce, before the big boys can move, and thus whether CRM's sky-high valuation is worth it.
I say no. Clouds are an innovation, but clouds are coming to Earth. In the end the fog of computing war will prevail. Sell the cloud revolution, but buy cloud evolution.
Disclosure: I have no positions in any stocks mentioned, and no plans to initiate any positions within the next 72 hours.