I have been a fan of Warren Buffett and his Berkshire Hathaway stock (NYSE:BRK.A) (NYSE:BRK.B) almost since the day I started my interest in investing. Through thick and thin Warren has continued to make money by buying established companies that have executed a solid business plan in the past and are expected to continue profitable operations in the future. He tries to buy them at a discount and hopes to hold them forever. He has made a lot of money for others and a killing for himself. I wouldn't bet against him but I think you can do better on your own but only of you are willing to work a disciplined plan. During the last 3 1/2 year period the general market as measured by the Value Line Index has beaten him soundly as this Barchart graph shows:
Click to enlarge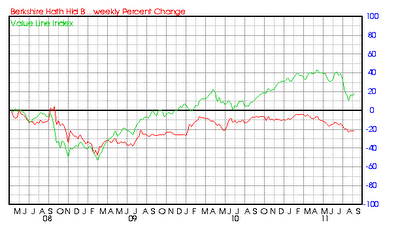 Berkshire Hathaway is a publicly owned investment manager. Through its subsidiaries, the firm primarily engages in the insurance and reinsurance of property and casualty risks business. Berkshire Hathaway was founded in 1889 and is based in Omaha, Nebraska. Although this is a description of the holdings at the present time the composition is subject to change.
Factors To Consider
Barchart technical indicators:
80% Barchart short term technical sell signal
Trend Spotter technical sell signal
Below its 20, 50 and 100 day moving averages
Lost 19.99% off its one year high vs. the Value Line Index loss of 17.56%
Relative Strength Index is 46.99 and climbing slightly
Barchart computes a technical support level at 69.06
Recently traded around 70.16 which is below its 50 day moving average of 73.22
Recent price movement in the last 28 trading sessions:
Click to enlarge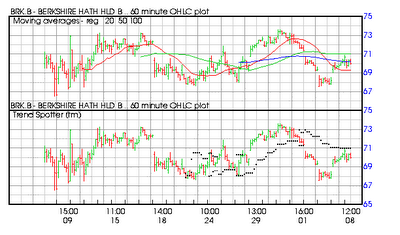 Fundamental factors:
It is almost difficult to use fundamental analysis to evaluate this stock unless you realize that the sum of the parts are equal to the whole.
This is really a fund with usually around 20 value investing holdings that may change at any time. Recently the fund has been investing is financial services companies like insurance and banking but that has not always been the case nor will it be the case in the future.
Overall the portfolio has a collective financial strength of A++ and has had a price stability of better than 90% of all the other stocks but it does surprise me that the P/E of the stock does not show much of a discount to the P/E of the market. You are paying a premium for Buffett to find you bargains.
Wall Street brokerage analysts tend not to evaluate this stock mainly because they have their own managed portfolios they would like to present to you.
General investor interest:
As measured by the readers of Motley Fool there is wide interest in what Berkshire owns and what they are buying.
The 6,301 readers that have it on their watch list voted 98% that Berkshire will beat the market.
The more experienced and savvy All Stars are more enamored with Mr. Buffett and vote 99% that he will beat the market.
Summary: Berkshire Hathaway class B shares (BRK.B) are suited for long term investors who want to use a value investing approach for the long haul and realize that they are paying a premium to let Mr. Buffett invest for them. Since today's price is at least 20% cheaper than it has been in the past year, now is a good entry point. Investors who want to stay personally involved and continue a hands on approach should pass on these shares.
Disclosure: I have no positions in any stocks mentioned, and no plans to initiate any positions within the next 72 hours.