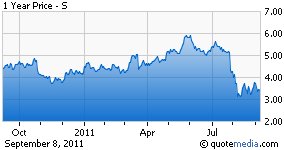 As AT&T (NYSE:T) begins to fight the DOJ to get its T-Mobile deal through regulators, many believe that a deal winning approval could be the end of Sprint (NYSE:S). The prevailing thought is that if the AT&T deal falls through, Sprint could pair up with T-Mobile and this might save the company.
How much trouble is Sprint in right now? Let's take a look at a comparison of its June 30th quarter from 2011 compared to the one in 2010. You can access the financial statements here.
Let's first look at liquidity. The numbers aren't good. The firm's current ratio dropped from 1.17 in the 2010 quarter to 1.06 in 2011. The quick ratio dropped from 0.94 to 0.85 over the same time period. And this isn't the worst sign. Working capital plummeted from $1.282 billion to just $551 million.
I don't think the firm is going bankrupt anytime soon, but long term solvency could become an issue in the future. Total assets dropped by 7.86% over the past year, while liabilities have only declined by 2.77%. This has resulted in a jump in the debt ratio from 69.01% to 72.83%. These numbers aren't alarming. Yet.
When we look at some activity ratios, we do find one small bright spot. The asset turnover ratio increased from 0.149 to 0.169. On a percentage basis, that's a nice jump. However, the firm's inventory turnover ratio fell from 7.04 to 4.86. Not a good sign. If they get the iPhone 5, this ratio should improve.
We all know that the company is losing money, but how bad is it? Sales increased by 3.56% over the prior year's quarter, but it didn't translate to the bottom line. Despite an improvement and positive operating income ($79 million gain in 2011's quarter vs. $63 million loss in 2010), the company's net loss for the quarter increased by nearly 11.5%, from $760 million to $847 million. It didn't help that the cost of goods sold increased by 8.5%, but we saw this wasn't the true culprit (look at operating income). While the firm's interest expense was $135 million lower in this year's quarter, it was more than offset by $52 million in higher taxes and a $312 million increase in other expenses and equity losses from unconsolidated investments.
Could the company turn around? Sure. The company lost almost $3.5 billion in 2010, but analysts are forecasting just a $2.5 billion loss in 2011, and maybe that gets down to $2 billion in 2012. Maybe the iPhone will help them out. Maybe the AT&T deal won't go through, or there will be enough concessions that Sprint can benefit from. But that's too many maybes for me. The firm needs to do something about its financial position before it's too late. The numbers aren't good. And they don't seem to be getting better anytime soon.
Disclosure: I have no positions in any stocks mentioned, and no plans to initiate any positions within the next 72 hours.