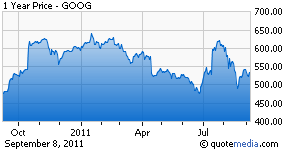 Google's (NASDAQ:GOOG) announcement today that it's buying Zagat certainly took a lot of people by surprise.
Marissa Mayer, the company's vice president for "local, maps and location services," made the announcement on the company's blog. A Google + thread on the deal, launched by Robert Scoble of Rackspace, mainly gained good reviews.
But investors got to be wondering, "wha?"
As ZDNet reports, a lot of the reasoning behind this deal dates from a dispute between Google and Yelp, a social networking site which relies heavily on crowdsourced restaurant reviews.
Yelp complained that Google was posting its content but not linking back. Google responded by removing external links from its places page. The FTC is now investigating Google.
The Zagats had recently announced a mobile app of their own. That may have helped motivate the sale. The Zagats seem happy, along with their biggest investor, General Atlantic.
This move has almost no impact on Google's financial results, but will doubtless lead to speculation it might be interested in other fading content companies, like Yahoo (NASDAQ:YHOO) or AOL (NYSE:AOL).
AOL is down today over a dispute with former TechCrunch editor Michael Arrington. Yahoo is up on speculation it might be for sale, following the firing of CEO Carol Bartz.
The biggest investment impact here is on OpenTable (NASDAQ:OPEN), a Zagat competitor, which is down 10%. Analysts are calling that company crushed and devastated over the news.
The idea of Google adding news services to its search mix sounds strange at first. Investors have a right to know exactly what CEO Larry Page is up to here, and will likely learn that sooner rather than later. Once we know the vision we can make a call.
Disclosure: I am long GOOG.