Viterra (VTRAF.PK) announced FY 3rd quarter earnings and they were above expectations. For the quarter, management announced EPS of $0.33, up from $0.17 last year. The strength is attributed to higher grain exports from Australia, higher international grain commodity pricing, and a nice bump in agri-products business in North America. Management believes these trends should continue into 2012, setting the stage for better performance ahead.
Viterra is Canada's premiere agri-business with exposure to grain handling and marketing, agri-products, food processing, and feed stock. VTRAF expanded into Australia a few years back, and is a major factor in the agri-business market Down Under. VTRAF owns 95% of the grain-moving infrastructure in South Australia. As the business is quite seasonal and weather-dependent, this expansion offers another growing cycle and smooths out quarterly performance for earnings and cash flow.
The firm focuses on the infrastructure of moving grain from its growing regions to domestic and export markets. The company also owns interest in a fertilizer manufacturing facility and operates a large chain of farm product retail outlets. VTRAF has been expanding into several food-processing industries and has become a major supplier of hops to the brewery sector.
Globally, Viterra competes with Cargill (private), Bunge (
BG
), and Arthur Midland Daniels (
ADM
) and is ranked as the fifth largest global agri-business by market capitalization.
For the first 9 months of FY 2011 (ending Oct) EPS was $0.69 versus $0.25 last year. Cash flow per share was $1.15 vs $0.71, respectively. Fourth quarter is historically quite slow with anticipated earnings per share for the quarter between $0.04 and $0.16 per share. Consensus EPS estimates call for $0.76 in FY2011, $0.79 in FY2012 and $0.82 in FY2013.
However, these estimates seem to discount several interesting possibilities. Viterra has at its disposal over $1.2 billion in liquidity to continue its growth by acquisition business model. The agri-business is a fragmented sector, providing both infrastructure and food-processing acquisition opportunities. Management has been quite proficient in finding value-added and accretive acquisitions in the past, and should continue their winning streak. Debt has declined quite nicely, reducing interest expense. Currently, management carries $925 million in net debt, after retiring $436 million during the last quarter.
In May of this year, the Canadian government announced a proposal to abolish the monopoly enjoyed by the Canadian Wheat Board (CWB) over Western Canadian grains for human consumption, such as wheat and barley. CWB also sets the pricing and delivery for these grains as well. Currently, VTRAF receives a "fee" for collection, processing and transportation to export facilities of these grains as opposed to its direct ownership of canola, oats and flax inventories. This is an important and opportunistic change as Viterra's current mix is 49% CWB grains and 51% "open market" products. VRTAF should substantially increase its marketing of CWB grains with little incremental costs, and should add to margins as the monopoly is phased out.
Over the past 3-years, VTRAF share price has performed in the middle of its peers, below ADM but above BG. Over the past 1-year and 2-year periods, VRTAF has outperformed both peers.
1-Year - (click charts to expand):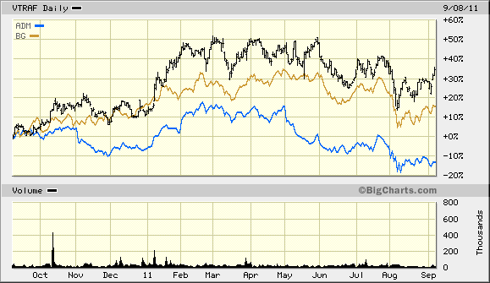 2-Year: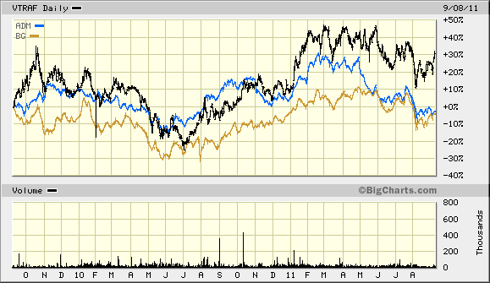 3-Year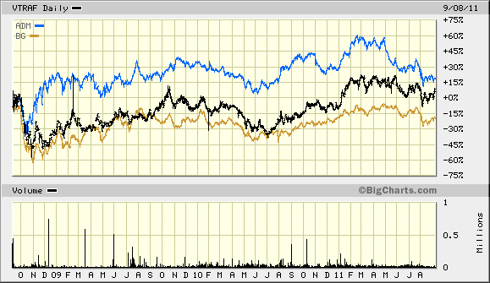 See the
latest Investor Presentation from July is here
(pdf):and an
article
from Jan.
Viterra is well positioned in the agri-business sector and appears to be reaping the benefits of its expansion into Australia a few years back. Currently trading up about 10% after the announcement of quarterly results, the stock price has a Street target in the $13.50 to $14.00 range, creating potential capital gains of 20% to 25%.
Disclosure:
I am long
VTRAF.PK
.

Disclaimer
: As always, investors should conduct their own due diligence, should develop their own understanding of these potential opportunities, and should determine how it may fit their current financial situation.