After being criticized for its big move to buy Motorola Mobility (NYSE:MMI) last month, Google (NASDAQ:GOOG) is now cheered by a smaller, yet important acquisition of restaurant review firm Zagat.
When seen together with the company's partnership with local search networks Local.Com (NASDAQ:LOCM), this move helps Google expand its presence in another content area that can be monetized in a number of different ways, including offerings to local restaurants. This means that Google is going head to head against highflier Open Table (NASDAQ:OPEN). What does it mean for investors?
While this development is expected to have a small impact on Google's stock (up less than half percent), it already has big impact on Open Table's stock—near 10 percent down after the announcement.
(Click charts to expand)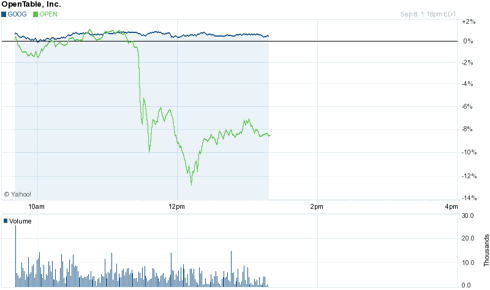 Click to enlarge
Compounding the problem for Open Table, this news comes after the company reported disappointing results for last quarter, losing almost half of its value since last year. Google's move into Open Table turf further illustrates a fundamental problem web-based businesses have: The lack of bargaining power with input suppliers and the lack of barriers to keep competition away.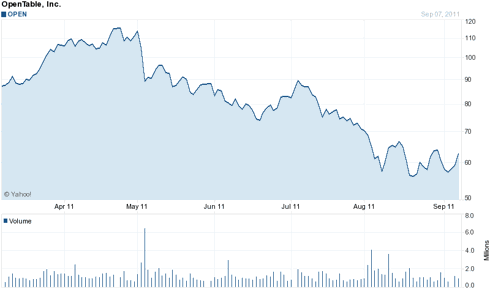 Click to enlarge
As we discussed in a previous piece, like Netflix (NASDAQ:NFLX), Open Table sells the stuff of somebody else: Reservations for restaurants it doesn't own with a business model that isn't proprietary, so it cannot keep others from doing the same, as likely Google will do soon. Open Table's advantage isn't sustainable—bad news for investors on the long side of the table.
Disclosure: I am short NFLX.