I want to discuss a lingering frustration of mine: The financial services arena. My complaint stems from a recent call I listened to by a small financial services firm. Those on the call were touting guaranteed returns with, of course, no risk, via fixed annuities. I had to laugh. And then I started to get upset.
They were preying on the fear that the financial media has created for individual investors over the past few months. They were taking advantage of hard-working, worried investors who lack the knowledge of how to effectively invest their money. They went on to boast about how they were taking the steps necessary during these times of crisis by moving into more defensive stocks. They claimed this was the best way to create a conservative portfolio. The insanity went on and on.
Then I realized that they just didn't have all the options available to them because they don't know what they are. So I stopped being mad and started writing this to explain to you a better choice then defensive stocks when the market is volatile.
Effective money managers and everyday investors should learn how to appropriately and effectively use options to hedge risk. Investors, professional and retail alike, tend to ignore options despite the fact that they are one of the most effective ways to create steady capital gains while protecting hard-earned assets.
Most active money managers have no idea how to use options other than to buy out-of-money calls or puts. They don't realize that times of crisis lead to above normal volatility that creates high options premium and the opportunity to make lots of profits.
People are starting to realize the benefits of options. I truly think the next 10-15 years are going to be revolutionary for options. I have already witnessed an enormous change in the options industry thanks to the likes of Tom Sosnoff, founder of Thinkorswim, and David Kalt founder of Optionsxpress. Thankfully, they are winning the battle.
How can we take advantage of today's market conditions in an actionable way using options? We know that fear is in the market. Look no further than the Volatility Index, or the VIX (otherwise known as the investor's fear gauge) to see that the fear is palpable. However, opportunities are plentiful with the VIX trading at 35 - especially those of us who use credit spreads for income.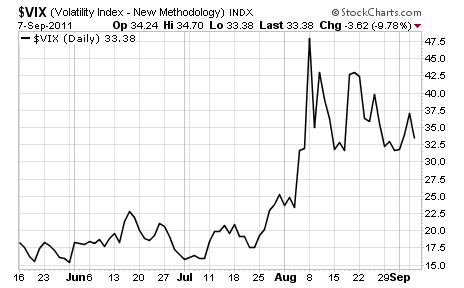 A credit spread is a type of options trade that generates income by selling options. In this type of atmosphere, fear makes the volatility index rise. Increased volatility brings higher options premium. And a higher options premium means that options traders who sell options can bring in more income on a monthly basis. This is all working in our favor as options traders right now, so it's an opportune time for you to learn how to place these types of options trades.
I'm selling credit spreads for a nice premium, and I'm making more money than I was just a few months ago when the VIX was half what it is today.
Over the past month or so I have explained
how I use credit spreads
to
bring in income on a monthly basis
. Now I want to tell you about another actionable trade.
The market has fallen sharply over the past month and now the small cap ETF, iShares Russell 2000 (NYSEARCA:
IWM
) is roughly 18 percent below its high of a month ago.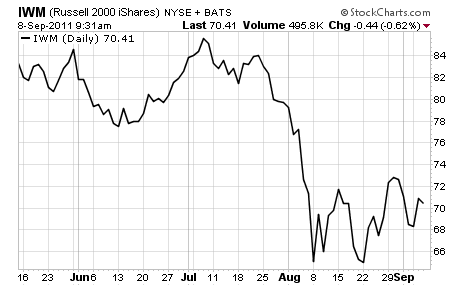 How can credit spreads allow me to take advantage of a market, and specifically an ETF, that has declined this sharply over the past few months? Knowing that the volatility has increased dramatically over the past few weeks, causing options premiums to go up, I should be able to create a trade that allows me to have the same profit range of 10-15 percent while creating a large margin for error.
I could swing for the fences and go for an even bigger payday, but I prefer to use volatility to increase my margin of safety instead of my income. Using my strategy, I know the IWM can move 9.8 percent higher and my trade will still be profitable. This is a fairly wide margin, and shows the true power of options.
Let's take a look at a potential trade using IWM, which is currently trading at $70.83:
Sell to open IWM Oct11 80 call
Buy to open IWM Oct11 82 call for a total net credit of $0.21
Again, the trade allows IWM to move lower, sideways or even 14.2 percent higher over the next 43 days (October 15 is options expiration). As long as IWM closes below $80 at or before options expiration the trade will make approximately 10.5 percent.
It's a great strategy because a highly liquid and large ETF like IWM almost never makes big moves and even if it does, increased volatility allows me to create a larger than normal cushion just in case I am wrong about the direction of the trade.
Selling and buying these two calls (creating a credit spread) gives you a high probability of success because you're betting that IWM will not rise over 14 percent over the next 43 days.