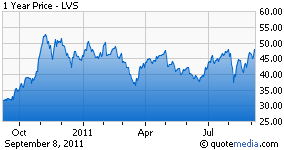 On vacation a few summers ago, I visited the blackjack tables for an hour before meeting my wife for lunch. At the table, I had to make some tough decisions. Should I stay on sixteen? Split eights against the dealers ten? Order a Mimosa or a Bloody Mary? As I watched people come and go, one thing was clear: A lot of money changes hands at casinos. And, where a lot of money changes hands, a lot of opportunity exists for shareholders, which is why companies like Las Vegas Sands (NYSE:
LVS
) may be just the right bet for your portfolio.
Gaming companies live and die by visits: The more people who stay, the more people who play. And unless you're an Ivy League whiz kid, playing means - more often than not - losing. Of course, with every loser comes a winner. And the house coming out ahead is fueling billions of development dollars in far-flung places, including China where Las Vegas Sands is the front-runner with properties in both Macau and Singapore.
Asia's large population and significant economic growth is the perfect combination for wooing visits and capturing gaming dollars. In the most recently reported month of July 2011, occupancy at Asia Pacific hotels was 1.4% higher than last year. Average daily rates and revenue per available room ("revpar") were up 13.9% to $139.80 and 15.4% to $96.94, respectively. In Singapore, revpar rose an impressive 22.7% as occupancy increased 8% from the prior year.
To tap that growth, Las Vegas Sands has invested $14 billion targeting Asia, taking itself from a company tied to Nevada to one much more closely tied to Asia. As recently as 2006, Las Vegas Sands got 45% of its earnings before interest, taxes, depreciation and amortization ("EBITDA") from its Las Vegas casinos. Today, only 13% of its EBITDA comes from the states.
Its Asian footprint includes three properties in Macau and one property in Singapore. And more are coming. In Macau, the company will add 6000 rooms by developing its No. 5 and No. 6 parcels, both of which are expected to open by the end of Q3, 2012. In total, the company estimates some 13.3 million square feet of potential from these parcels - a significant amount of gaming, shopping and staying acreage. In the future, the company has additional parcels available for development.
The company's Asian expansion plans make sense. Industry wide, gross gaming in Macau has increased at a 30.3% compounded annual rate since 2002, reaching $23 billion from $2.8 billion in the process. Last quarter, Las Vegas Sands' Macau properties generated $1.2 billion in total net revenue, up 16.3% year-over-year, and $392 million in EBITDA, 27.5% higher than last year. And with China's domestic consumer spending expected to increase by a compounded rate of 8.8% annually through 2025, visits should continue to drive growth in the coming decade.
While Macau produces a 33% EBITDA margin, margins at its Marina Bay Sands Singapore property are an impressive 55%. And with visitation increasing 20% last year, and an enviable 90.8% occupancy rate last quarter, the property generated $738 million in net revenue, nearly a third of the company's total sales last quarter. More intriguing, the property is only in its second year of operation.
The company's Las Vegas operations also are getting back on track. In July, McCarran International Airport in Las Vegas reported a 4.9% increase in passengers from the prior year. In the week ending August 27th, occupancy at all U.S. hotels was 4.5% higher than last year, while average daily rates climbed 3.2% and revpar rose a more impressive 7.8% to $62.63. This is good news for Las Vegas Sands' Venetian and Palazzo properties, which include 18 million square feet of space. EBITDA from those properties hit $93 million last quarter, 47% higher than last year.
Shares are currently trading -15% below their 52 week high and 19.4 times analysts' 2012 earnings per share estimates. With a 90% increase in EBITDA to $902 million, $2.35 billion in revenue last quarter, new Asian properties coming next year and continued growth in Singapore, Las Vegas Sands may prove as compelling a bet as staying on a hard twenty.

Disclosure: I have no positions in any stocks mentioned, but may initiate a long position in LVS over the next 72 hours.