For as long as anyone can remember, companies have been always ready to tout their international growth or highlight their emerging market exposure. And while we think that is a good thing for the long-term, there are times when people are worried about the global economy. Times such as these lead us to look for stable domestic companies. We have found such a company; it it earns every penny here in the United States.
Nordstrom (NYSE:JWN) is a leading luxury retailer that has stores only in the United States. While some may see that as a disadvantage, it is one of the reasons we feel Nordstrom is a compelling stock. The company operates 214 Nordstrom and Nordstrom Rack stores across all 50 states. Luxury retail is a wholly different business than traditional retail, and we feel Nordstrom is well positioned in this sub-industry. Luxury retail is much more resistant to macroeconomic concerns than mid-level retail, as the wealthy tend to focus much more on their personal wealth than on the macro-economic picture.
Despite the recent stock market volatility, we feel that Nordstrom will continue to execute just as well as it has in the past. Michael Koppel, Nordstrom's CFO, has stated that "so far to date, we have seen some pretty consistent business. We get pretty timely feedback in how our customer is behaving, and we have not seen any indication that our customer is slowing down." Koppel also said that market volatility "hasn't been nearly as dramatic as we saw last time. If it prolongs over a period of time and it causes more slowdown, yeah, it could impact us. But we haven't seen it."
Tiffany & Co. (NYSE:TIF), in its most recent earnings release, has also said that its customers are holding up well, and we are confident that Nordstrom will weather this volatility. Sales data shows that Nordstrom has not suffered, with August sales up 6.7% year-over year, an acceleration from July's 6.6% growth. Sales were down from July, but that is a normal seasonal trend.

Click to enlarge
Nordstrom's unique structure, in that it is located entirely in the United States, gives it a chance to benefit from the crisis in Europe. While we think there is a market overreaction to these events, the market moves as it does and investors must be positioned accordingly. During times of stress and anxiety, investors seek refuge in currencies such as the Swiss franc or yen. But with intervention occurring in both countries, the dollar could very well rise, as it is far better positioned than the market perceives the euro to be. Should such a move occur, a stronger dollar will benefit Nordstrom, since its imports will become cheaper, thus boosting its earnings.
Nordstrom is adapting to a changing retail world. It has recently announced free shipping on all orders, and its return policy is among the most generous in the industry. Nordstrom's goal is to provide its shoppers with value, speed and convenience, and, according to Blake Nordstrom, Nordstrom's president, these are "factors [that] increasingly define our service proposition." Nordstrom is not only a retailer, but it is also a bank, and its credit cards are a key part of what creates customer loyalty, as Nordstrom's Fashion Rewards program is what is helping drive its performance. Nordstrom's credit quality is improving, with delinquencies at 2.7% in the most recent quarter, down from 3.5% last year.
Nordstrom has a steady balance sheet with over $1 billion in cash. While it does have debt, Nordstrom's free cash flow gives us confidence that the company will be able to allocate capital across all channels, including investments in growth, share buybacks, and dividends.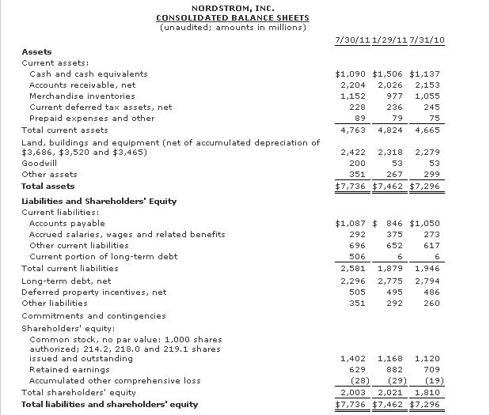 Click to enlarge
It is important to note that Nordstrom did not cut its dividend during the financial crisis, which we see as a sign of strength. Nordstrom has raised the dividend twice in the last 16 months, to a current 23 cents a share (2% yield), and we feel there will be more dividend boost ahead. Nordstrom has also been buying back stock.
Nordstrom's stability and growth make us confident that this is a worthwhile stock to invest in. The company has shown it knows how to manage in times of crisis, such as in 2008-2009, and how to position the business for future success. For investors seeking a refuge from the international storms battering the markets, Nordstrom should make a fine fit.
Disclosure: I have no positions in any stocks mentioned, and no plans to initiate any positions within the next 72 hours.
16