Starbucks (NASDAQ:SBUX) has plans for big growth once again. Starbucks is planning to launch an aggressive growth plan in Asia starting with China. Starbucks plans to triple its size in China from 470 mainland stores to 1,500. Starbucks is also looking to expand in South Korea by almost doubling stores from 370 to 700. Starbucks plans to implement this growth over a four year period.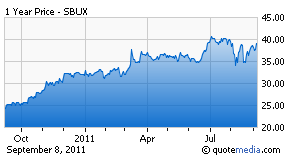 I see large growth potential for Starbucks in Asia, especially in China. Starbucks recently acquired the rest of its mainland China business from its non-controlling partner. To me this signals the huge potential that Starbucks expects for Asia. Starbucks could have easily continued to grow without making the acquisition but instead opted to buy them out. This probably had to do with Starbucks pushing for a faster growth rate than its partner could handle. Starbucks would also like to take advantage of those profits that would have otherwise gone to its joint venture partner.
Here are other highlights to the Starbucks story:
- Starbucks has a relatively safe dividend of about 1.3 percent. This dividend is only about a third of its net earnings.
- Q3 consolidated revenues of $2.9 billion, up 12 percent over last year. This was mostly driven by a 8 percent increase in comparable store sales.
- Starbucks is looking to acquire full ownership of its joint venture that operates stores in Switzerland and Austria. I see this as a trend as Starbucks continues to look for growth within its business. This reminds me of similar moves by Coke (NYSE:KO) and Pepsi (NYSE:PEP). Both companies acquired bottlers in several markets in an effort to grow revenue.
- Restructuring the company and moving into a 3 region global structure is a strategic move to ensure that the decision making process remains localized to that area. Starbucks is properly positioning themselves for fast growth internationally and the faster decision making process will keep the company competitive.
- Starbucks has pricing power in an environment of rising commodity prices. I expect Starbucks will be able to pass cost increases to customers if coffee prices were to increase.
- Starbucks getting involved in K-Cups to grow its packaged coffee business. The launch is expected in late 2012. Starbucks is always looking at ways to expand its packaged goods business and I expect to see good things from this business in the future.
I'm bullish on Starbucks and believe that pullbacks are buyable. Starbucks is heading in the right direction, focusing on international growth which will payoff for shareholders in the long term. Starbucks' acquisition of its mainland China business will pay off as its expansion continues in that large growth market.
Disclosure: I have no positions in any stocks mentioned, but may initiate a long position in SBUX over the next 72 hours.