We've been watching Target Corp (NYSE:
TGT
) ever since it
reported second-quarter results
several weeks ago. The shares continue to look slightly undervalued, around $50 despite strong results. Below is a snapshot of the first page of our 16-page equity research report. Please click to enlarge. You can access the full report
here
.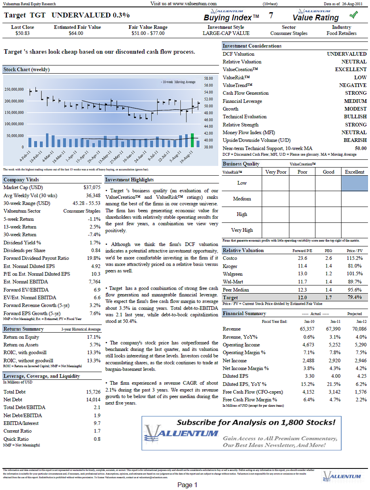 Click to enlarge
Source: Valuentum Securities, Inc.
Target Corp reported strong second-quarter results that showed accelerating same-store sales growth (its best showing in four years), but modest operating-income and net-earnings expansion that still beat expectations. Total sales increased about 5% thanks to a 3.9% jump in comps, while segment EBIT expanded 4.6% from the same period a year ago.
The firm's earnings per share leapt 11.5% during the quarter (mostly driven by share buybacks), and the company issued full-year 2011 diluted EPS in the range of $4.15 to $4.30, a range we think is achievable. The firm's average transaction amount increased 3.5% from the same period a year ago, thanks to a 1.8% jump in units per transaction and a 1.7% increase in the average selling price per unit. Management also indicated that every region across the country experienced a healthy increase in comparable store sales, broad-based strength.
Target also noted a continuation of the trends we've been witnessing in retail as of late (higher-income versus lower-end). We reproduce management's comments from the
second-quarter call
below:
As we've continued to study consumer shopping patterns, we're seeing clear contrasts between higher income consumers and more moderate income households. While optimism at all income levels has improved since the recession, wealthy households continue to be the most optimistic. Across all of Retail, the 20% of households with the highest incomes are shopping more often and spending more, while the other 80% have been cutting trips and spending less.

In all, we think Target's performance continues to be better than Wal-Mart's (NYSE:WMT), particularly as it relates to comparable store sales, but still feel investors should remain on the sidelines at this time. Though moderately underpriced, Target's valuation is not that compelling, and we're fairly comfortable with our retail exposure in our Best Ideas portfolio at this time. We may add the firm to our portfolio if the firm registers a score of 8 or higher on our Valuentum Buying Index (it currently has a 7).
Disclosure: I have no positions in any stocks mentioned, and no plans to initiate any positions within the next 72 hours.