By Joseph Hogue, CFA
Reading through the MarketWatch
commentary
on August 19th uncovered the "Stupid Investment of the Week," a regular series by Chuck Jaffe. I have read Chuck's articles from time to time. Though they tend to be a little dramatic, they usually have some good detail. The entry on Principal Financial Group (NYSE:
PFG
) stated,
After the financial crisis of 2008, Principal's balance sheet had some noticeable changes. At some point in 2009, some $50 billion in "long-term investments" was reclassified. It showed back up as "other assets."
Jaffe goes on to take quotes from other PFG bears and warns investors of shady accounting and alarm bells. This would all be very scary and the kind of journalistic scoop that could make a shrewd trader a very nice profit. The problem is, it's not true. If one were to look only at Yahoo Finance, there is a $50 billion change in the balance sheet reflected under long-term assets in 2008 and then in other Assets in 2009. This would certainly raise red flags for me, if I had not gone directly to the company's financial statements to verify the information.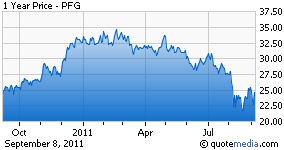 Looking at Principal's 10-K for 2009 (pdf) shows that the majority of its long-term assets is accounted for in a line-item called separate account assets. This account reflects roughly half (48%) of total assets and is defined as,
...the fair market value of funds that are separately administered by us for contracts with equity, real estate and fixed-income investments. The separate account contract owner, rather than us, bears the investment risk of these funds. The separate account assets are legally segregated and are not subject to claims that arise out of any of our other business.
The balance sheet entry for this account increases from $55 billion in 2008 to $62 billion in 2009. Further on in the financial statement is an evaluation of the fair value for these assets divided into three levels. The level I measurement, 64.5% of the total assets, is the highest quality estimation and valued from quoted prices in active markets for identical assets. Level II assets, 29.0% of the total, are valued from quoted prices in active markets for similar assets. So it seems that, not only does Principal bear no investment risk in these assets but they also mark them to market using standard accounting principles. The alarm bells have stopped and we are currently back at DEFCON 5.
The change in the balance sheet on the Yahoo Finance site may just be somebody reclassifying these real estate assets from long-term assets to a catch-all "other" account. This would be appropriate, as the assets are not really PP&E, as is normally understood. The problem here is a common one for data aggregation services on the internet. Whether through human error or a glitch in a data-finder program, sometimes information is misclassified or just plain wrong.
The point is not that Yahoo Finance or Mr. Jaffe made a mistake, but that investors should NEVER make investment decisions based on data from a singular source. If you are paying someone to do all your analysis then they should be making your decisions and would be liable for the quality of data. If you are taking any part in the decision-making process, and I hope you are, then you need to do your own due diligence in data collection. One of your sources should always be the company's SEC registered financial documents. It is not to say that some financial statements will not contain shady accounts and sometimes outright fraud, but they will usually be free of simple data transcription problems.
As for Principal Financial Group, I am bullish in the short- and long-term. I like the company's 2.4% dividend yield and they just announced a $200 million buyback plan in August. On August 2nd, the company reported that second-quarter earnings almost doubled on strong growth in fees, premiums, and investments and analysts have been raising full year estimates since the release. Analysts are expecting full-year earnings of $2.98 per share in 2011 for a price-earnings of 8.1 times which isn't a spectacular value but not overpriced either.
Though the real estate market is not rosy, corporate profits are generally very good, meaning default rates on CMBS should be coming down. Similarly, even if the real estate market does not rebound but more or less stabilizes, the default rates in asset backed securities will come down considerably as the quality loans remain and others get worked out. The stock had a good day Wednesday, closing up over 8% but is still down about 4.6% over the last 12 months.
Disclosure: I have no positions in any stocks mentioned, and no plans to initiate any positions within the next 72 hours.