Two tech companies receive almost identical stock valuations: Apple (NASDAQ:AAPL) and Yahoo (NASDAQ:YHOO). Apple keeps wowing investors with its earnings. Yahoo's performance is so disappointing, it cans its CEO. Yet, the market prizes Yahoo more than Apple when it comes to price/earnings and price/cash flow. Even before Carol Bartz was ousted, struggling Yahoo's valuations were neck-and-neck with Apple. Now, Yahoo has more than the edge: its P/E is 16.4 while Apple's is a much lower 15.2.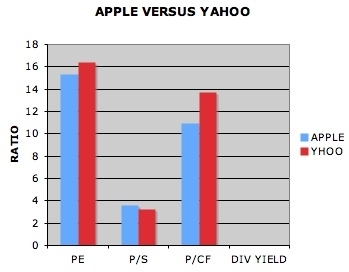 The market has mispriced Apple. While Yahoo is a company in decline, Apple's revenues and earnings have been booming. Yahoo's revenues have been decelerating while Apple's have accelerating. Since 2004, Apple's revenues that have grown every year by at least 30%.
Can Yahoo turn around and restore its position in digital media? That appears doubtful. Can Apple stop dominating its markets and coining money? Even more doubtful. Yet, Mr. Market is betting on just that.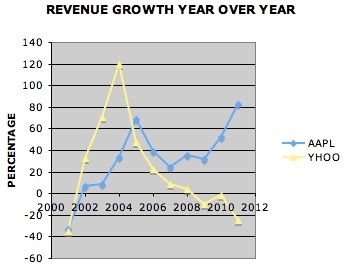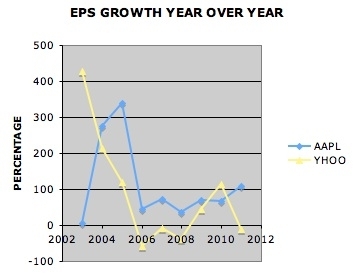 The charts above show revenue and earnings growth percentage year over year from 2001 to 2010. Year 2011 is the revenue and earnings growth for the first 6 months of the year over last year's analogous period
Apple is growing its revenues at the fastest pace it has seen in the last 15 years. For a giant company, that's unheard of. Mr. Market is ignoring Apple's success and betting it's over. How many superb quarters will it take to raise Apple's P/E? Apple deserves a higher valuation than Yahoo, a company whose best days are in the past.
Disclaimer: The opinions in this document are for informational and educational purposes only and should not be construed as a recommendation to buy or sell the stocks mentioned. Past performance of the companies discussed may not continue and the companies may not achieve the earnings growth as predicted. The information in this document is believed to be accurate, but under no circumstances should a person act upon the information contained within. We do not recommend that anyone act upon any investment information without first consulting an investment advisor as to the suitability of such investments for his specific situation.
Disclosure: I am long AAPL.