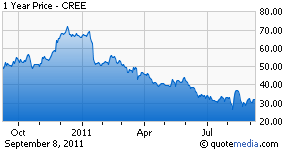 Cree Inc. (NASDAQ:CREE), the LED company that saw its shares rise from the mid $30s in late 2009 to over $80 in April of 2010, is now back down to levels it hasn't seen in two years. The company seems to be doing well, but a series of earnings guidance lowerings during conference calls have hit the stock again and again. Now that this company has settled back into the low $30s, let's take a look at what the company has going for it.
Nobody can argue with the pristine balance sheet that Cree has always had. The company has avoided debt, so you don't have to worry about paying much interest. The current ratio is above 10 as of the latest quarter, and the company has over $1.3 billion in working capital. The company had nearly $1.1 billion in cash and equivalents, equal to almost $10 per share. Now, these numbers will come down a bit, as the company recently announced the acquisition of Ruud Lighting. However, this is an acquisition that should benefit the company's bottom line early in 2012.
The company has also invested heavily in itself, increasing its PP&E by $136 million over the prior fiscal year, equating to 32% growth. The company's inventory levels have also risen from $112 million to $176 million over that time, which has caused some levels of concern. However, you can't sell what you don't have. It will be interesting to see if the inventory buildup continues in this current quarter.
Cree has experienced a slowdown, which is why earnings for this fiscal year (ending in June of 2012) are expected to fall to $1.43 from $1.70 in the 2011 fiscal year. However, revenues are still expected to increase by 28% to $1.27 billion. Cree is expecting flat revenue growth for the current quarter, but is expecting to see revenues grow 22% sequentially in the next quarter. The guidance given during the earnings conference call will definitely affect how this stock moves forward.
Cree currently trades at a P/E of 22, which is not too high for a $3.5 billion growth company. It has demanded a higher P/E in the past, which could return if the company hits its targets. I wouldn't bet the farm on CREE, but this no-debt growth company could be a nice addition for some diversification.
Disclosure: I have no positions in any stocks mentioned, and no plans to initiate any positions within the next 72 hours.