Despite another now-customary upward revision to the prior week's preliminary estimates, initial claims for unemployment benefits are still not signalling a recession.
Unadjusted numbers remain below their level of a year ago.
Seasonally adjusted numbers are in a rising trend, which could be an incipient sign of deterioration, but only if the BLS is getting the volatile seasonal adjustment factors right.
(Click charts to expand)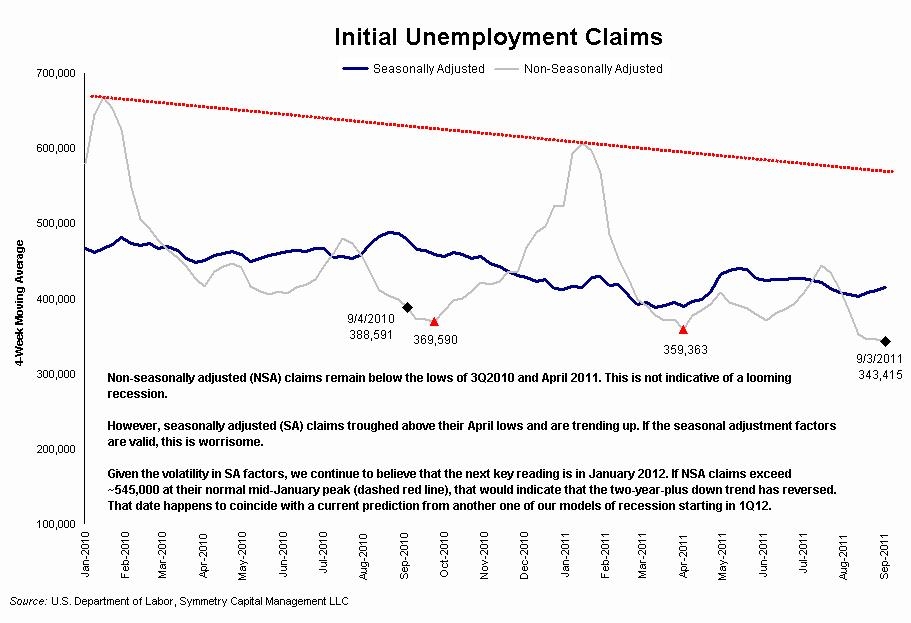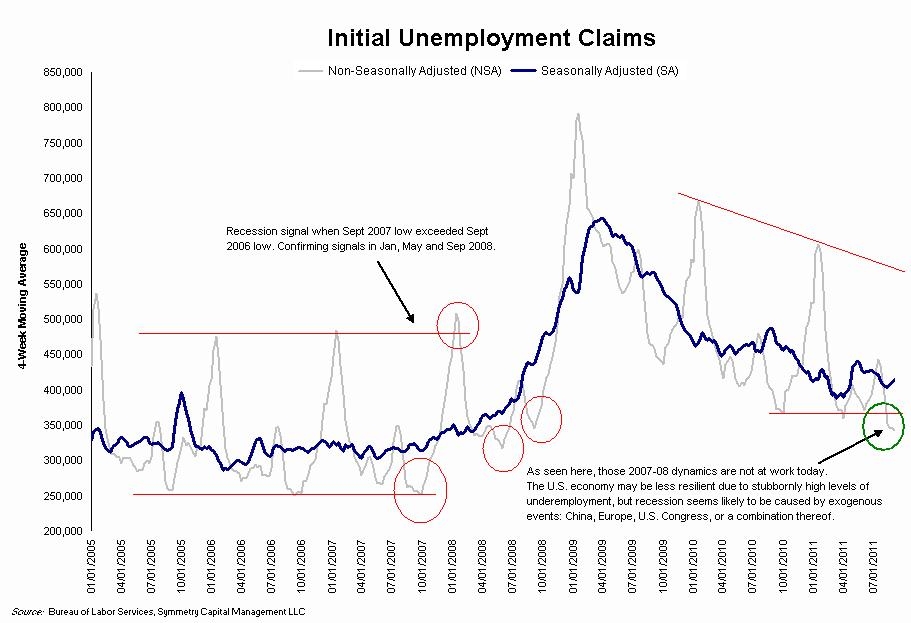 While the the U.S. economy may be more fragile due to chronically high un- and under-employment, labor markets are not signalling an endogenous, business-cycle variety recession.
However, the U.S. and global economies remain vulnerable to external shocks. The known risks include China, Europe, and the U.S. Congress.
The amplitude of any recession that occurs will depend in large part on the degree of systemic financial distress.
Right now, some key asset classes are signalling a looming recession, but not of the depth of the one in 2007-2009.
However, a handful of credit market indicators are showing signs of growing stress within the global financial system, especially in Europe and China (we see risks in Australia, Brazil, and Canada too).
As long as the European Central Bank's checkbook remains open, it should be able to prevent systemic distress, even with Europe entering a recession.
China looks fragile, but like much of the developed world, still appears to be skirting recession. However, if its financial system continues to come under pressure, the policy measures it will be forced to take may put its slow-crawling Yuan-USD peg at risk, creating the possibility for renewed friction between the Chinese and U.S. governments. In a best case outcome, perhaps this would simply open the door again to additional quantitative easing measures by the Fed, however useless they are likely to be.
Perhaps most importantly, if the most draconian aspects of the U.S. debt ceiling agreement are triggered in the next two quarters, and/or if Republicans put the 2012 election before the health of the U.S. economy, global financial stresses will intensify considerably, increasing the risk of a sharp, deep, global recession. It's going to take some skilled statesmanship to avoid this. Unfortunately, both sides continue to surround themselves with advisors who seem rather unlikely to point them in the right direction.
At this point, the appropriate thing to do with the claims data is to watch the moving averages for any sudden surprises, and barring any, see where the normal, seasonal, mid-January spike tops out:
If it's below 545,000 or so, the current downtrend remains intact.
If it tops out between 545,000 and 607,000, then the trend has flattened out.
If it spikes above 607,000, this would mark a new uptrend, and be a pretty strong indicator of a U.S. recession.
Until then, credit markets and other leading indicators deserve the most attention. If they continue to warn of recession, then it's reasonable to expect that claims should eventually catch up.

Disclosure: Some clients of the firm are long put options on EWA, EWC, and EWG.
Disclaimer: Symmetry Capital Management, LLC (SCM) is a Pennsylvania registered investment advisor that offers discretionary investment management to individuals and institutions. This publication is for informational, educational, and entertainment purposes only. It is not an offer to sell or a solicitation to buy securities, or to engage in any investment strategy. Past performance is not indicative of future results. This material does not take into account your personal investment objectives, your personal financial situation and needs, or your personal tolerance for risk. Thus, any investment strategies or securities discussed may not be suitable for you. You should be aware of the real risk of loss that accompanies any investment strategy or security. It is strongly recommended that you consider seeking advice from your own investment advisor(s) when considering any particular strategy or investment. We do not guarantee any specific outcome or profit from any strategy or security discussed herein. The opinions expressed are based on information believed to be reliable, but SCM does not warrant its completeness or accuracy, and you should not rely on it as such. Some clients of the firm hold long put options on EWA, EWC, and EWG. All views and positions are subject to change without notice.