You often hear from major media outlets and the investment advisors they offer a pulpit to that gold is peaking, that there's a bubble in gold, that gold is a worthless investment and so on. They could not be further from the truth. A simple look at the history of the stock market when priced in gold reveals that we still have a long way to go in this commodities bull run. A lot of confusion seems to arise from the majority of the investment community looking at gold because they consider it as just another investment that competes against stocks, bonds and real estate. This is a mistake because gold is money, not an investment.
In my guide on gold, I show why gold is money and provide many historical examples of economies functioning successfully over long periods when using gold as a medium of exchange. The recessions of the pre-central banking era were caused by meddling in the monetary system by government authorities who granted special permissions to banks, allowing them to break their contractual promises to redeem their banknotes for gold coin. Usually during a war, the United States and other countries temporarily suspended the redeemability of banknotes and subsequently spent the country deep in to debt. The resulting expansion of the currency supply feeds an asset boom that eventually falls apart. This is textbook Austrian business cycle theory (ABCT) and it has been able to explain every major documented economic crisis. Since the theory was developed, economists using ABCT were able to predict not only the crash of 1929 but also the stagflationary recession of the 1970s. It was this stunning record of success, and the development of such an elegant theory, that led to the Nobel Prize being awarded to one of the Austrian School's greatest proponents, F.A. Hayek, for his work developing ABCT.
During market crises everyone expects deflation. In the language of television investment shows any fall in price is deemed "deflation." This is not correct though. Deflation is a fall in the general price level caused by monetary and credit contraction. While it is true we saw a contraction of credit in the economy, the base money supply is soaring. As a consequence of this stimulus, the stock market has appeared to recover, yet unemployment rates remain unchanged by any significant amount. So what is really going on here?
The answer lays in ABCT, which points out that monetary expansion does little to nothing in averting economic collapses. Experience proves them correct, as FDR's Secretary of the Treasury said on May 9, 1939 before the House Ways and Means Committee when commenting on the effectiveness of The New Deal program:
"We have tried spending money. We are spending more than we have ever spent before and it does not work... I say after eight years of this administration we have just as much unemployment as when we started. … And an enormous debt to boot!"
The fact of the matter is that deflation is still happening, even though it appears as though the stock market is rising. Key to understanding this point is to know what prices are. Prices are merely an exchange rate between two goods or services. When you see a price on the shelves, what you're really looking at is the exchange rate between that good and the currency (dollars, euros, yen, pounds etc.) that it's denominated in. If the value of the numerator in this ratio (in this case the item on the shelf) rises, then the price will rise. What people don't seem to understand though is that if the value of the denominator (the currency) declines, the price also rises.
This is what we're seeing right now in the stock market and other markets around the world. The new money introduced in to the currency system by the Federal Reserve is diluting the value of all the existing dollars, causing prices to rise. However, we don't necessarily have to denominate prices in dollars, we can denominate them in gold. Once we've done this, we can obtain a more accurate assessment of what is happening to the real value of items.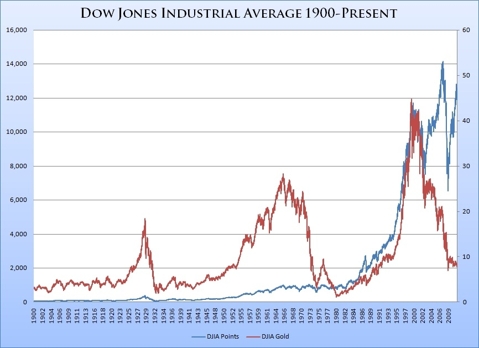 Now we can see deflation. The market is behaving precisely the way you would expect during a market crash, it's just that most people are watching it through the distorted lens of the dollar. When priced against a more stable item such as gold, the real fluctuations of the Dow become perfectly clear. The 1929 crash, stagflation and the dot-com bubble are completely obvious. We can also see the market distortions created by all of the interventions of the Federal Reserve with how the two lines divert from one another. Inverting the chart will show us what percentage of the Dow an ounce of gold will buy.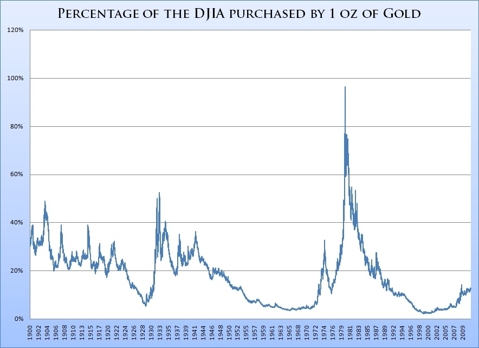 As you can see, an ounce of gold will still only buy 16% of the Dow. As the new currency created by the Federal Reserve works its way though the system, further devaluing the dollar, this chart will charge back up again to 100% or even more. As I explained in Blessed are the Gold Bugs, For They Shall Inherit the Earth, this has the potential to rise to 200%.
These massive shifts in wealth and asset valuations have profound impacts on societies as well. As this cycle runs its course, as it must, the world around us will change drastically. Right now, precious metals make up less than 2% of portfolio assets.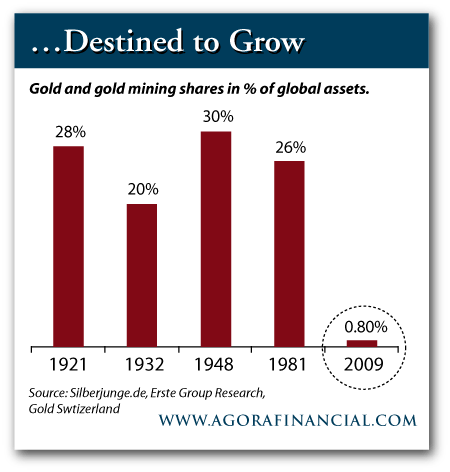 This economic crisis still has a long way to play out but expect things to change massively over the coming years. Studies performed by the World Gold Council recommend a 5% allocation of portfolio assets to physical gold. Other portfolio managers have begun recommending far more. Since there is now less than an ounce of gold for everyone on earth it would be prudent to get your hands on some along with silver, which is for the first time in history even less available for purchase than gold. Such a massive shift will carry along with it massive social and political upheaval. Whenever gold has skyrocketed, some very strange sights become all too common.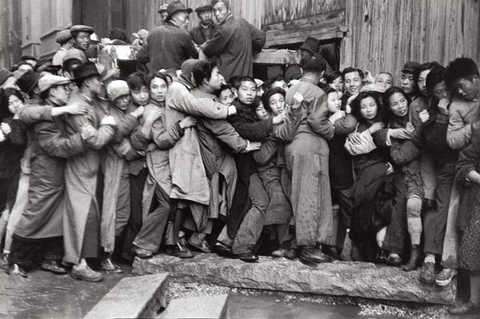 This picture is from the Shanghai Gold Rush that occurred from December 1948 to January 1949. During World War II, the Chinese expended vast amounts of money fighting the Japanese. As the value of their paper money sank, the Kuomintang decided to distribute 40 grams of gold per person. With the gold rush, in December, thousands came out and waited in line for hours. The police, equipped with the remnants of the armies of the International Concession, made only a gesture toward maintaining order. Ten people were crushed to death
These images can be hard to process, but just imagine the stampeding armies of consumers piling in to stores on boxing day and you'll have some idea of what these situations can be like. During inflationary times, store shelves are stripped bare as panicked consumers rush to convert their dollars in to anything tangible. This is exactly what is happening in the next image.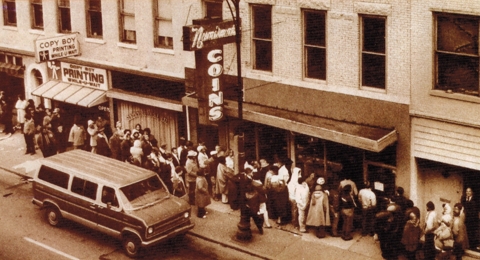 The place is Louisville, Kentucky. The year, 1980. An ounce of gold now buys the entire Dow Jones Index and its price has risen from $35/oz to $850/oz in just nine years, an annualized 40% gain. These people are cleaning out a numismatic coin shop. By now all the quality bullion has been bought and hidden away in private vaults. They were no more successful in preserving their purchasing power than the people during the Shanghai Gold Rush.
Every day, this same situation draws nearer and nearer. So now is the time to act to protect your wealth and position yourself properly for the next bull market in stocks, bonds and real estate. The time to re-enter these markets will be clear to those following the kinds of charts presented in this article. Now, however, is definitely not that time.

There are many ways of investing in bullion. The safest way is to take delivery of your own and store it yourself, either at home or in a professional storage facility. Gold is remarkably small and a $100,000 investment will literally fit in the palm of your hand. In the old days, people would bury their gold coins and bars in a box or jar in the backyard. Precious metals aren't ferromagnetic and therefore metal detectors have a very hard time finding gold buried more than a foot deep, making it extremely hard to find to all but the person that buried it. Everyone should have at least a portion of their precious metals stored at home in case of an emergency. The immediate access to a liquid asset has meant the difference between life and death to people during times of crisis.

Traders buying large contracts on exchanges can have their metals sent to one of the depositories registered with the exchange. You will pay a monthly storage and insurance fee but these are negligible. This arrangement is known as a segregated account, where the metals are set aside in bin with your name on it. If you call for final delivery, you get exactly what was initially placed there. There are also private depositories, such as the Delaware Depository Service Company, that aren't registered on any exchange but provide the same level of security and service.

Allocated storage accounts offer lower fees and nearly the same level of security as segregated storage accounts. The storage company acts as custodian of your bars but has the option of substituting an equivalent bar in case you call for delivery. This is to save the time and effort of potentially moving around thousands of pounds of gold in order to find your specific bar.

Unallocated accounts are, in my opinion, the most risky of the storage options. Investors do not have any bars registered in their name and instead receive a claim on an amount of a pool of gold that is ostensibly there. These types of accounts are now also trading as securities such as the GLD and SLV. Very careful consideration must be given when buying in to an unallocated program since the counterparty risk is much higher than with segregated and allocated accounts.

Disclosure: I have no positions in any stocks mentioned, and no plans to initiate any positions within the next 72 hours.