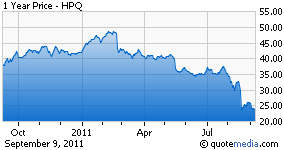 It was been a wild year for Hewlett Packard (NYSE:HPQ).
On August 19th HPQ announced its results for its fiscal third quarter. Adjusted earnings of $1.10 per share essentially met the Wall Street consensus estimate of $1.091, but that was not the real story. Commensurate with earnings the company made several major announcements. They announced that they were exploring strategic alternatives for the Personal Systems Group and they were shutting down operations for webOS devices. They also announced the acquisition of Autonomy, a infrastructure enterprise software company. The stock fell 20% on August 19th.
At its September 8th closing price of $23.87 per share HPQ has a market cap of $49.5 billion and an enterprise value of $62.6 billion. On a multiples basis HPQ appears very inexpensive. The company is trading at 0.5x tailing sales, 3.4x trailing EBITDA, 4.9x consensus fiscal 2011 earnings, 4.9x consensus fiscal 2012 earnings. These multiples are staggeringly low for a Dow company with a long history that is a leader in its field.
Now it is clear HPQ has stumbled recently and has had its share of destabilizing change. These change include the handling of the departure of former CEO Mark Hurd by the board, the hiring of a new CEO, changes to the board itself, and, most recently, the change in strategy articulated in the recent press release. This is not investor friendly activity. Markets hate uncertainly, not just at a macroeconomic level, but also at the micro level. It is hard to have a view on what HPQ will be one, three or five years from now. Many investors may even question how long new CEO Lea Apotheker will be at the company. Further, rumors that the company could be acquired, which may or may not be credible, are part of a broader fact pattern that suggests investors do not know how to think about HPQ. And, if you own stock and do not know how to think about a company, you sell. These dynamics have led to the current low trading multiples that we see today.
At these levels I think the risk/reward prospect of an HPQ investor is very interesting. While the company could lose customers given the turmoil I doubt this will cut earnings in half. If fiscal 2012 earnings were reduced by 50% the pro forma multiple would increase to 10x, still a seemingly reasonable multiple. Further, if the stock continues to drop the acquisition rumors could become reality providing a floor to the stock. If HPQ can get its act together and show the market that it has a proactive that it can execute on the market will reward shareholders. Given the current valuation the risk/reward to HPQ today is too compelling to ignore.
Disclosure: I am long HPQ.