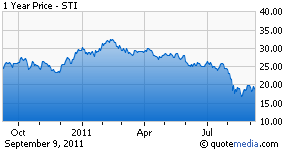 SunTrust Bank (NYSE:
STI
) seems to be recovering since the start of 2011. Recently, the company released second quarter results, and I must say, it shows improvement.
The second quarter this year was pretty decent, considering that the company reported net income of $174 million, almost 15 times of that in the prior year quarter. Still, it seems to have gone down from the prior quarter's net income of $180 million.
Total assets seem to have gone down, improving the earnings assets-to-total assets ratio, which indicate the company is divesting of the non-performing assets and focusing more on asset quality.
The company's portfolio shows a huge amount of investment in residential and commercial loans. Unfortunately, the assets in the residential, commercial and industrial assets, commercial and residential construction segments don't seem to be performing that well in today's economic condition. In fact, that shows an increasing number of loans held for sale (LHFS). I would say the current growth in net income is primarily the effect of better credit quality.
Net write-offs were recorded at $505 million this quarter, compared to $571 million the previous quarter and $722 million the same quarter the previous year. Even the non-performing loans declined by 9% to $3.6 billion. Things are changing. Similar improvements were noticeable in KeyCorp's (NYSE:
KEY
) portfolio.
One thing to note, non-interest income has gone up, primarily due to higher investment banking income in the consumer and commercial sector. Investment banking income was $95 million in the current quarter compared with $67 million in the prior quarter and $58 million in the prior year quarter.
Even mortgage production and servicing income shot up to $76 million this quarter, compared to $71 million the prior quarter and $72 million the same quarter the prior year. Though it must be noted, mortgage repurchase requests have been increasing over time, which can attributed to the unstable economic market, lower public spending power and lesser consumer confidence.
Now, if you have read my articles before, Bank of America (NYSE:
BAC
), BNY Mellon (SK) and State Street (NYSE:
STT
) show similar increase in investment banking fees.
The only thing that matters is the decline of the tier 1 capital ratio, to 11.1% this quarter, compared with 13.5% the same quarter last year. This shows a weakening capital position, leading to lower stability and protection to the depositors. But if you look at the year-over-year reports, the Tier 1 capital ratio in FY10 at 13.67% is much higher than 12.96% in FY09 and 10.87% in FY08.
We should probably "hold" it for now.
So, my advice to the investor - don't take any action as of now. The company is trying hard to make it up for you. Give it some time, will you?
Disclosure: I have no positions in any stocks mentioned, and no plans to initiate any positions within the next 72 hours.