By Bryan McCormick
In the last two months, it has become abundantly clear to everyone that the crisis in Europe is dominating global markets. We can see each day that if Europe surges or tumbles, our markets very quickly follow suit.

Today is no exception to that phenomenon, as markets worldwide react to a high-level resignation from the European Central Bank, a push to float a financial transaction tax for Europe, and rumors of an imminent default by Greece.

In the graph below, I am showing a more objective way to view how the crisis drives U.S. assets. The green line represents the Financial Select SPDR (NYSEARCA:XLF) exchange-traded fund while the red line is the CAC 40, and the benchmark equity index for France.

The graph is plotted on a percentage-return basis. As we can see earlier in the year, the two assets co-moved but with significant differences in returns.

In May, those distinctions began to collapse as the two traded much more tightly in correlation. That is odd, given the stark difference in composition of stocks in the sector and the index.

The correlation began to approach 1 when the general market crisis took off at the start of August. There have been minor divergences since, but nothing like what we saw before the crisis became the headline of the day on a regular basis.

What does all this mean? First, we should be monitoring European indexes in relation to other asset/sector classes for signs of divergences. If we do see a decoupling, it could mean that the influence Europe is exerting on our markets may be coming to an end.

That could lead to independent pricing and perhaps a chance for U.S. assets to trade on their own merit. If correlations stay as tight as they are, however, then we will know that the issues in Europe still dominate the tape.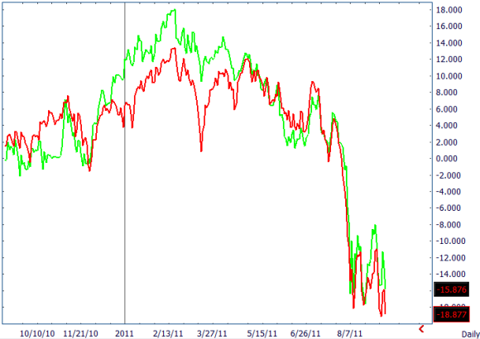 Click to enlarge