One of the companies that seems to be on everyone's watch list is Pfizer (NYSE:PFE). Let's look at the numbers and you decide for yourself. Lately the price action hasn't been that great as shown by this chart provided by Barchart, and the stock is presently 14.12% off its recent high.
Click to enlarge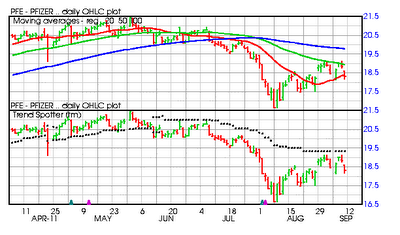 Pfizer is a biopharmaceutical company offering prescription medicines for humans and animals worldwide. The company's Biopharmaceutical segment provides Lipitor for elevated LDL-cholesterol levels in the blood; Enbrel for rheumatoid arthritis, polyarticular juvenile rheumatoid arthritis, psoriatic arthritis, plaque psoriasis, and ankylosing spondylitis; Lyrica for post-herpetic neuralgia, diabetic peripheral neuropathy, fibromyalgia, neuropathic pain, adjunctive treatment of epilepsy, and general anxiety disorder, as well as for use as an adjunctive therapy for adult patients with partial onset seizures; Prevnar/Prevenar for invasive pneumococcal disease; Celebrex for osteoarthritis and rheumatoid arthritis, and acute pain; Viagra for erectile dysfunction; Xalabrands for reducing elevated eye pressure; Effexor XR for depressive, generalized anxiety, social anxiety, and panic disorders; and Norvasc for hypertension. It also offers Zyvox for gram-positive pathogens; Premarin for menopausal symptoms; Sutent for renal cell carcinoma; Geodon/Zeldox for schizophrenia; Detrol/Detrol LA for overactive bladder; Zosyn/Tazocin, an intravenous antibiotic; Genotropin for growth hormone deficiency; Vfend, an antifungal agent; and Protonix for gastroesophageal reflux disease; Chantix/Champix for aid smoking cessation; BeneFIX, ReFacto AF, and Xyntha for lifelong bleeding disorder; Caduet for cardiovascular events; Revatio for pulmonary arterial hypertension; Pristiq for depressive disorder; Aricept for Alzheimer's disease; and Spiriva for breathing problems.
The company's diversified segment offers animal health products, such as vaccines, anti-infectives, anti-inflammatories, antiemetics and parasiticides; consumer healthcare products, such as dietary supplements, pain management, respiratory, and personal care; nutrition products; and gelatin, liquid, softgel, non-animal, and fish gelatin capsules. Pfizer was founded in 1849 and is headquartered in New York.
Factors To Consider
Barchart technical indicators:
If you have done your homework and just need a certain stock technical sell signal this can be a signal for a lower than normal entry point.
80% Barchart technical sell signal.
Trend Spotter technical sell signal.
Presently below its 20, 50 and 100 day moving averages.
The stock is down 14.12% from its one year high.
Relative Strength Index is 46.06% and still falling.
Barchart computes a technical support level at 17.87.
Trading near 18.31 which is below its 50 day moving average of 18.84.
Sales are expected to be down 1.90% this year and another 5.20% next year - a lot of this is caused by one of it's most widely sold drugs - Lipator- coming off patent and the generic drug makers will be jumping in for market share.
Earnings projections aren't what I would call robust with a consensus of only a .90% increase this year, 1.80% next year and only 3.79% compounded annually for the next five years.
In spite of these bland projections Wall Street brokerage analysts have released nine strong buy, nine buy, three hold and no negative recommendations in place.
Pfizer has had a long history of always keeping its product pipeline full and has always replaced drugs coming off patents so Lipator may not effect the price that much.
Even when we review columnist articles they have been positive 33 to 2 with Jim Cramer being one of the two dissenters.
The company has an A+ financial strength rating and has enjoyed above average price stability. The product line is wide and extensive so bad news about one drug has a minimal effect.
Major competitors are Abbot Labs (NYSE:ABT), Bayer (OTCPK:BAYN), Merck (NYSE:MRK) and Novatris (NYSE:NVS).
General investor sentiment:
I measure the individual investor interest by looking at how many Motley Fool readers are following the stock, and the 6,082 readers expressing an opinion voted 90% that the stock would beat the market.
The more experienced and savvy All Stars are more positive with a 94% vote for the same result.
Summary: For me, I'm going to pass on this one. Out of the 6,000 stocks I usually screen I like to see double digit projections for sales and earnings as well as some upward price appreciation. I don't find that here in Pfizer. If, however, you agree with the analysts and individual investors and still want to own it then at least at this level you can buy in at a 14% discount.
Disclosure: I have no positions in any stocks mentioned, and no plans to initiate any positions within the next 72 hours.