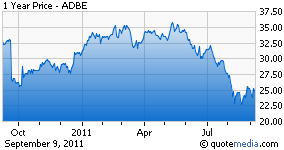 Facing a fading market for its mass-market Flash, which may become obsolete with HTML5, Adobe Systems (NASDAQ:ADBE) the company seems to have adopted a strategy of going "up the stack," into more professional markets.
This may seem like an obvious winner. The problem is that it's a move that seldom works for investors.
The class market may pay more than the mass market. But it's so much smaller that you wind up, at best, treading water. Microsoft's (NASDAQ:MSFT) decade-long move into server software is one example. But there are many others, ranging from Computer Associates to Hewlett-Packard (NYSE:HPQ).
The biggest money is in the biggest markets, and mass market players must focus on those markets to remain viable. The company's announcement of a workaround enabling Flash to play on iOS devices is a smart move, but only underscores the problem it has with growing elements in that mass market. If Apple hates you, you got trouble.
Among large tech outfits only IBM (NYSE:IBM) has made it work by adding a huge services revenue stream to its hardware and software, selling solutions rather than just better gear. But they were always more of a business-to-business company anyway.
Most analysis of Adobe has been technical in nature lately, or focused on the most recent results. It makes a lot more sense to focus on strategy, and the best way to find a company's strategy is to examine its press releases over time:
None of these deals are bad in and of themselves. Right now Adobe's balance sheet still looks quite handsome. But revenue growth is slowing as it loses traction in the mass market, and these deals just look too small to compensate.
Adobe began life as a PC software company. It is a mass market provider of graphic and video solutions. If it's not going to remain that, and if it's not focused on growing that business, but replacing it, investors would be wise to leave ADBE alone, no matter how many technical analysts call it a "bargain" after falling in value by "just" 25% over the last year.
Disclosure: I have no positions in any stocks mentioned, and no plans to initiate any positions within the next 72 hours.
Additional disclosure: Added the latest news to the story.