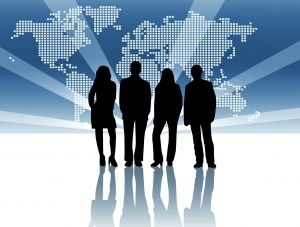 During last year's market drop and mega-fears (concerns about the global economy, European/Greek debt, Asian growth and our financial system), analysts correctly forecast company earnings growth would stay on pace. They were right, and the good company results pulled the stock market out of its slump and produced significantly good returns.
So how about this year? Those same fears are back, with many investors and pundits worried that this time the dark visions will come true. The stock market has reacted similarly. The question, then, is what about the security analysts? Do they now see reduced or negative economic growth amid increased uncertainties?
The answer can be seen by examining this summer's changes to their earnings forecasts. Now is an especially good time to examine the figures, because the 2nd quarter reports are in, providing analysts with data from the slow growth period. They have been able to meet with company management to better understand the outlook. In addition, those mega-fears have been fleshed out, so analysts have been able to incorporate the effects where appropriate.
Here, then, are the results:
Analyst Forecasts Remain Company-Specific
Occasionally (rarely), analysts chop forecasts across the board to adjust for major negatives and/or uncertainties (think late 2008). We didn't see such a reaction last year, and we don't we see it now. Instead, analysts remain focused on each individual company's prospects, factoring in economic forecast changes as appropriate.
This differentiation is clear in the tables below. Each table lists the analysts' earnings projections for the Dow Jones industrial average companies. The first table has the 2011 (calendar year) earnings estimates as of July 1 and September 2. The thirty companies are sorted by percentage change in the estimates, from most negative to most positive. The second table does the same, using the 2012 earnings estimates.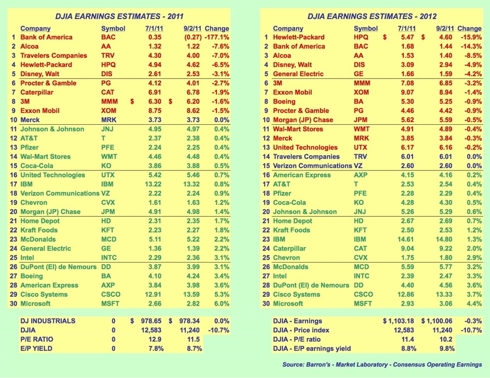 Click to enlarge
Focusing on 2012 estimate changes over 2% (negative or positive), the differentiation between the companies is clear – even within the same industry. For example:
Overall, 2011 and 2012 Earnings Estimates Barely Changed
Perhaps surprising, security analysts' earnings adjustments have barely affected the DJIA's overall projections; even as the DJIA itself fell over 10%.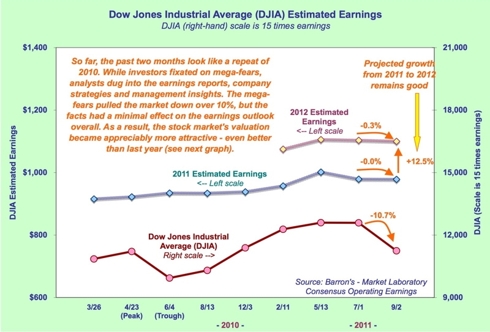 Click to enlarge
As a result, the DJIA's price/earnings ratio (P/E) declined significantly. Note the comparison with last year's sell-off shows that today's valuation is even better than then.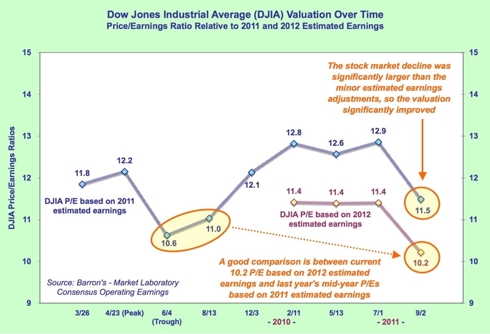 Click to enlarge
The Bottom Line
Analysts have been busy adjusting individual earnings forecasts. However, taken as a whole, there has not been much change. These facts show that security analysts, while taking conditions into account on a company-by-company basis, do not foresee the mega-fears culminating in a major adverse earnings effect.
So, security analysts' "vote" that the stock market's drop has been driven by worry, not fact. If they are right (again), the stock market offers excellent opportunities for income and growth.
Current dividend yield = 2.7%

Price/earnings (2011) ratio = 11.5 (equivalent to an 8.7% earnings yield)

Projected earnings growth from 2011 to 2012 = 12.5%

Price/earnings (2012) ratio = 10.2 (equivalent to a 9.8% earnings yield)
What is the potential return? If the earnings estimates hold and the DJIA returns to a P/E ratio of 12, the market would rise over 17% to 13,200. Remove today's mega-fears and it might get back to a 13 P/E ratio, meaning a 27+% rise to 14,300. Add in dividends and the returns are about 20% and 30%.
How real are these potential returns? Very. They happened last year for the same reason they could recur this year.

Disclosure: I am long INTC, JPM, XOM, CAT.

Additional disclosure: I am long U.S. stocks and U.S. stock funds.