Today closed out the shortened trading week on a devastating note, as investors all around the world participated in a massive sell off. The Dow slipped over 300 points and the S&P 500 tanked 2.7%. What is more surprising is the fact that gold finished the day relatively flat. Typically, when equities tank, gold see strong gains as it is one of the few safe spots for investors who flee their equity positions. Last night saw President Obama give a major speech about the unemployment issues in our nation, outlining a $447 billion plan to bolster the economy and hiring. Apparently, the speech did little to boost investor confidence, as the eurozone spooked investors with bad news, likely prompting the massive losses on the day.
One of the major sticking points on the day was fear of a Greek default. While this has been something of an issue for roughly 18 months, the time frame may have shrunk dramatically, as some analysts are calling for the country to default in just a matter of days or weeks. The euro also saw a rough performance on the day, helping to push the EUR/USD rate down below 1.4, a figure that has not been seen for some time now.
One of the biggest ETF winners on the day came from S&P 500 VIX Short-Term Futures ETN (NYSEARCA:VXX) which surged by 9.5%. With all of the market volatility, the fund has seen its daily volume increase by nearly 13 million in the last month, sealing its place as an effective trading and speculation tool. While VXX often profits from market dips, the biggest culprit in today's gains likely came from a key resignation at the ECB. Board member and chief economist Jurgen Stark stepped down in a surprising move, as he was not a supporter of bond-buying programs. This move leaves the ECB with just one German member, leading many to speculate that the country is slowly but surely removing itself from the eurozone, or that a German threat to leave the eurozone will force Greece to be expelled from the bloc.
Click to enlarge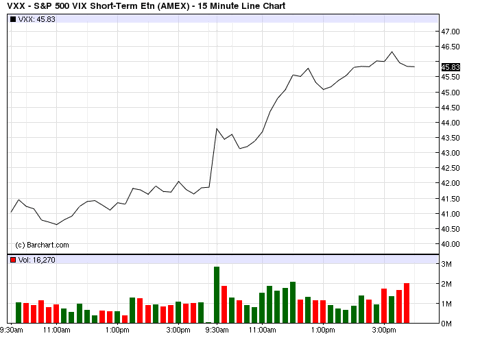 One of the biggest ETF losers was seen in the energy sector, specifically in alternative energy with the WilderHill Clean Energy Portfolio (NYSEARCA:PBW). PBW tracks an index which seeks to invest in green or renewable sources of energy and today saw two factors combine to sink this fund nearly 4%. First, many expected Obama, a long time green-jobs advocate, to announce some sort of plans to boost clean energy and jobs for that sector, yet his speech said little on the matter. What's worse, solar company Solyndra, a long time poster-child for federal support of clean energy firms, recently filed for bankruptcy and will lay off over 1,000 workers. Also, oil prices dipped by 2.3%, putting pressure on clean energy, which seeks to prey on high fuel costs to compete in the free market. Thanks to all of these factors, along with the extreme weakness in Europe, it was a very rough end to the week for this clean energy fund from PowerShares. Cheaper oil means a lower outlook for all green energy firms.
Click to enlarge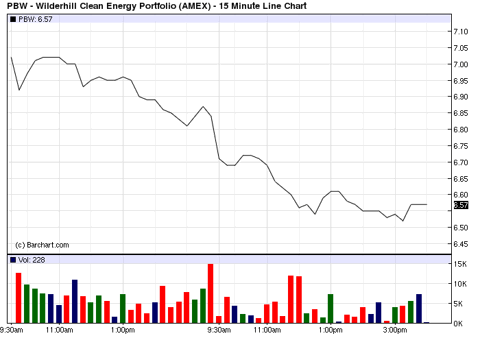 Disclosure: No positions at time of writing.
Disclaimer: ETF Database is not an investment advisor, and any content published by ETF Database does not constitute individual investment advice. The opinions offered herein are not personalized recommendations to buy, sell or hold securities. From time to time, issuers of exchange-traded products mentioned herein may place paid advertisements with ETF Database. All content on ETF Database is produced independently of any advertising relationships.