Invesco Mortgage Capital Inc. (NYSE:IVR) reported a stunning 17.5% decrease in their quarterly dividend. The IVR September 8th announcement of an 80-cent dividend is a significant dividend decrease. Management will address, in their late October conference call, the questions regarding why the stock's book value per share and quarterly dividends have decreased since last quarter's 97-cent dividend. The stock price chart reflects the change in book value per share and dividend cut.

Investo Mortgage Capital 1-Year Stock Chart
Shares of IVR have traded within a range of $15.77 - $24.07. The stock closed Thursday at $16.37. If the quarterly dividend can continue at 80-cents, then the stock offers an attractive 19.5% annual dividend yield.
click on all charts to enlarge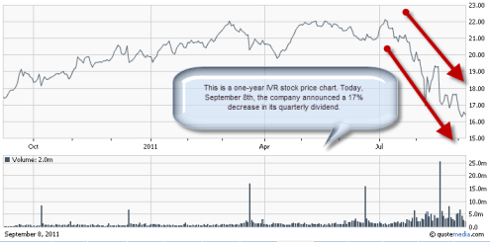 mREIT Industry Comparison: 3-Year Total Return
Invesco Mortgage Capital (IVR) has the lowest 3-year total annualized rate-of-return of the below mREIT peer group. IVR is a hybrid mREIT, meaning the company owns both 1) agency Government Sponsored Entity (GSE) mortgage backed securities (MBS) and 2) non-agency MBS.

The below table indicates American Capital Agency (NASDAQ:AGNC) reported an impressive 24.7% 3-year total annualized rate-of-return. The other agency-mREITs provided solid 3-year returns. This includes Cypress Sharpridge Investments (NYSE:CYS) with a 15.4% return; Annaly Capital Management (NYSE:NLY) wih a 14.2% return; and Hatteras Financial (NYSE:HTS) with a 11.1% 3-year total annualized rate of return.

Agency mREIT Armour Residential (NYSE:ARR) produced a 9.2% 3-year rate of return. It appears management can have influence upon the direction of shareholder returns. Annaly and American Capital are the largest players, in market cap comparison, in the mREIT industry. They produced some of the highest 3-year returns.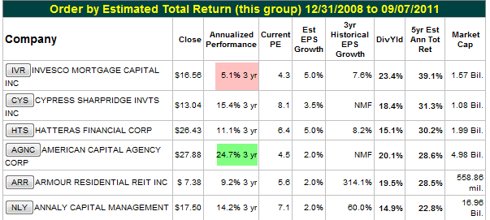 Strong Institutional Ties to Provide Insight and Counsel
Invesco Mortgage Capital (IVR) has extensive and impressive real estate resources. Invesco Mortgage Capital is supported, per slide 10 on this IVR September 2010 Invesco Ltd presentation, by WL Ross and Company.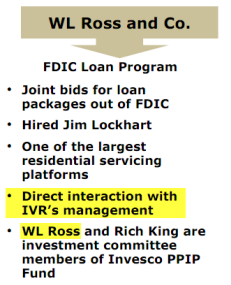 Wilbur Ross has an impressive investing pedigree. His insights and thoughts are sought by media and the general investing community. His direct interaction with IVR management can not be under estimated. He is well respected by most financial experts.

Invesco Mortgage Capital (IVR) Response to Book Value Decline Per Share
Investors will be seeking answers to the temporary decline in book value per share. The IVR management call should occur in late October 2011. IVR, as a hybrid mREIT has to deal with two risks: 1) interest rate risk, and 2) credit risk. The credit risk is associated with the non-agency MBS. Agency mREITs have the benefit of only investing in 100% credit worthiness agency MBS.

Disclosure: I am long CYS, HTS, AGNC, NLY.