Silver Wheaton (NYSE:SLW) has undergone a challenging second quarter as delays in receiving silver from Goldcorp's (NYSE:GG) Penasquito mine and a strike at San Dimas hampered efforts to hit sales estimates.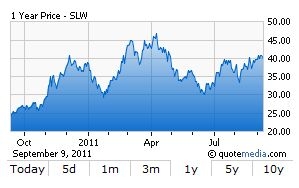 For the second quarter, silver equivalent production increased by 5% to 6.2 million ounces, up from 5.9 million ounces a year, despite the delays mentioned above. Revenues more than doubled to $194.8 million dollars on sales of 5.1 silver equivalent ounces, and operating cash flows increased to $168.3 million or $0.48 per share. Cash and cash equivalents rose to $701.4 million dollars.
Due to the delays stated above, yearly guidance was lowered from 27-28 million silver equivalent ounces to 25-26 million silver equivalent ounces with the ounces to be made up in later years.
The investment portfolio saw a bit of turnover with 1.8 million shares of Ventana Gold Corp sold and 10 million shares of Wildcat Silver shares purchased.
Investors have been wondering when Silver Wheaton will put the more than $700 million dollars on the balance sheet to work through either a new deal or higher dividend. The answer to that question is soon.
One of the items hampering efforts to put the cash to work disappeared with the new Canadian-Cayman dual tax treaty where funds can be repatriated from Cayman Island subsidiaries back to Canada without paying a tax. Previously, the tax rate was 10%, which seems small but makes a big difference when talking about potential deals in the $700 million to $1 billion dollar range. Repatriation of the cash back to Canada would have caused a significant tax hit were the repatriation agreement not in place.
Now that cash can be put to work as volatility in the markets is giving investors pause as to large financing deals until the problems in the banking sector are remedied.
One has to remember that there are two sides to every deal and a mining CEO will have to take the deal back to his board and make his case on how the deal will benefit his stakeholders in the long run. Going forward, any silver deals going forward will likely be at a higher price, possibly somewhere near the long-term analyst price for silver at $20 per ounce.
While potential deals may be at a much higher price per ounce, we need to remember that the recent gyrations in the financial markets are causing problems down at the junior level. Large mine buildout deals are becoming harder to finance as inflation begins to take hold, sending feasibility studies back to the drawing board and giving board of directors fits as they see cash flows from higher prices being eaten up by inflation.
If one uses the share price of Pinetree Capital (OTCPK:PNPFF) as a measuring stick for the health of the junior sector, prices remain at depressed levels as investors choose to focus on the safer large and mid-tier names.
The price of silver has lagged gold in the recent run-up but, if history is an indication, the next big move will be higher after a small pullback with silver and silver equities outperforming their gold counterparts. Leading the way will be Silver Wheaton.
Disclosure: I am long SLW, GG, OTCPK:PNPFF.