Do you use an iPhone? How about an Android phone? Do you have a Samsung or LG LCD TV? Do you have any sort of tablet? If you answered yes to these questions, then chances are you are using a product with Gorilla Glass.
Gorilla Glass is a product by Corning (NYSE:GLW). Corning is one of the largest manufacturers of glass in the world. The idea of Gorilla Glass is that it is supposed to be the strongest glass in the world. Gorilla Glass is primarily used in electronics as it is strong, sturdy, and scratch-resistant.
Recently, Corning gave a cautious outlook as the sales of LCD TVs has been lagging and will continue to be slow. I am not worried as Corning has still alot of business areas that will continue to grow. Corning does a lot of business with Apple (NASDAQ:AAPL). As Apple continues to blowout earnings each quarter, Corning will be a direct beneficiary of that.
Corning has been knocked down by the lack of sales from Samsung (OTC:SSNLF)and LG. However, I believe this is a right time to start buying. I do believe the slow growth in LCD TVs will be a drag, but the company will surely make up for it when Apple releases the iPhone 5. Don't forget Corning also provides glass for Google's (NASDAQ:GOOG) Android phones. Android has around a 50% market share, while Apple has around 25%. So already 75% of the smartphone market uses Corning glass.
[Click to enlarge]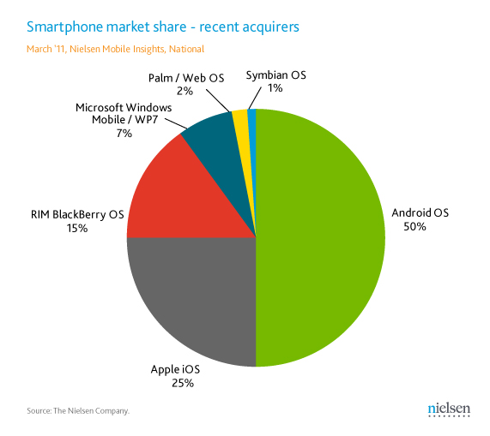 Another reason why Corning will continue to see nice sales growth is because of its involvement in the tablet market. Tablets have taken off very fast and the growth will accelerate. The iPad and the Samsung Galaxy tablet both use Gorilla Glass.
The market has discounted this company simply on the lack of TV sales. However, with a forward P/E of 6.35 and trading at book value this company is an obvious buy. You are getting direct exposure to the smartphone and tablet market. Not to mention this company is a strong play on Apple's performance.
Disclosure: I have no positions in any stocks mentioned, and no plans to initiate any positions within the next 72 hours.