Aurico Gold (NYSE:AUQ) - Following Aurico's acquisition of Capital Gold and the pending close of its Northgate (NXG) bid, Aurico has acquired quality deposits for what I consider a good deal (in the aggregate), creating what will be an up and coming 1m GEO producer. In addition to its attractive valuation, Aurico has numerous catalysts short, medium and long term.
Guadalupe Y Calvo Preliminary Economic Assessment – This may potentially serve to be the company's third flagship asset by 2014-2015. Its PEA is due for release (after being delayed) in mid o late September.
Expansion al El Chanate – El Chanate will be optimized through a multi-phase expansion, which should serve as a short and medium term production driver and marginally lower cash costs at this operation.
Young Davidson – Assuming the Aurico deal closes, Young Davidson will be Aurico's second flagship operation, commencing production in early 2012. This will add an initial 76,000 ounces in 2012, ramping up to 220k+ by 2014-2015 with average cash costs of $400/oz.

El Cubo – Continued ramp up (after being restarted) and future expansion to optimize this operation will add to short and long term production.
Brigus Gold (BRD) – While being hated by the market in 2011 despite a 30% increase in the price of gold, operations were significantly impaired in Q1 and Q2 due to lower mill throughput while development of its U/G mine at Black Fox was being constructed.
Commercial Production of the U/G mine in Q3 will drastically increase operating cash flow through much higher quarterly output coupled with a substantial decline in cash costs.

Phase 1 mill expansion at Black Fox – Phase 1, scheduled to be completed by Q1 2012, will increase throughput by 10% to 2,200 tpd or 120,000 oz annually.

Phase 2 mill expansion – While not officially announced as a definite go, Brigus is looking to soon begin a much larger mill expansion to 3,500 tpd or 190,000 oz annually, likely to be finished in 2013. Alternatively, Brigus would add an additional mill.

Continued exploration and/or a development decision of the 147 zone on black fox, highlighted by Bonanza grade intercepts.

Construction decision at Goldfields.
Franco-Nevada (FNNVF.PK)

Record high quarterly gold prices will give another boost to earnings coupled with new royalties that have kicked in, including just the 2nd quarter of consolidated reporting with its 5 streams acquired via the Gold Wheaton Transaction. New royalties include start of the 2% Tasiast NSR , 2% NSR on Detour Lake (2013), Central Ashanti NSR and 1.5% GR on parts of the Candian Malartic property.

Forward Progress being made at Prosperity, which Franco will have the right to purchase 22% of the 300,000 oz annual output @ $400 for 22 yrs (based on 2p reserves) in exchange for a 350m up-front payment to Taseko mines and 2m out of the money warrants.

A September 8th uplisting to a major US exchange – This will give the company the attention it deserves from institutions/pensions and retail investors. One unique attribute other than valuation that should draw investor attention is a monthly dividend (opposed to quarterly).

Colossus minerals (OTC:COLUF) - Colossus is a name most have never heard of as it is in the precious metal mining industry where even the large producers are largely unknown by the average money manager and retail investor. Unlike other advanced stage mining companies (approx. 18 months from commercial production), Colossus possesses characteristics extremely unique relative to the rest of the complex. It has shown to have at least one extremely high grade gold deposit, bi-products of platinum and palladium (opposed to the usual silver, zinc, lead, copper, etc.) located in Brazil, which I consider to be one of the most mining friendly countries in the world. Serra Pelada was host to one of the largest precious metal rushes in Latin American history. Its sole focus is on its flagship property, Serra Pelada, which is proving to be one of the highest grade gold and platinum group metal deposits in the world. (SEE: CHART For Highlights).

Like any investment, Colossus comes with its share of risks but this is one story in the industry that has gone more or less overlooked. From what I've gathered from my time spent evaluating Colossus, the risk/reward ratio looks extremely compelling and definitely warrants a closer look. The following is a brief overview of management, financial position and developmental progress:
CEO - Ari Sussman whose resume includes 15 yrs involvement in the mining industry. Over the last decade he has raised hundreds of millions for various projects and been involved with the Titanium Corporation and Continental Gold.
COO - Paulo Fagundes – Has a very strong track record of executing mine development and expansion projects. He has proven himself through his general manger position at Yamana's Mercedes mine, responsible for U/G development as later for the successful expansion at Its San Andreas mine.
CFO - Claudio Mancuso – With over a decade in the capital markets under his belt, he went on to become the VP of Agnico-Eagle from 2002-2009.
Financial Position – With everything on budget for the most part, Colossus has done an excellent job managing its exploration and capital costs incurred thus far. With over 80m of cash on hand at the end of Q2 2011, it is likely one more equity offering will be necessary before initial production commences.
Execution- With construction underway and continued exploration, Colossus has achieved several important milestones, namely the acquisition of an existing ball mill (which moves phase 1 production to 2H 2012 instead of 2013) and finalized plans to extract an initial bulk sample in the upper CMZ. This will be followed by two additional bulk samples from the middle and lower portions of the CMZ once appropriate underground development is reached later in 2012. A 3,500 meter U/G decline is on schedule with 200m completed, with acceleration expected, estimated completion by Q2 12'. 5 drills are currently operating with more to come in the near future. Installation of dewatering pumps and construction of a tailings starter dam are on-going and will be finished Q2 12' and Q4 2011. Lastly construction of a processing plant completion is currently estimated for Q3 2012.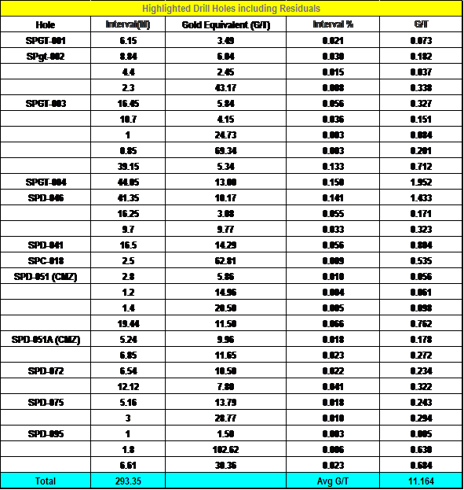 12- 16 month and 24 month Price Targets using 1,700 Gold, $80 Oil, $700 Palladium, $1,750 Platinum 10% discount rate.

Aurico - $20-$21.50, $26.50-$28
Brigus - $2.40 - $2.60, $3.40-$3.50
Franco Nevada - $62.50-$65, $77.50-$80
Colossus Minerals - $10-$11.50, $14-$16 (using very rough estimates)

Disclosure: I am long COLUF.PK, BRD, AUQ, FNNVF.PK.