In 1999, six years after being incorporated, NVIDIA (NASDAQ:NVDA) invented the graphic processing units (GPUs). It has been developing four processor brands: GeForce (entertainment and consumer market), Quadro (professional design and visualization market), Tesla (high-performance computing) and Tegra (mobile processor). This year, NVIDIA introduced the first quad-core mobile processor at the Mobile World Congress and expected to outperform its competitors. By 2015, NVIDIA is estimated to ship the GPUs with two billion computers a year.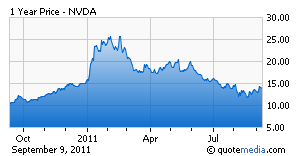 We are entering into the mobile revolution era. The number of smartphone users are growing and they are likely to replace PC users. In the UK, almost 50% of internet users have accessed the internet via their mobile phone data connections. NVIDIA possessed a competitive advantage with resources and many experiences to lead this market compared to its rivals, Intel (NASDAQ:INTC) and AMD. NVIDIA has been creating advanced technology in graphics and the mobile processor. If NVIDIA can dominate the mobile processor market through Tegra, investors can expect to earn big profits and growth. Timing and new invention will allow NVIDIA to grasp greater opportunities during the mobile revolution.
CEO Jen-Hsun Huang expected that the mobile business will grow to be a 20 billion dollar market. NVIDIA had dominated 50% of the Android smartphone market and 70% of the Android tablet market. NVIDIA must convince more mobile and tablet producing companies in order to generate more revenues. The recent settlement between the Federal Trade Commission and Intel enabled NVIDIA to sell its technologically advanced chips. The F.T.C. forbid Intel from rewarding computer makers that only use Intel's chip and punishing those that buy from its rivals.
NVIDIA anticipated a revenue of $4.7 billion to 5.0 billion and gross margins of 51% to 53% for fiscal year 2013. The company employed fabless manufacturing strategy by assigning all phases of the manufacturing process to world-class suppliers. The processes include wafer fabrication, assembly, testing, and packaging.
My valuation showed a fair market value of $24.49 for NVIDIA stocks. I recommend buying this stock at a price range of $10-12 with a target above $20. NVIDIA is currently traded at $14.
Disclosure: I have no positions in any stocks mentioned, and no plans to initiate any positions within the next 72 hours.