This article discusses the merits of gold equity investing. In my view, the only better investment than a gold stock is a gold stock that pays dividends. I recently had the fortune of gaining valuable insight from a legendary rock and roll singer. This article is an extrapolation of such rock and roll information gathered and apply this insights to gold stocks.
My view of the worldwide economy is one of strength and weakness. Debt burdened countries are de-leveraging. Emerging countries are leveraging up and growing. The U.S. economy has a lack of job growth, a Federal budget with to many zeros to count, decreasing housing values, political in-house fighting, and a lack of overall economic direction. Gold and U.S. Treasury Bills have become the safe haven for Europe and U.S. investors. There are, however, strong merits to be found in long gold and precious metal investments.
The concept behind this article began with a recent family story. My brother had two backstage passes to talk with musician George Thorogood. My brother and his guest were able to talk with easy-going George prior to a concert. This younger brother did not extend the extra backstage pass to me. This will not soon be forgotten. In candidness, I soon will receive two "SEC Selection of a Reporting Currency" training passes in Rapid City, South Dakota. Clearly my brother will learn the definition of quid pro quo.
To cut to the chase, here is the contexual relevant conversation between my brother and George Thorogood:

This quote brings us to the matter of gold stocks which pay dividends. Reviewing top dividend paying gold stocks results in yields better than short-term U.S. Treasury bills. I have included SPDR Gold Shares (NYSEARCA:GLD) to serve as a proxy for gold equities in general. My personal bias is to own GLD and sell covered calls against the position, but selling covered calls is far different than receiving a dividend.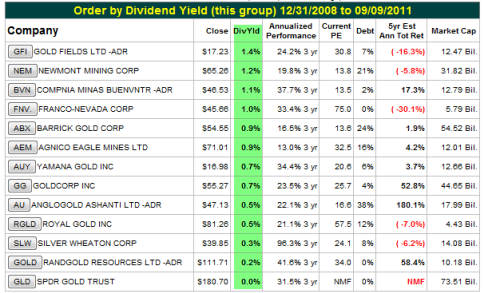 3-Year Gold Dividend Paying Stock Review
Pure Play Royalty Gold Stock
A pure-play "royalty gold stock" has distinct advantages. Royal Gold (NASDAQ:RGLD), for example, owns only "royalty" assets. As with most legal issues, there are numerous versions of what constitutes a royalty. Despite this, Royal Gold's portfolio consists of the following asset breakdown:
RGLD owns 36-royalty producing properties.
RGLD owns 22-development stage royalty properties.
RGLD owns 128-evaluation and exploration royalty properties.
RGLD pays a .50% annual dividend yield. The most recent dividend, announced on August 30th, pays 11-cents per share. The ex-dividend date is September 28th and payable on October 14th.
The dividend needs to be placed in context of Royal Gold's net business risk assessment. RGLD has less exposure to risks due to its royalty-based business model. The benefits include the following:
Cost outlay if limited to initial one-time payment. This payment is in compensation for a royalty based ownership for a specific project.
RGLD contains geo-political risk to country specific royalty-asset allocation.
RGLD is not at risk of needing to pay additional capital expenditures for any projects. The royalty terms are narrowly defined to RGLD's benefits based upon the payment of a one-time payment.
The September 8th RGLD 17th Annual Canada Mining Conference presentation highlights the net positive aspects of RGLD ownership and portfolio analysis along with gold production cost analysis.
Highest Present Dividend Yield
Gold Fields Ltd. (NYSE:GFI) has the highest pure yield at 1.4%. GFI has always had a decent gold-dividend yield. The most recent quarter can identify potential and the benefits of owning this unhedged gold producer. My view, and I study South Africa very closely, is that South Africa is a place that I don't want exposure. Removal of an apartheid system was obviously the right decision. The country, in its current form, could have radical changes at any time. This is not my cup of tea. Geopolitical risk, in my view, should be contained and S. Africa has major dysfunctional problems on its hands.
Best 3-Year Total Annualized Rate-of-Return (ROR)
A quick analysis of the above 3-year table shows Silver Wheaton (NYSE:SLW) has provided a 96.3% total annualized ROR. Although SLW produces silver to a greater extent than gold, it is feasible the business model can cross-over to the gold market.
SLW has contracts in place with key development and production gold and silver companies. The synergies and benefits are going noticed by SLW's shareholder rate-of-return. SIlver Wheaton has the following positive aspects:
Low fixed operating expenses, which is similar to a royalty company.
SLW benefits as an unhedged silver and gold 3rd party.
SLW has contracts with top tier silver companies at the present time.
The growth rate in gold production has increased over time.
Zero capital expenditure costs.
Zero exploration costs.
SLW's most recent dividend was 3-cents, and the company appears to be focused upon enhancing the dividend in shareholder returns.
Silver (and to a limited extent, gold) Streaming Contracts
Silver Wheaton is the largest metals streaming company in the world. SLW employs a mining concept known as "silver streaming". Silver streaming allows Silver Wheaton to purchase, in exchange for an upfront cash payment (similar to a royalty strategy), the by product silver production of a silver mine, SLW does not own the mine or provide capital expenditures.
These operating expenses, for future silver production, are established in contractual terms. Silver Wheaton currently has fourteen long-term silver purchase agreements. Secondly, Silver Wheaton has two long-term precious metal purchase agreements in which it buys silver and gold production from the counter parties.
Silver Wheaton has experienced significant year-over-year growth. The August 8th 2nd quarter results provided SLW's evidence of a terrific growth model. Revenues doubled and net profits tripled.
Disclosure: I am long FNNVF.PK, AEM, AUY, GG, RGLD, SLW, GLD.