"High Quality" and "Financials" are practically oxymora, but there are some great financials, including banks, brokers, asset management companies, REITs and insurance companies that have rewarded dividend investors for years with steadily increasing earnings and dividends. In 2011, with Financials generally getting slammed in an overall weak market (down 23.54% compared to a 8.22% decline in the S&P 500), even the better companies have been beaten up.

Defining quality is always a challenge. One place to turn is Standard & Poors, which has been providing rankings for over 50 years, now known as its Quality Rankings. I found an interesting explanation for those not familiar. In any event, there are a total of 92 Financials that currently are ranked "above average" at A- or higher (according to my data source, Baseline). As a whole, the group isn't down as much as the overall Financial sector, but it has fared worse than the market in 2011.

I decided to screen the universe for companies that have exhibited 4% or higher dividend growth over the past 5 years, of which there were 45. I eliminated those that currently yield less than 2%, ending with 37 names. The remainder included several names with market capitalization below 100mm. After removing those (email me if you would like those names), I was left with 29 to consider:

click to enlarge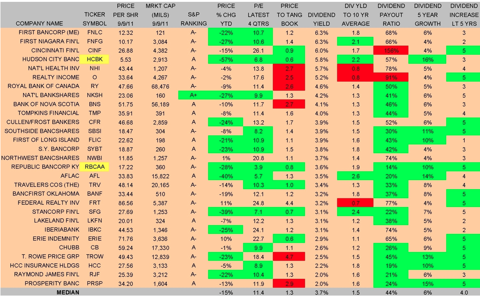 Before I go on, I want to share that I am not intimately familiar with most of these companies. Screening is part of a due dilligence process, and inclusion in this list isn't a recommendation. In fact, the limitations of my screening tool (Baseline) prevented me from excluding Hudson City Bank (NASDAQ:HCBK), which cut its dividend recently. I highlighted HCBK with yellow as well as Republic Bancorp Kentucky (NASDAQ:RBCAA), which has very large exposure to "refund anticipation loans". Several others may have other issues that would suggest that they aren't prudent choices for dividend growth investors.

Looking at some overall parameters, market caps cover micro-cap to large-cap. A few of those that made the cut are Canadian banks. The refined list has a median YTD price return of -15%. I have highlighted all stocks with declines in excess of 20% (though some that have declined less or even increased may be attractive). The median trailing PE is below the market at 11.4X, and I have highlighted all at 11 or lower. The median price to tangible book value is a low 1.3X. I highlighted in green those at 1X or lower and in red those above 2X.

Focusing on dividend-related data, the median dividend yield is 3.7% (sorted in descending order). The median yield relative to the 10-year average is 50% higher. I highlighted in green four yielding more than 2X the 10-year average and three at less than the average. Payout ratios are typically below 50% (median of 44%), and I highlighted all of those at < 50% in green and the few above 80% in red. Dividend growth over the past five years (tough years!) has been a median of 6%, and I noted the double-digit growers. Finally, a dozen of these companies have increased their dividend in each of the past five years.

Two of the names are "Dividend Aristocrats", defined as companies in the S&P 500 that have increased their dividends in each of the past 25 years, Cincinnati Financial (NASDAQ:CINF) and Aflac (NYSE:AFL). CINF, a property and casualty insurance company, has seen its earnings come down sharply this year, but analysts expect them to increase again next year. It appears to be more of a "value" story rather than a dividend growth story at this point. They just increased the dividend by less than 1%. AFL has a lot of exposure to Japan, but the reason investors have been "ducking" from the name this year relates, I believe, to a decision of the company earlier this year to "derisk" (reduce its asset portfolio). The company needs to increase its dividend payable in December to remain a "dividend aristocrat", and this seems very likely given the low payout ratio.

I do follow a few of the banks, including Cullen-Frost (NYSE:CFR), National Bankshares (NASDAQ:NKSH) and, to a lesser degree, Bancfirst Oklahoma (NASDAQ:BANF). CFR is based in Texas and is benefiting from the better economy. I have followed the company for more than a decade - it's a great institution in my view. In addition to banking, they have a large and growing asset management business. The company's biggest challenge is that they continue to be flooded with deposits but can't lend the money out fast enough. Loan demand did tick up in the most recent quarter. I am close to wanting to add this to my Conservative Growth/Balanced Model Portfolio.

NKSH has been in my model since late last year, and I find the current valuation to be stunningly attractive. The only Financial to be rated A+ (which is remarkable due to a bias against smaller companies), it trades at less than 10X trailing earnings but continues to grow earnings despite tepid loan demand. The community bank is in southwestern Virginia and has raised its dividend every year in its 15-years of public trading. Note that it does pay semi-annually and not quarterly. Insiders own in excess of 6.5%. To the best of my knowledge, they hold not Greek bonds in their investment portfolio!

BANF, like NKSH, has been beaten up too. Like NKSH, it has a massive deposit base. They have been a bit more acquisitive. While the yield is lower than that of NKSH, they have increased the dividend 5 consecutive years as well. Insider ownership here is quite substantial at 48%, including almost 40% owned by a partnership controlled by CEO Rainbolt.

As far as the rest of the list, some of the names look interesting to me, including Large-Caps T.Rowe Price (NASDAQ:TROW), Travelers (NYSE:TRV) and Chubb (NYSE:CB) as well as several of the smaller names. It sure seems like the wave of selling in Financials may have created some great opportunities among higher quality, conservative dividend-paying names. As always, I welcome your observations.
Disclosure: I am long NKSH.

Additional disclosure: NKSH is included in a model portfolio at Invest By Model