Shares of Arizona based First Solar (NASDAQ:FSLR) hit a new 52-week low on Friday as continued fears of an economic slowdown brought the struggling industry down even more. Contributing to the company's 5.7% decline this week was the bankruptcy news of solar company Solyndra. It has been a tough year for the solar industry as countries have reduced solar subsidies and smaller solar firms have started to go out of business. First Solar is down 35% this year, and is down 20% since its latest earnings report. You wouldn't expect a company that is performing well to have its stock struggle like that, but we've seen this story before. No matter how good your company may be, if your industry is in trouble, you are going to suffer. A good example is Goldman Sachs (NYSE:GS) during the financial crisis.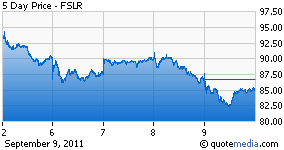 Before I dissect the company's latest earnings report, let's look at some of the good news that's come out since then. All one needs to do is visit First Solar's website to see the positive news releases from the past month. On August 10th, a solar project was approved for California, to be built by a subsidiary of First Solar. On August 24th, the company announced that five executives had bought $500,000 in First Solar stock. It's not a lot compared to the market cap of the company, but it's better than them selling stock. On September 2nd, financing was approved for a solar project in Canada. And on September 6th, the company announced a supply deal with Reliance Power, the largest photovoltaic supply deal in India's history. Does this sound like a company that is not doing well? I don't think so.

Now to be fair, the company's latest earnings report was not spectacular. The company's EPS number of 70 cents missed by 22 cents, an extremely large number for a company that usually beats estimates handily. Revenue guidance dropped by $100 million to a new range of $3.6 to $3.7 billion. The upper end of the operating income range was lowered by $10 million to $960 million. The EPS range was lowered by 25 cents to a new range of $9 to $9.50. Total capital spending was decreased by $200 million to a new range of $800 to $900 million, while manufacturing start up and factory ramp up expenses were also lowered. The company also slashed its operating cash flow range, now expecting $500 to $600 million. The old range was $800 million to $1 billion.

Before the report, the company was valued at $9.315 billion. Since the report, the company has lost $1.7 billion in market cap. Does that seem a bit much? To me, it does. While the company did lower revenue and earnings guidance, it did so by less than 3%. Before the report, the company's price to sales ratio based on the midpoint of the sales guidance was 2.48 for this year's revenues. Now that ratio is at 2.98. That would imply revenues this year of just $2.46 billion. That number in itself is less than the current expectations for $2.54 billion in the 2nd half of this year alone, not counting the fact that the company has already done $1.1 billion in 1st half revenue.

Now, remember, even with this lowered guidance, the lower end of its ranges still represent a 40% growth in revenues and 17% growth in EPS this year. That's still well above companies like Suntech (NYSE:STP), Sunpower (SPWRA), Canadian Solar (NASDAQ:CSIQ), Trina Solar (NYSE:TSL), and the like. And what about next year? First Solar is expected to have revenue growth of 32% and EPS growth of 20%. And despite the fact that analysts have knocked down their current year estimates for First Solar over the past month or two, they have actually been raising their estimates for next year. Maybe next year's numbers will come down like this years' have, or maybe things are starting to turn around.

First Solar has been paying for the sins of others in its industry, which is unfortunate. And until the US government remembers what green energy is, and Europe can spend money on things other than bailouts, there will be some pressure on this industry. But First Solar is down 35% this year, 20% in the past month, and that just seems like an overreaction. It still is the best company in its industry, and I don't see that changing anytime soon.



Disclosure: I have no positions in any stocks mentioned, but may initiate a long position in FSLR over the next 72 hours.