Most investors are unaware of Tim Cook's prowess. Apple's new CEO has been baking apple turnovers better than anyone else in the tech world. Personally, I think they're far tastier than any other technology CEO's baking. And I can prove it. No one does it better than Apple.

Puzzled?

Tim Cook, long time chief operating officer and now CEO, has been a genius at managing Apple. Under his operations leadership, the company has outperformed all others in one vital area, inventory turnover. For those unfamiliar with this term, inventory turnover measures the number of times inventory is moved in a year. The figure is obtained as follows:

Inventory Turnover = Cost of Goods Sold / Average Inventory

A high inventory turnover suggests a brisk business. There is a clear advantage to a rapid turnover of goods: lower holding costs coupled with robust sales. A large turnover only works if the company is not unnecessarily discounting, forcing the sales, or running out of merchandise.

Cook's turnovers are the best in the industry. Compare Apple's inventory turnover with its competition. I'll look at both inventory turnover and gross margins. After all, we don't want hardware companies sacrificing earnings to push merchandise. By including margins in the mix, we'll be on the look out for companies putting all their goods in the bargain aisle.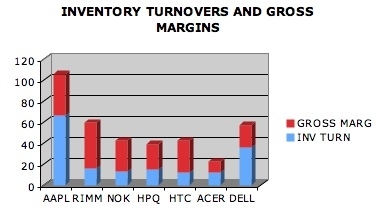 Apple turned over its inventory 66 times this year, four to five times the rate of most of its competition. Only Dell (NASDAQ:DELL) comes anywhere close at 36, respectable-- but no match for Apple's number.
Apple has not sacrificed pricing in order to move goods. Its gross margins have increased substantially. No discounting is driving sales here. Clearly, analysis requires a deeper look. This piece shines the spotlight on an ignored but important measure, a measure by which Apple outshines its competition.

Cook & Company prepares delicious Apple turnovers, clearly winning the Tech Bake-Off. Investors only need to bring their appetites.

Disclosure: I am long AAPL.
Disclaimer: The opinions in this document are for informational and educational purposes only and should not be construed as a recommendation to buy or sell the stocks mentioned. Past performance of the companies discussed may not continue and the companies may not achieve the earnings growth as predicted. The information in this document is believed to be accurate, but under no circumstances should a person act upon the information contained within. We do not recommend that anyone act upon any investment information without first consulting an investment advisor as to the suitability of such investments for his specific situation.