For every momentum stock, there comes a point when good news isn't good enough. For Lululemon's stock, this point must have arrived. A good earnings report last week wasn't good enough to propel the stock higher—the stock sold off. Is it just a pause before another ascend to the moon or the beginning of a descend down to earth?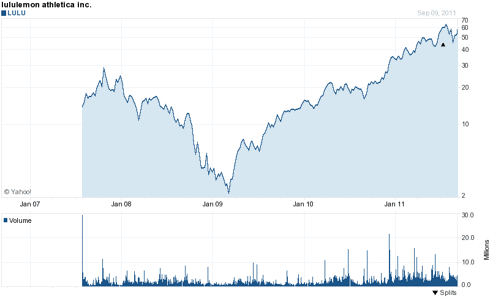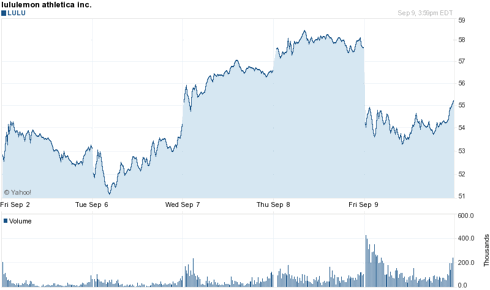 We do believe that it is the second. That's why we are staying away from the stock, and even consider an entry point of shorting it. Here is why:
1. Imitation. As is the case with other momentum stocks like Open Table (NASDAQ:OPEN) and Netflix (NASDAQ:NFLX), Lululemon (NASDAQ:LULU) doesn't have a sustainable competitive advantage, as it has no barriers to entry to keep the competition out. Already Gap (NYSE:GPS), Nike (NYSE:NKE), and Nordstrom have developed their own yoga athletic gear, and compete head to head with Lululemon. Nostrtom (NYSE:JWN), for instance, is selling similar gear 30 percent below that of Lulumon, while "Nike and Gap offer also are following Lululemon's practice of tapping into yoga's spiritual ethos, an effort that makes customers feel that they're part of the community."
2. The cooling off effect. Lululemon's sales can, in part, be attributed to a craze that eventually fades away, as people get tired of it, or as another craze catches up with them.
3. Saturation. Not every lady on earth is going to fall for the yoga craze and shop for a new gear every other week. This means that, even in the absence of any competition, sales will taper-off, as the market approaches saturation.
4. A weak economy. Money consumers spend on yoga or any other leisure activity is discretionary. This means that a weaker economy will make a dent in yoga gear sales, especially for the high-end of the market where Lululemon caters.
The bottom line: Economic fundamentals are catching up with Lululemon's stock, which make it ripe for a descent down to earth. I will avoid it, and even consider building a short position on any upturn.

Disclosure: I am short NFLX.