(This is Part I of a five-part series; one company per day this week. Check back tomorrow for Part II.)

Back in August I wrote an article here on Seeking Alpha recommending that investors stay aggressive in a broad market downturn. In particular, I derided the conventional wisdom of buying "quality stocks" to protect against market volatility.

My point was that investors should look not to bellwethers such as Johnson & Johnson (JNJ), and Apple (AAPL), which have held up well through the stock market correction, but rather strong companies whose share prices have been overly -- or unfairly -- weakened by market fears.

This week, I'll highlight five companies with strong business models, valuable brands, long histories of profitability, and depressed share prices. And while the broad market decline is not solely responsible for their troubles, these companies should have the ability to snap back when the economy rebounds.

First up is Southwest Airlines (NYSE:LUV). The number one domestic airline by passengers flown currently trades near a 2-year low, the victim of lower earnings, higher oil prices, and broad-based economic fears: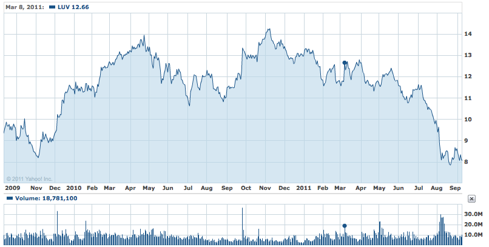 LUV 2-year chart, courtesy Yahoo! Finance

But the numbers behind the stock belie the near-50% drop from its October 2010 levels, soon after its lauded acquisition of AirTran Airways. LUV offers a strong balance sheet, with cash greater than its total long-term debt, and trailing twelve-month adjusted earnings of 61 cents per share, giving it a P/E of 13.2.

Free cash flow numbers better show LUV's value, as the company generated nearly a billion dollars in free cash flow in 2010, and another $900 million in the first six months of 2011. That's an impressive $1.8 billion in the past six quarters, or nearly 30% of the company's market capitalization.

The more important question for investors, of course, is how the company will fare going forward. The company's success amidst a difficult 2011 -- higher oil prices, economic worries, and the integration of AirTran -- should give investors confidence. Other than the sparkling cash flow numbers -- which boosted significantly changes in working capital -- Southwest's results have been acceptable, if not spectacular. Earnings per share were 19 cents per share for the first six months, with revenue up 15% year-over-year for the combined entities on a 3% increase in passengers, showing the company's ability to pass some of its increased expenses along to its customers. Unfortunately, those expenses were up nearly 20%, almost solely due to a 38% increase in fuel costs, and earnings have fallen 40% year-over-year.

However, the company's most recent traffic report, for August, should give investors some confidence. Passenger traffic was flat, but revenue passenger miles (RPMs) were up 4%, meaning more passengers flew longer, more profitable routes. Year-to-date, the company has increased its load factor (the percentage of seats filled) from 79.8% to 81.3%, and increased RPM's by over 8 percent. These key metrics give investors hope for a profitable second half; analysts on average expect full-year 2011 earnings of 39 cents per share, though the 18 estimates range from 16 to 90 cents.

Meanwhile, Southwest is well-positioned for success, despite short-term economic worries. The price of oil has dropped considerably over the summer, which is well-timed for a company that spent the last decade with a notable edge over its rivals in hedging its fuel costs, an advantage that has been blunted by the increase in speculation in oil derivatives. In addition, the integration of AirTran has added passengers and opened new routes for the company, both domestically and on former AirTran routes into Mexico. The most notable new Southwest terminal is in Atlanta's Hartsfield-Jackson Airport, AirTran's former hub and the world's busiest airport. On the cost side, synergies from the AirTran acquisition are already progressing at a $50MM annual run rate, with "many more significant" reductions ahead, according to CFO Laura Wright.

The company is already preparing for an economic pullback as well. Wright noted on the company's second quarter conference call that the company is planning to maintain or even decrease capacity year-over-year in 2012, aiming to reduce exposure to higher fuel costs and increase margins and return on capital. CEO Gary Kelly, in the Q&A, discussed the potential for optimizing former AirTran routes, as well as plans for cutting less-profitable routes from cities such as Philadelphia and Pittsburgh.

The long-term bull case for Southwest is somewhat simple: they always make money. 2010 marked the company's 38th consecutive profitable year, an astounding achievement in an industry as tumultuous as domestic airline travel. The company has an outstanding brand, a loyal and well-trained workforce, and an experienced management team. Through the 2008-09 downturn, the tragedy of September 2001, the economic "malaise" of the late 1970s: Southwest simply makes money.

Most notably for value investors seeking a margin of safety, LUV's tangible book value is $7.51 per share, just 7% below Friday's close. This seems an awfully steep discount for Southwest, a company with a brand that is consistently ranked as one of the best in America, and a company widely associated with high-quality customer service and low fares. In fact, the company was named the 4th most admired company in America by Fortune in 2011, behind only Apple, Google (NASDAQ:GOOG), and Berkshire Hathaway (NYSE:BRK.A). Yet the market would have you believe that the Southwest brand, workforce, business model, and management team -- its entire value above net cash, net receivables, and depreciated hard assets -- are worth less than half a billion dollars.

As such, it seems that the market has long since priced in high oil prices, and fears of weakening consumer demand. LUV is right now trading just north of the value of its assets, despite the value of its brand, the future benefits from the AirTran acquisition, and its long history of providing value to its customers and its shareholders. In the midst of one of its most challenging periods, Southwest continues to be profitable, and investors with patience should be rewarded when the company is able to take advantage of improved economic conditions, lower fuel prices, and/or the unrealized value from its acquisition of AirTran. In the meantime, the low premium above tangible book value, the company's history of profitability, and the proven competence of Southwest's management provide the margin of safety good value investors seek.

Disclosure: I have no positions in any stocks mentioned, and no plans to initiate any positions within the next 72 hours.