Each week I publish a weekly "Stocks to Watch" list. The list is not a buy recommendation, but is a way to generate potential future investment ideas. The list is generated using Finviz and looks for stocks hitting 52 week highs on Friday on high relative volume. Since the US equity market has struggled in recent weeks, recent lists have been sparse.
This week's list has 5 names including one ETF and one ETN. Caliper Life Sciences (NASDAQ:CALP) has a pending buyout offer, so it may not be an appropriate name to consider. Powershares VRDO Tax-Free Weekly (NYSEARCA:PVI) is a low volume, low volatility issue that is used primarily for its tax benefit so it is not an instrument geared towards trading. Thus, the list has three names worthy of future consideration.
iPath US Treasury Flattener (NASDAQ:FLAT) is an instrument I had never heard of until this weekend. For those investors wanting to speculate on the direction of the economy, interest rates or potential Federal Reserve actions, it is a noteworthy instrument. Finviz summarizes the ETN below:
"The investment seeks to replicate, net of expenses, the inverse performance of the Barclays Capital US Treasury 2Y/10Y Yield Curve index. The index employs a strategy that seeks to capture returns that are potentially available from a "steepening" or "flattening", as applicable, of the U.S. Treasury yield curve through a notional rolling investment in U.S. Treasury note futures contracts. The level of the index is designed to increase in response to a "steepening" of the yield curve and to decrease in response to a "flattening" of the yield curve."
Stamps.com (NASDAQ:STMP) was featured in my July 30th Stocks to Watch list and also in my August 15th article 10 Small Caps with Positive Earnings Trends. The $277 million company provides internet-based postage solutions and has been in an uptrend since it announced earnings at the end of July. The company upped guidance for 2011 to GAAP net income of $.87-$1.07/share and revenue of $90 to $100 million. The company's balance sheet is strong with no debt and a current ratio of 3.23.
STMP could benefit in the long-term from any USPS cuts in local offices or hours. I doubt the Post Office will disappear in our lifetime, but if USPS cost-saving measures are implemented the "in-store" experience at your local Post Office (if you can find one) could be adversely affected. In this scenario, individuals and companies not currently using online postage solutions could be prompted to do so. This is obviously a long-term outlook but STMP also has short-term catalysts in its favor. It has been steadily moving up even as the overall market struggles. It has shown recent earnings growth and recently upped guidance.
STMP's chart also shows a nice pattern, bouncing off support and breaking through resistance levels. $18 should be watched as a potential support level and entry point, with $20 being a potential resistance/breakout level:
click to enlarge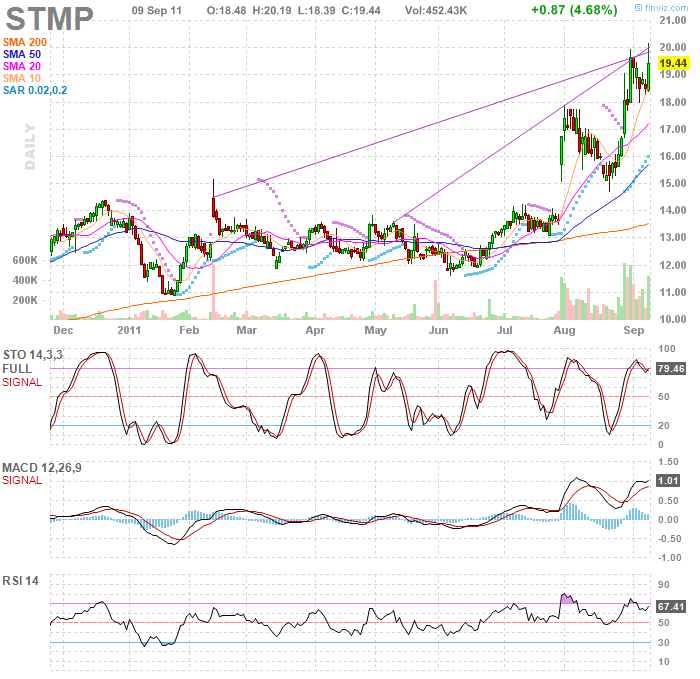 | | | | | | |
| --- | --- | --- | --- | --- | --- |
| Ticker | Company | Trend | Industry | Market Cap | Price |
| ARCO | Arcos Dorados Holdings Inc. Cla | Here | Restaurants | 5975.8 | 28.52 |
| CALP | Caliper Life Sciences, Inc. | Here | Scientific & Technical Instruments | 554.48 | 10.45 |
| FLAT | iPath US Treasury Flattener ETN | Here | Exchange Traded Fund | | 56.86 |
| PVI | PowerShares VRDO Tax-Free Weekly | Here | Exchange Traded Fund | | 25.02 |
| STMP | Stamps.com Inc. | Here | Catalog & Mail Order Houses | 277.8 | 19.44 |
Disclosure/Disclaimer: No current positions in stocks mentioned. Please note that Scott's Investments is not a financial adviser. Please consult your own investment adviser and do your own due diligence before making any investment decisions. Please read the full disclaimer at the bottom of Scott's Investments.