Following the SNB's "naked aggression," the Swiss franc posted its largest weekly decline against the euro since that currency was first introduced in 1999. Likewise, the dollar sprinted to its strongest weekly result since August 2010.
Yes, a new front has opened up in the so-called "Currency Wars." And policymakers and commentators everywhere are now reaching for their most dramatic metaphors.
People's Bank of China adviser Li Daokui blogged last week that the Swiss central bank's effort to stem the rise of the franc against the euro is akin to "drinking poison to end thirst."
Apparently a lot of chugging will be necessary. On Friday, Bank of Tokyo-Mitsubishi's Derek Halpenny lent a more precise clarification to Li's well-known Chinese saying. The European head of currency research stated: "In circumstances of a continued crisis in the euro zone, we believe that the SNB may be required to purchase foreign currency of between $500 billion and $1 trillion."
It's Swiss smackdown time at Thunderdome. The weaker euro trend is likely to limp deeper next week, with all "solutions" coming out of the G-7 meeting judged too ineffective. The existence of Merkel's Plan B to shore up Germany's banks in the event of a 50% loss on their Greek bonds conveys just how fragile Europe's consensus is.

Speaking on Bloomberg TV today, Pimco's Mohamed El-Erian said, "We need Europe to have its moment of truth, to recoginize that the current course isn's sustainable."

Unfortunately, September is not a very good month to have a "moment of truth." The markets suffer from an acute "seasonal adjustment disorder" this time of year. Credit-default swaps on Greek debt have climbed to a record, signaling a more-than 90% that Athens will fail to meet its debt commitment. The crack-up will be televised.
The SNB's bold action will have two consequences. If Switzerland isn't strong enough to defy global hot money flows, it may be forced to try measures like capital controls. And if it is effective --at least in the interim-- this type of currency floor might be also be employed by others, most notably Japan which finds itself in a similar "competitive disadvantage." As Nicolas Kennedy laid out in a wonderfully insightful article Wednesday:
More relevant for the Japanese is the policies of its direct competitors, most of which operate some form of dollar peg. As we've noted before, one only has to look at the market share grabbed by Korean corporates to realise the scale of the problem. . . . . A JPY currency floor would certainly focus minds on this type of anti-competitive behaviour, particularly at a time when the Fed and other central banks (UK specifically) are perceived to be mulling more quantitative easing . . .
Yes, a currency floor for the yen would certainly "rattle the barn" on the existing flexible currency regime. As I described in "The Post-Stimulus Era," the coming year will be a true test of how disorderly things can get, particularly if the late '08 international cooperation fades and 30's style "beggar thy neighbor" practices quietly slip into place.
In terms of my earlier recommendations: short-term, investors should stay in ProShares UltraShort S&P 500 ETF (NYSEARCA:SDS) and Market Vectors Double Short Euro ETN (NYSEARCA:DRR). They both seem poised to further capitalize on immediate trends.

As the following chart suggests, SDS has bounced off its 50 day MA with vigor. Its MACD, true strength index and stochastics are all suggesting an reclimb to early August highs.
[Click all images to enlarge]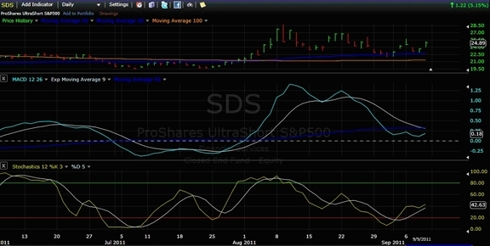 DRR offers a more fickle visual in the short-term, but this longer term weekly chart conveys recent snap and how its price galloped into the upper 50s during last (more manageable) euro crisis in April 2010 .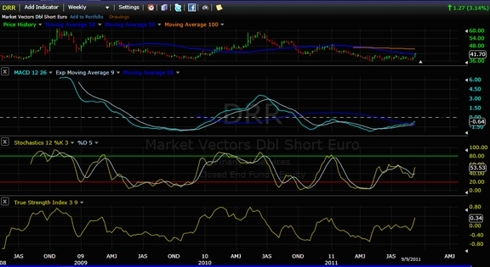 I'm less convinced of SPDR Gold Trust ETF (NYSEARCA:GLD) near term. Though I've long enjoyed its benefits, I'm worried about its chart short. It's had a heady blow out summer and the near-term technicals suggest a period of consolidation.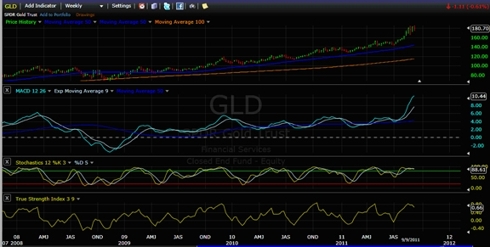 More broadly, gold is up 32% this year and poised for an eleventh year of gains if this rise continues through December. This will be the longest rally since at least 1920, something which should give investors some pause.
According to the World Gold Council, massive gold-linked ETF buying in the West linked to currency depreciation fears as well as strong demand from Indian and Chinese jewelry makers (still 55% of the market) really pushed up the third quarter numbers.
Of course, according to the World Gold Council, gold prices are expected to grow for the rest of 2011. But the third quarter might have been the sweet spot, in terms of Indian and Chinese jewelry. Demand for gold bars and coins grew in China with concerns about inflation, but we might be trekking the downside of that concern now.
That leaves currency depreciation fears as the primary catalyst. Of course, this jibes with an earlier Li Daokui blog. In August, well before the "thirst" quote, he stated QE3 is inevitable.