An exchange traded fund that profits from strength in the dollar has soared in early September.
PowerShares DB US Dollar Index Bullish (NYSEARCA:UUP) gained about 3% in the holiday-shortened week. The rise points to worries over deflation and the European debt snafu. The ETF, which climbed above its 200-day moving average Friday, follows the greenback's movement relative to a basket of currencies.
CurrencyShares Euro Trust (NYSEARCA:FXE) fell 3.7% this week on signs leaders in Europe aren't doing enough to stem the crisis.
The euro currency depreciated amid speculation of a Greek default and a potential proposal from the European Central Bank to take distressed banks off its emergency funding, report Allison Bennett and Paul Dobson for Bloomberg.
"There is a lot of chatter right now that Greece may default over the weekend," Charles St-Arnaud, a foreign- exchange strategist at Nomura Holdings Inc., commented. "A lot of investors are reducing their exposure and trying to find cover in case something happens over the weekend."
The Dollar Index briefly touched 77.183, the highest level since March 11, and has increased 3.2% over the week.
"The story is simply that the dollar is picking up a bit because there are very few places where you can run and hide," Sebastien Galy, a senior currency strategist at Societe Generale SA, remarked. "You're not getting any yield in Europe. It does suggest more dollar demand."
PowerShares DB US Dollar Index Bullish ETF (UUP)

click to enlarge
Rydex CurrencyShares Euro Trust (FXE)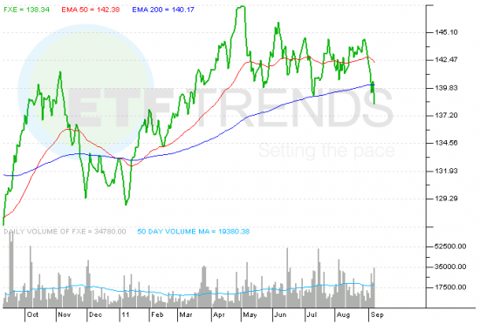 Disclosure: None
Read the disclaimer; Tom Lydon is a board member of Rydex|SGI.
Max Chen contributed to this article.