I have been inundated with emails from people claiming to have money that is burning holes in their pockets. The fear that the market has generated has inspired many to get long cash by pulling their money out. I have to admit, I am envious of those who claim that money is burning holes in their pockets. After all, who would not admit that is a nice problem to have? While having the "pocket burning sensation" of cash is nice, it's equally more important that it is invested wisely; if in fact, that is what one desires to do. But when it comes to assessing investment wisdom, there is no other way to grade one's decision than to see where value was projected and then realized.
Sometimes we are right and other times, well let's just say "not right yet." I say this because even though the projections may have not immediately panned out, there are reasons to remain bullish on each of the picks.
Back in July, I gave you four stock picks that I said were going to make me rich. Many of you laughed and even suggested a thing or two that I could do with my picks. We are not going to discuss these suggestions here. But let's just say that I respectfully declined, although I did enjoy the humor and creativity in the comments. Fast forward two months later, not only has this portfolio suffered some serious losses, but it has the potential to cause me some serious cash to fight in a litigation suit. Yes, one person recently reminded me that my picks were horrendous, and I was going to be sued for the losses incurred in his portfolio. I'm not sure if he was kidding or not, but the language used in his note to me suggested that I was not on his Christmas list.
How it started
On the 1st of July, I recommended investors to be long Sirius XM (NASDAQ:SIRI), Cisco (NASDAQ:CSCO), Level 3 (NASDAQ:LVLT) and Oracle (NASDAQ:ORCL), while recommending a short on Research In Motion (RIMM). Before we move on, I need to make it perfectly clear that I am now long RIM and have been long since it reached its bottom at $21.60.
Portfolio Selection on July 1st
| | | | | |
| --- | --- | --- | --- | --- |
| Company | Ticker | Percentage | Shares Traded | Current Price |
| Sirius XM Radio | (SIRI) | Rose 4.5% | 112,837,500 | $2.19 |
| Cisco Systems | (CSCO) | Rose 1.8% | 51,328,00 | $15.61 |
| Level 3 Communication | (LVLT) | Rose 1.6% | 47,341,000 | $2.44 |
| Oracle Corp | (ORCL) | Rose 1.5% | 21,566,700 | $32.91 |
While the stocks traded (at the time) at the prices listed in the above table on July 1, I had price targets of $2.75, $18, $3 and $40 respectively for Sirius, Cisco, Level 3 and Oracle. I felt my arguments were solid and still even today, I have not diverted. The reality is, these picks continue to trend with both the Nasdaq and the DOW. Furthermore, I still feel these targets are not only realistic, but they still can be achieved before the year is over. So I guess the question should be; am I being blamed or (in this case) sued pre-maturely?
The picture below tells the story that many investors (or in this case) this opportunistic litigant continues to overlook. There are not that many winners in the market since the 1st of July or when both indices were at their peaks. In fact, during that span Cisco continues to outperform both the Dow and Nasdaq while the other three are following modestly.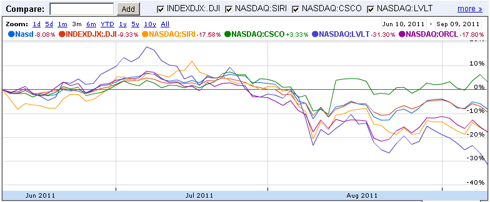 While indeed these stocks picks may have suffered some losses during that span, one of the other picks (RIMM) should have more than negated some of the impact; during which the short recommendation would have netted at least 30%. In fact, I continue to feel so strongly about this portfolio that I feel each stock has a chance to double over the course of the next 12 months.
Continued Outlook
Sirius XM reached a milestone this week as having last traded under 1 dollar for over a year. Not only is the stock heading up from this level, but investors are eagerly anticipating satellite 2.0, as well as what is projected to be a $2 increase in its base subscription rate. Though the market continues to add pressure to the stock, I reminded investors that it was this time last year when Sirius started its climb from $1 to where it reached a high of $1.69 and finally closed out the year at $1.63 for a 64% gain. Just to give you an idea, 64% from current levels would put the stock at a price of $2.80 by December 31, a target that I think many investors would gladly welcome.
Cisco recently completed its acquisition of the software assets from a British company formerly known as Axiom Systems. The deal which closed Friday, less than three weeks after Cisco first announced its intentions to acquire the company for what was estimated to be $31 million in cash; a figure that I think is pretty modest considering the amount of cash that the company holds. In other words, they won't miss it. But what is Cisco getting for its money?
The deal is said to strengthen Cisco's service provider management offering by automating ordering and fulfillment. Regarding this deal Cisco's website states the following:
The software provides management capabilities for network services across Cisco's

five company priorities

. It also enhances

Cisco Prime

, which enables service providers to better manage their networks and network services. By integrating service management and fulfillment capabilities into Cisco Prime, Cisco continues to demonstrate its commitment to innovate around the convergence of services and networks.

The AXIOSS team brings strong software development and professional services skills to support the Cisco Prime platform. With the close of the acquisition, the AXIOSS team joins the Cisco Network Management Technology and Cisco Advanced Services Groups.
Cisco's challenge continues to be its perception. Over the past several months, investors have sold off portions of their holdings as a way to minimize their exposure in the stock while they try to assess what is going on within the company. As in the example above with its acquisition of AXIOSS, if the company can continue to wisely reinvest its capital to create more innovative ways to compete, I feel investors, patient or not, will be rewarded handsomely. Because at the current level that the stock is trading, I see an opportunity for those who are looking for value and are willing to be patient to realize some significant gains.
Oracle continues to show its dominance. Unlike some of the prominent tech companies over the past two decades, Oracle has continued to discover innovative ways to remain at the top of the technology heap by focusing on the enterprise database market. Oracle's ability to be forward looking has caused it to set its sights not only on virtualization, but also cloud computing technologies, which is (in my opinion) the future of computing services. Though the stock has seen a recent decline in value, the company itself has not disappointed. At $26 per share, the stock remains incredibly cheap. Value investors would be wise to realize at its current price it has become a stock every investor must own.
Level 3 Communications' drastic drop from a high of $2.67 continues to be the event that has me scratching my head the most. It is unexplainable the punishment that the stock has taken. The questions is why? Looking at it from a different angle, it appears that its potential acquisition of Global Crossing (GLBC), a deal that has been previously agreed upon by both firms is now being feared to be blocked by the regulators. Last week, I brought up the example of what AT&T (T) is now dealing with on its deal to acquire T-Mobile.
It appears that telecom mergers are now becoming more scrutinized. The lawsuit seeking to block AT&T takeover of T-Mobile is a sign that shows a more aggressive antitrust stance by the U.S. As anticipated, the threat of this lawsuit has caused some investors to abandon ship. While I think this is a bit pre-mature, it is hard for me to fault investors in such unpredictable times. While I continue to accumulate shares of Level 3 as it continues to drop, I will be paying close attention to what unfolds with AT&T's deal as that will signal the likely scenario for the Global Crossing acquisition.
Summary
Authors get blamed for a lot of things, the same way that movie directors and video game developers get blamed for the violence displayed by children. The reality is, we seldom want to assume personal responsibility. While I am not proud of what the performances of the stocks above since I issued my recommendation, I understand that it is only a small part of what I strive to offer in my articles. Having said that, I will continue to put my stock picks up against anyone's, as I think I have done quite well overall. But I don't think my stock recommendations should ever be substituted for one's own due diligence; not to the extent where it will require my being sued. I will only ask that one expands their horizon when it appears that the performances are not trending in direction that was expected. In this case, I recommend 3 more months.

Disclosure: I am long CSCO, RIMM, LVLT, SIRI, ORCL.