co-written by Christopher Gannatti
One of the most significant ongoing issues casting a dark shadow over the markets in 2011 has been the European debt crisis. One expert, Martin Hellwig1, writes of the difficulties facing the markets:
The main reason why it has been so difficult to come to terms with these problems [the European debt crisis] is that we are not just dealing with one crisis, but with three crises at the same time. We have first, the kind of fiscal crisis that we see in countries like Greece and Portugal. We have next the kind of banking crisis that we see in countries like Ireland and Spain, where local banks have gone on lending sprees and nourished real estate bubbles and, when the bubbles burst, their solvency was impaired. We have finally, the kind of latent banking crisis that we see in countries like Germany or France where banks with fragile balance sheets have large exposures to sovereign debt from Southern Europe and/or to bank debt from Ireland and Spain. These three crises are entangled with each other, and it is difficult to disentangle them.
The problems look like an onion—layers keep getting peeled away only to yield more layers of difficulties. What started as the debt troubles of Greece, Portugal and Ireland, the so-called "periphery," spread to the larger economies of Spain and Italy. The core issue: These countries need to continue to issue debt to finance large budget deficits, but interest rates currently are at elevated levels because investors have dismal expectations regarding the abilities of these countries to meet their current and future obligations.
Many equity investors have pulled back from the European region or have focused on adding exposure to countries with supposedly fewer debt issues, an example of which is Germany. We think adding exposure to the international markets might be prudent, especially from the perspective of the following potential frameworks:
Concerns over the European debt issues have been impacting the prices of equities—valuation metrics such as price-to-earnings ratios are at low levels2; and the relatively low price-to-earnings ratios could signal good entry points for those seeking to manage exposure to the risks of the region.
The greatest risk that we see in accessing the equities from the region is the exposure of the European banks to the troubled country debts—whether sovereign debt, residential mortgages or other debts—that are on the European bank balance sheets. We believe these risks can be managed through funds that remove exposure to these potential problem areas of the market.
There may be opportunities to engage in tax loss harvesting3 trades with other international equity funds. Many have invested in the international equity markets at higher prices, either before the market crash in 2008–2009 or even in 2010, when prices were higher than today. When suitable, investors can book those losses today and reallocate to maintain exposure, but change the risk profile of that exposure by looking at ex-financial funds. Be sure to check with your tax advisor to obtain advice on your particular situation.
To give investors a better sense of the balance sheet exposure of the largest banks in Europe, we evaluated a sample of the balance sheets of the 10 largest banks by market cap within the MSCI EAFE Index4; this analysis illustrates how these different debt exposures are spread amongst them. We then provide a discussion of an ETF that can provide access to the low valuations in Europe while managing the risk of European banks by eliminating all exposure to financials ("ex-financials").
European Bank Stress Tests
Some of the biggest holders of European sovereign debt5 are in fact European banks. A stress test6 was conducted covering 90 of these institutions. The stress test data was released July 16, 2011, and the test examined the impact of a potential adverse economic climate over next two years on these 90 banks. Only five banks from Spain, two from Austria and one from Greece officially failed these tests (with failure defined as the "Tier 1" capital threshold7 falling below 5% over a two-year time horizon). The overall capital shortfall was placed at only about €1.90 billion—a relatively small number.
There was one type of scenario notably omitted from these tests—sovereign defaults. This is peculiar, since the potential ramifications of sovereign defaults have been some of the biggest points of discussion during 2011. Market prices also currently indicate banks are likely to take losses on the sovereign debt of peripheral European nations that they currently hold as assets on their balance sheets.8 However, the stress tests did accomplish a standardization of data across a large number of banks. We have evaluated the stress test data for some of the largest banks in the developed world equity index9 and summarize some of our findings below.
It is important to note that sovereign debt is not the only debt exposure that European banks have to these countries. Many also have large amounts of exposure to commercial mortgages, residential mortgages, corporate debt and loans to financial institutions (collectively referred to as "stressed country debt"). That being said, sovereign debt exposure is still significant, and the 10 largest banks by market cap included within the MSCI EAFE Index held approximately €224 billion worth of stressed country sovereign debt as of 12/31/10.
Of the major categories of debt shown, corporate debt, debt of financial institutions and residential mortgages exceed sovereign debt exposure. The takeaway: Although sovereign debt tends to attract significant attention in the press, it is far from the only exposure that European banks have to the debt of stressed countries. Because of this, policy makers must strike a delicate balance between attempting to rein in fiscal deficits (good for sovereign debt) and encouraging economic growth (good for these other, more economically sensitive, types of debt).
click to enlarge


If the first component of a bank's asset composition is the type of asset, the second regards a combined measure of quality and liquidity of those assets. The second chart shows the Tier 1 capital ratios of the same 10 banks, meant to measure the highestquality, most liquid assets against the total risk-weighted assets. Higher numbers indicate more of a cushion within the balance sheet to withstand adverse events, like any write-downs17 to debt securities held on the banks' balance sheets. It is worth noting that the individual U.K. banks shown all have Tier 1 capital ratios over 10%. Banco Santander (Spain) is on the opposite end of the spectrum, having the lowest Tier 1 capital ratio of all the banks shown.
France and Germany are frequently cited as two of Europe's strongest and most influential economies, setting the tone for the other nations within the eurozone. However, French and German banks are also noted as having large debt exposures to the stressed countries, which makes their political leaders very motivated to arrive at a solution to the debt crisis. The two preceding charts show the specific statistics for Deutsche Bank (Germany), Société Générale (France) and BNP Paribas (France). Although clearly not an exhaustive sampling of every bank within these countries, these are some of the largest and most interconnected banks in Europe, and when people consider financials within Germany and France, these banks will tend to be central to the formulation of any conclusions:
Deutsche Bank (Germany's largest bank): Deutsche Bank had nearly €100 billion of total stressed country debt exposure, with corporate debt and financial institution debt (each over €20 billion) as the largest components. Given that Deutsche Bank's stressed debt exposure is over three times its Tier 1 capital, any significant write-down on this debt would potentially require large capital injections that could dilute existing shareholders.
Société Générale and BNP Paribas (two of France's largest banks): BNP Paribas had nearly €200 billion of total exposure to stressed country debt, with corporate debt and sovereign debt as the largest components. The total stressed debt exposure, similar to Deutsche Bank, is also over three times their Tier 1 capital. Société Générale finds itself slightly better off, holding nearly €50 billion of total exposure to stressed country debt, which is close to twice its Tier 1 capital.

While we appreciate that the data from the stress test is comprehensive, we also recognize that much has occurred in the markets since 12/31/2010. Above, we show the total balance sheet assets and total balance sheet equity for the same banks we specified from the stress test. The ratio of assets over equity shows a measure of leverage—basically how much "borrowed money" the bank has used to finance its asset purchases. Higher leverage often means a higher degree of risk in an adverse economic environment, all other things being equal. A small move in the value of underlying assets leads to greater losses in equity with respect to banks with higher leverage ratios.
These 6/30/2011 numbers reveal that Deutsche Bank had a leverage ratio above 35, while Barclays and Lloyds Banking Group had leverage ratios above 20. Although we use total balance sheet equity exposure in this leverage analysis, other analysts suggest that the accounting rules in Europe allow for more generous accounting that does not reflect true fair values of all underlying assets. For example, some have estimated leverage ratios of Société Générale to be closer to the 40–50x range.21
If you recall, leverage ratios above 30 at investment banks such as Bear Stearns, Lehman Brothers and Merrill Lynch wiped out much of these firms' equity when large losses in mortgage-related assets created a global banking crisis due to these investment banks being too highly leveraged.
Can Equities Deliver Positive Returns If the Financial Sector Delivers Negative Returns?
As is the case with the United States, international financials are very much a central part of the economies in which they are domiciled. The credit that they provide is in many ways the blood that flows through the system to keep businesses alive. Therefore, an obvious question is: If there is instability within financial stocks, will that drag the rest of the market down with it?
Similar to the S&P Financials Sector Index, a specific, sector-defined sub-component of the broader S&P 500 Index in the United States, the developed international financial sector (measured by the MSCI EAFE Financials Index, a sector-defined subcomponent of the broader MSCI EAFE Index) has not provided compelling returns, whether judging over a short- or a long-term basis. Through 6/30/2011, we have seen this MSCI sector index with a negative average annualized return on a 3-, 5-, and 10- year basis. Over the longer-term periods, this has not prevented the MSCI EAFE Index (which contains financials as the largest weight) from still having positive returns.
Income-Hungry Investors
The most recent U.S. Federal Reserve monetary policy announcement has indicated that economic conditions likely warrant an exceptionally low Federal Funds rate for an extended period, which the Fed indicated could go as far as the middle of 2013.
The result: Investors' traditional income sources (money markets and bond markets) have historically low interest rates. Additionally, aging demographics within many of the developed world economies22 suggest that investors are going to be looking for more income-generating investment sources.
At WisdomTree, we cannot provide the comprehensive solution for the issues with the financials sector, nor would we advocate necessarily going all in on the troubled (largely European) banks. The truth is that no one knows how this situation might end or how long it might last. What we can offer is a potential diversification tool: The WisdomTree International Dividend ex-Financials Fund.
The Fund is about 70% weighted toward European countries (with 0% to financials). The average dividend yield of the European constituents: 7.4%. Again, it would be incorrect to expect any precise or exact dividend yield going forward on these stocks. Rather, we mean to use this number as one potential indication that, even in the face of significant market turmoil, certain European stocks could, in fact, look like attractive investments. If investors can hedge themselves, avoiding direct exposure to the obvious issues of financials stocks in Europe, in the current interest rate environment these stocks could be quite attractive.
Ex-Financial Funds for Diversification and Income
Relative value strategies typically have significant exposure to financials, because their traditional valuation metrics, such as price-to-book23 ratios or price-to-earnings24 ratios, look low relative to those of companies in other sectors. In fact, many developed international funds, particularly those with value tilts, have anywhere from 1/4 to 1/3 of their assets invested directly in companies within the financial sector. Pairing ex-financials dividend funds in those markets could serve as a very useful equity diversification tool if stress in the developed international financial sector accelerates.
WisdomTree created its International Dividend ex-Financials Fund (ticker: DOO) with a focus on high dividend-yielding stocks incorporated within countries of the developed international universe. The Fund contains the ten highest-yielding stocks from each sector, specifically excluding the financial companies. Including the "value" stocks (those with highest dividend yields) within each sector allows for the identification of relative value within sectors and does not allow the universe to become concentrated in any one sector that may happen to have unsustainable fundamentals, as financials did during the latter half of the past decade. The components in the Fund are weighted by dividend yield. When companies are weighted within an index on a dividend yield basis, those with the highest weights will tend to have relatively lower prices, given a certain level of indicated dividends per share. The resulting fund could therefore be said to have a "tilt" toward companies considered lowerpriced than others on a dividend yield basis.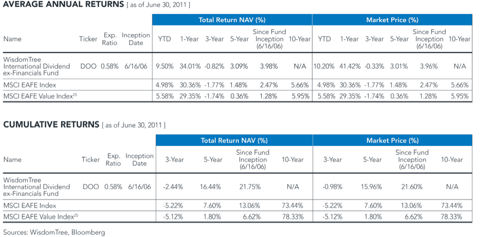 Disclaimer: Performance is historical and does not guarantee future results. Current performance may be lower or higher than quoted. Investment returns and principal value of an investment will fluctuate so that an investor's shares, when redeemed, may be worth more or less than their original cost. Performance data for the most recent month-end is available at wisdomtree.com. WisdomTree shares are bought and sold at market price (not NAV) and are not individually redeemed from the Fund. Total returns are calculated using the daily 4:00 p.m. EST net asset value (NAV). Market price returns reflect the midpoint of the bid/ask spread as of the close of trading on the exchange where Fund shares are listed. Market price returns do not represent the returns you would receive if you traded shares at other times.
You cannot invest directly in an index. Index performance does not represent actual fund or portfolio performance. A fund or portfolio may differ significantly from the securities included in the Index. Index performance assumes reinvestment of dividends but does not reflect any management fees, transaction costs or other expenses that would be incurred by a portfolio or fund, or brokerage commissions on transactions in Fund shares. Such fees, expenses and commissions could reduce returns.
Diversification does not eliminate the risk of experiencing investment losses.
Unless otherwise stated, data source is WisdomTree.
There are risks associated with investing, including possible loss of principal. Foreign investing involves special risks, such as risk of loss from currency fluctuation and political or economic uncertainty. Funds focusing their investments on certain sectors increase their vulnerability to any single economic or regulatory development. This may result in greater share price volatility Please read the Fund's prospectus for specific details regarding the Fund's risk profile.
Investors should carefully consider the investment objectives, risks, charges and expenses of the Funds before investing. To obtain a prospectus containing this and other important information, call 866.909.WISE(9473) or visit wisdomtree.com. Read the prospectus carefully before you invest.
Neither WisdomTree Investments, Inc., nor its affiliates, nor ALPS Distributors, Inc., or its affiliates provide tax advice. All references to tax matters or information provided on this site are for illustrative purposes only and should not be considered tax advice and cannot be used for the purpose of avoiding tax penalties. Investors seeking tax advice should consult an independent tax advisor.
WisdomTree Funds are distributed by ALPS Distributors, Inc.
Jeremy Schwartz and Christopher Gannatti are registered representatives of ALPS Distributors, Inc.
© 2011 WisdomTree Investments, Inc. "WisdomTree" is a registered mark of WisdomTree Investments, Inc.
Sources:
1 Hellwig, Martin, "Quo Vadis, Euroland? European Monetary Union Between Crisis and Reform," in e-book "Life in the Eurozone, With or Without Sovereign Default," 2011.
2 The price-to-earnings ratio is a measure of the aggregate market value of an index or set of stocks divided by its aggregate earnings. The price-to-earnings ratio gives investors an idea of how much they are paying for an index's earnings power. One way to think of the price-to-earnings ratio is how many years it would take for an index to earn its price (market value), assuming no future growth in earnings. A lower price-to-earnings ratio thus is considered a positive feature of an index, assuming future growth of that index is equal to that of a competing index.
3 Tax loss harvesting: Within current tax law this is a broad term for the general practice of using losses on various investments to offset gains that might have been realized on other investments to affect a potential change in the investor's overall tax liability. Although every investor's situation may be unique and therefore amounts of realizable losses will be different, general practice involves selling investments with current market prices lower than the prices paid for those same investments on the original date of purchase.
4 MSCI EAFE Index: A market cap-weighted index composed of companies representative of the developed market structure of developed countries in Europe, Australasia and Japan. We use this index here to accomplish the goal of defining an equity universe outside the U.S. but broadly representative of developed market equities. This index is one of the most widely cited and accepted within the industry for this purpose.
5 Sovereign debt obligations is issued by governments, as opposed to corporate debt obligations, which are issued by corporations. Governments' ability to pay these obligations are judged by characteristics such as stability, economic growth, taxing power and ability/inability to print currency.
6 Stress test refers to the 2011 EU-wide stress test. The test was conducted by the European Banking Authority. Results were released on July 16, 2011.
7 Tier 1 capital consists largely of shareholders' equity (valued at original issuance, not current market), retained earnings (less accumulated losses) and other low-risk securities deemed as such for both their high degree of credit quality as well as liquidity. It is one of the most stringent methods for measurement of bank capital adequacy.
8 Source: Bloomberg
9 MSCI EAFE Index.
10 "Stressed country exposures": Debt exposures to Portugal, Ireland, Italy, Greece and Spain, widely cited as those with the most pressing debt issues. Exposures indicate potential losses in the event of default for financial institutions, corporate debt, commercial mortgages and residential mortgages. Sovereign debt exposure taken as exposure "net" of offsetting positions or transactions meant to hedge risk, termed "net direct sovereign debt exposure," it indicates approximate potential losses in the event of sovereign debt default.
11 Country of incorporation is meant to distinguish banks by where they are domiciled, thereby connecting any debt exposures of the bank to debt exposures of the country.
12 Stressed country sovereign debt exposure taken as "net" of any offsetting positions or transactions meant to hedge risk, termed "net direct sovereign debt exposure" and meant to approximate potential losses in the event of sovereign default.
13 Stressed country total debt exposure, which includes the financial institution, corporate, commercial mortgage and residential mortgage debt and other debts within the stress test. This serves as a comprehensive measure of debt exposure to the stressed country or region.
14 Tier 1 capital is one of the most stringent methods for measurement of bank capital adequacy. It consists of shareholders' equity (valued at original issuance, not current market), retained earnings (less accumulated losses) and other low-risk securities deemed as such for their high degrees of credit quality and liquidity.
15 Risk-weighted assets are a measure of the size of the balance sheet reserve requirements, weighted by risk. Larger risk would imply the need to hold more assets in reserve, while smaller risk would imply the need to hold fewer assets in reserve.
16 Tier 1 capital ratio is an important measure of liquidity, measuring a bank's most liquid assets compared to the total risk-weighted assets that its balance sheet requires it to hold. Higher numbers typically indicate greater predicted ability to weather major liquidity events (like debt defaults) relative to other banks.
17 Write-downs occur within accounting rules and guidelines and are meant to bring asset-carrying values on bank balance sheets more closely in sync with the market prices of those same assets. Write-downs tend to erode capital, and at a certain point they could trigger the need for banks to raise additional capital.
18 Total balance sheet assets are a number that is specified on company balance sheets and encompasses all the assets attributable to the firm. "Assets" in this context means both the tangible and intangible resources used to generate a good or service of some value to a customer.
19 Total balance sheet equity is a number that is specified on company balance sheets and represents the stake of ownership held by the firm's shareholders. It is equivalent to the firm's total balance sheet assets minus the firm's total balance sheet liabilities (debts and obligations owed to parties outside the firm, also reported on the firm's balance sheet).
20 Leverage ratio is a way to measure how many of a firm's assets have been purchased through borrowed money versus actual equity. It is thought to be an important measure of risk within a firm's capital structure (i.e., the mix of different methods with which the firm has raised capital). Higher numbers are thought to imply more risk of potential trouble if an adverse economic event unexpectedly occurs. Such an event may include, but is not limited to, a write-down of the value of debt securities held as assets on the firm's balance sheet. Lower numbers imply the potential for less of this risk. There are no absolute leverage ratios that indicate the presence or absence of risk—rather the ratio is always judged within the context of its relation to peer competitors.
21 Source: chevallier.biz/2011/08/societe-generale-.../
22 Mauldin, John and Jonathan Tepper. "EndGame: The End of the Debt Supercycle and How It Changes Everything," Wiley and Sons, 2011.
23 Price-to-book ratio: Market price of a share of stock divided by the company's book value of equity per share. A lower number implies investors are able to purchase more book value per share for less money.
24 Price-to-earnings ratio: Market price of a share of stock divided by the company's earnings per share. A lower number implies investors are able to purchase more earnings per share for less money.
25 MSCI EAFE Value Index: The MSCI EAFE Value Index measures the performance of value stocks in the MSCI EAFE Index. The index is constructed using a combination of eight historical and forward-looking fundamental data points for every security within the MSCI EAFE Index to determine the underlying 50% of the MSCI EAFE Index market cap that contains underlying fundamentals more closely related to value stocks, such as lower P/E ratios and higher dividend yields. The MSCI EAFE Value Index plus the MSCI EAFE Growth Index would contain all the stocks within the MSCI EAFE Index.
Disclosure:
I have no positions in any stocks mentioned, and no plans to initiate any positions within the next 72 hours.