Almost all of us have come to realize that financial stocks are trading for cheap. With financials, such as Bank of America (NYSE:BAC) trading for one-third its book value, it's hard not to see the obvious bargain. Perhaps banks have become the cigar-butt stocks of the by-gone Benjamin Graham days. Despite their bargain, investors today don't seem to have a cheap appetite. With all the regulatory reform, economic uncertainty, and possible further shareholder dilution, most investors are staying clear of the financial sector. However, what if I told you I found a financial company that wasn't quite a bank bargain but was free of all the unwanted baggage and had high free cash flows and little debt to boot!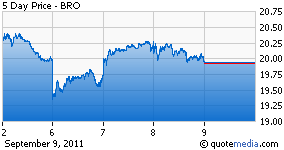 That exact financial company is Brown & Brown Insurance (NYSE:
BRO
) and it is in growth mode. Founded in 1938, Brown & Brown is a diversified insurance agency and brokerage company headquartered in Daytona Beach, Florida. As an insurance intermediary, the principal sources of revenue are commissions paid by insurance companies. The volume of business from new and existing customers, fluctuations in insurable exposure units (such as property values, sales, and payroll levels) and changes in general economic and competitive conditions all affect Brown & Brown's revenue.
Soft Property & Casualty Insurance Market
The past four years have posed significant challenges for BRO as a decline in insurance premium rates, commonly referred to as a "soft market," have directly affected their top-line commission revenue. Coupled with increased governmental involvement in the Florida insurance marketplace and the general weakening of the economy, BRO has had its fair share of obstacles to overcome in today's markets. With respect to Florida, the government-sponsored insurance companies, such as Citizens Property Insurance Company, have become market share leaders rather than insurance markets of "last resort" as they were intended. Citizens alone holds 21% of the Homeowners Insurance market in Florida. However, this is an argument beyond the scope of this article and better served for another day – back to Brown & Brown.
In his 2010
annual letter
, J. Powell Brown, President and CEO, addresses these pressures:
As a result of the current economic conditions and soft insurance rate environment, we experienced another year of negative organic growth. We make no excuses. While we always strive to grow organically, in 2010, shrinking exposure units in the middle-market economy continued to have a significant adverse impact on our organic growth. 2010 was incrementally better than 2009, but was certainly not where we would have liked it to be.
Growth by Acquisition
Brown-Brown's primary driver for top-line growth has largely been acquisitions. From 1993 through 2010, they acquired 367 insurance intermediary operations. These acquisitions are fueled in part by Brown & Brown's lucrative free cash flows. 2010, alone, generated free cash flow of $285 million, most of which, $157.637 million to be exact, was put to use in acquisitions.
BRO has maintained an average profit margin of 7.87% since year-end 2001 and has kept an average return on equity of 18.57% during the same time period with dividends-per-share compounding at 16.35% annually as well. All this growth is backed by a strong balance sheet with $400 million in cash & short-term investments and just $250 million in long-term debt at year-end 2010. Interest coverage holds at 18.4.
Tough Competition
Although a lucrative business model, Brown & Brown also has its fair share of competitors. Arthur J.Gallagher & Co. (NYSE:
AJG
) is another insurance intermediary roughly the same size and scale as Brown & Brown. It also faces stiff competition from industry leaders Aon Corporation (NYSE:
AON
) and the Marsh & Mclennan Companies (NYSE:
MMC
). To round out the lot, we cannot forget the private, boutique insurance brokers that are competitively entrenched in their local markets and challenge Brown & Brown on the local commercial accounts.
Conclusion
With a current price-to-book (a good valuation metric for a company growing by acquisition) of 1.78 versus the ten-year average of 2.59, one could say that BRO might be a good growth bargain. After all, with book-value-per-share compounding at an annual rate of 25.26% since 2001, this stock may be worth a second look.
Disclosure: I have no positions in any stocks mentioned, and no plans to initiate any positions within the next 72 hours.