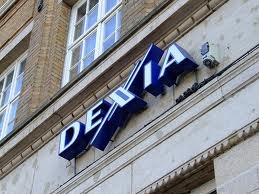 The fear that Dexia, a Brussels-based money center bank, may become the 'another Lehman' thought to be lurking somewhere in Europe was given further credence a few days ago when its CEO resigned suddenly. The surprise departure of the senior executive -- often a grave omen -- turned up the heat up on a stew which had already been simmering for months.
While both the French and German governments should have enough reserves and borrowing capacity to backstop their banking systems following default by one or more European sovereigns, the Belgians recently broke Iraq's record for being the country unable to form a government for the longest period of time (500+ days and counting). While the political dysfunctionality appears to have been a boon for the local economy, it raises questions about what will happen should Dexia need a bailout following what appears to be an imminent Greek default.
Reflecting its regional significance, the Belgian, French and Luxembourg governments injected over 6 billion euros into Dexia during the last financial crisis. But without a Belgian authority to negotiate with, and given that France's banks are coming under significant speculative attack (for good reason. More on 'slippery' accounting at French banks here), there is a very legitimate question of whether a similar regional bailout can be orchestrated again.
Will France and Luxembourg bilaterally intervene to save a Belgian-based bank? They may not have much of a choice given the interlinkages with their own deteriorating banking systems. Or perhaps Belgium's King can step into the fray and unilaterally invoke some obscure crisis powers. Complicating matters further is that any bailout related to sovereign debt also likely need to be a lot more than last time's 6 billion euros.
Naturally, the derivatives market has been watching and pricing the situation accordingly. Below is Dexia's multi-year CDS chart.
[Click to enlarge]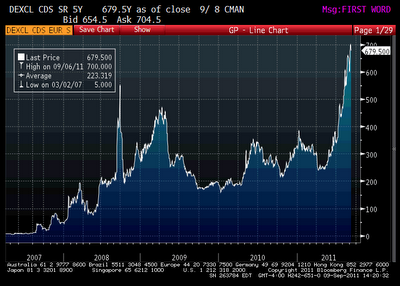 Further information on Dexia's capital structure and debt maturity schedule can be found here.
Investment Recommendations
In terms of how to invest agains the risk, the euro (NYSEARCA:EUO) came under heavy pressure on Friday and further weakness should be expected until the Greek default fallout resolves itself. Before it's all said and doneת, I would not be surprised to see the lows from last year of $1.18 tested.
European financials (NASDAQ:EUFN) should also continue to be vulnerable and U.S. money center banks (NYSEARCA:SKF), while stock full of reserves, are not immune to European financial contagion. Volatility (Pending:VIXX), the U.S. Dollar (NYSEARCA:UUP), and gold (NYSEARCA:GLD) should also continue to be excellent plays through this crisis.
Disclosure: I have no positions in any stocks mentioned, and no plans to initiate any positions within the next 72 hours.