Prices to insure Apple Inc. shares from losses dropped to a one-year low after Steve Jobs, who presided over a 91-fold increase in the stock, stepped down as chief executive officer.

Implied volatility for three-month options at the current stock price fell to 1.07 times the level of historic volatility, down from this year's peak of 1.9 in February. Options usually rise when moves in the underlying security increase.
What the Bloomberg article is saying is that if you compare the implied volatility of the options to the historical volatility of the stock, they're roughly the same right now.
But here's an important point – volatility isn't the same thing as money. Apple options themselves are selling for relatively high prices right now.
In fact, if you use the implied volatility to historical volatility comparison, Research in Motion (RIMM) options are even cheaper that Apple's – even as its implied volatility rises into earnings later this week.
This chart shows the 90-day implied volatilty against the 90-day historical volatility for Apple: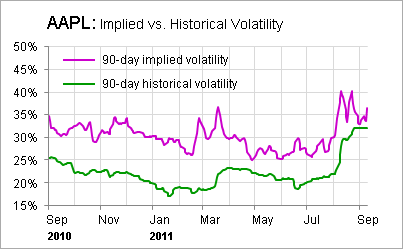 And here's a similar chart for RIMM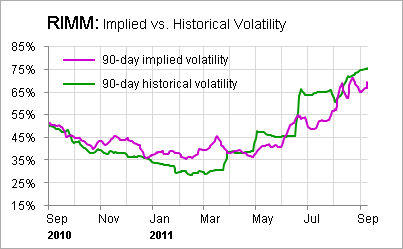 Looking at the ratio between implied and historical volatility, you can see that, yes, Bloomberg is correct that Apple options are "cheap," but it appears that RIMM's are even cheaper.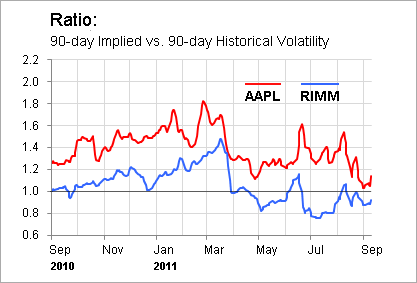 Actual option prices: Not so cheap
I think what Bloomberg should have taken a look at is actual option prices.
Here's how much it would have cost to buy both a 10% out of the money call and put for Apple with 90 days until expiration back on June 17 and on August 19 – in actual dollars and as a percentage of the stock price.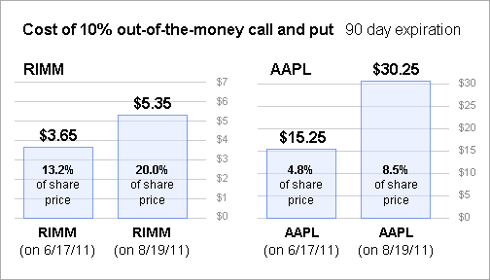 Click to enlarge
(Click to enlarge)
For both stocks, the options are more expensive now than they were a few months ago. As for RIMM, back on August 19, those 10% OTM options cost about 20% of the share price. That's not so cheap at all. I'd expect implied volatility to remain high into the earnings announcement, then drop after the news is released.
In Apple's case, Bloomberg may have a point. If you believe that realized future volatility will actually turn out to be higher than what's implied now, I suppose one could view AAPL's options as a bargain.
But volatility isn't the same thing as actual money. Keep that in mind as you decide when to buy or sell these options.
Disclosure:
I am long
AAPL
.