The euro area debt crisis continues and with it the probability that the ECB eventually adopts a more expansive monetary policy increases. Concurrently, 'QE3' or a similar gimmick is likely to be implemented by the Federal Reserve at the September FOMC meeting, as US economic data continues to sag, especially employment related data.
This monetary backdrop should keep gold well supported. Other factors that tend to influence the price of gold are for the most part also gold-friendly at present, with the possible exception of the dollar's exchange rate. However, it should be noted that we have seen the gold price rise even while the dollar strengthened on several occasions in the past – usually when the main impetus behind dollar strength was a further deterioration in the euro area crisis.
It is of course possible that gold will correct somewhat in the near term (it would actually be a good thing for the market if it were to pause and catch its breath), but this is by no means certain.
Regardless of that, many gold stocks continue to offer very good value. We have discussed the growing strength in gold's purchasing power before, and this has without a doubt elevated mining profit margins while simultaneously raising the net present value of economically viable discoveries. This strength in gold's real price continues to be in evidence as can be seen below.
(Click charts to for larger image)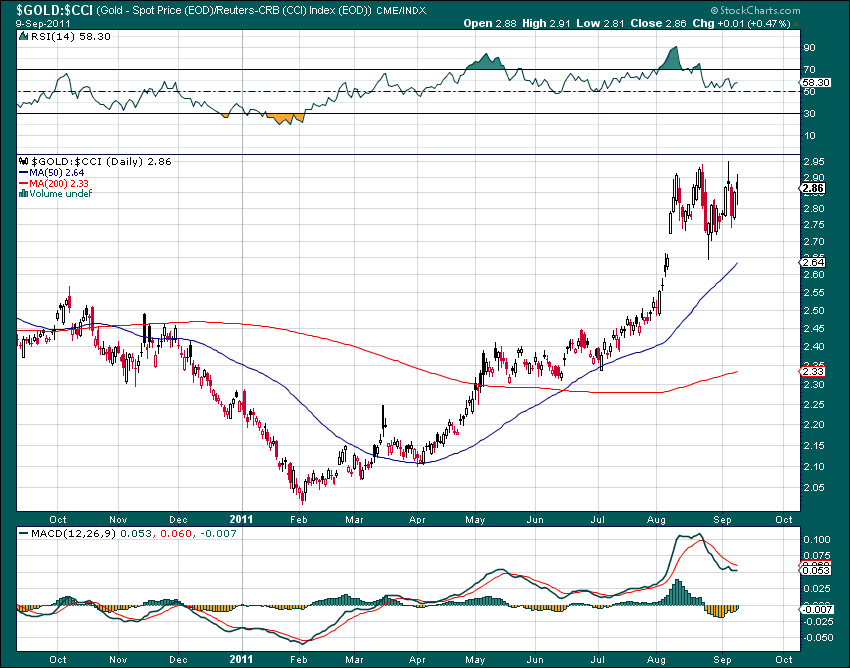 The gold-CCI ratio shows that gold continues to be very strong relative to industrial commodities.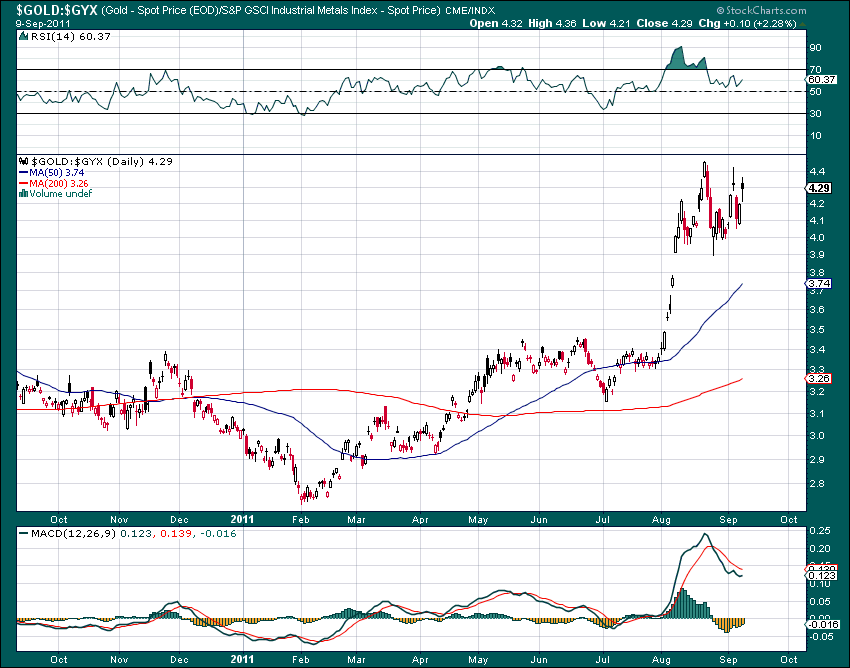 The Gold-GYX ratio shows how gold has strengthened relative to base metals since February.
On a weekly basis, gold looks overbought and due to correct. However, such weekly overbought reading can be very persistent in a strong uptrend and could be easily relieved by a dip that 'eats up time' rather than price.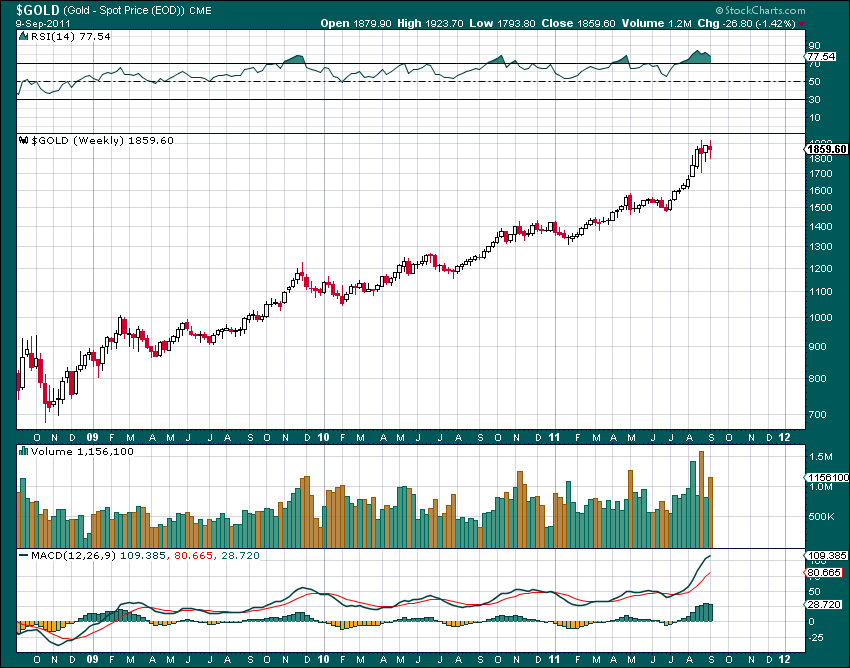 Gold in USD terms, weekly – the market is very overbought, but there is no telling how exactly this will be resolved.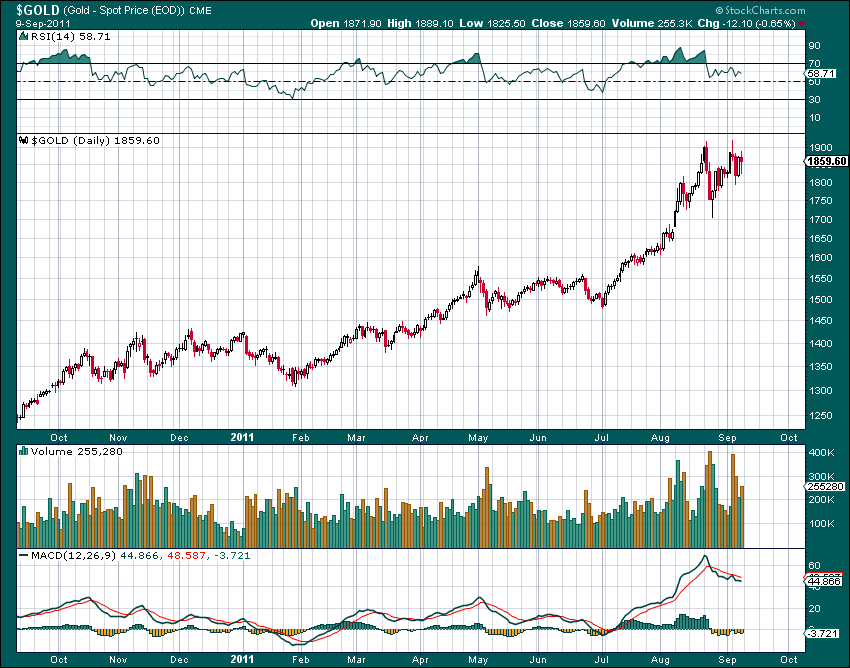 The daily chart of gold is currently not overbought, but there have been several large volume spikes that indicate the market has problems with overcoming the $1,900 level in the short term.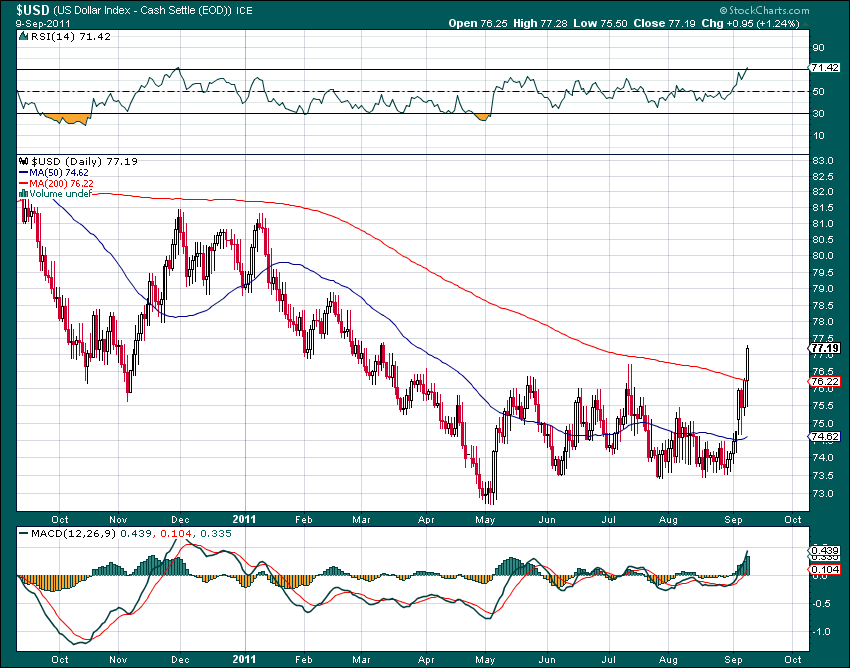 The US dollar's recent bout of strength may be putting a brake on the US dollar gold price – gold in non-dollar currencies meanwhile keeps hitting new highs.
In terms of the euro the gold price has hit a new all time high at the end of last week. While it is looking somewhat overbought in euro terms as well, a new short-term MACD buy signal has just been given as can be seen below: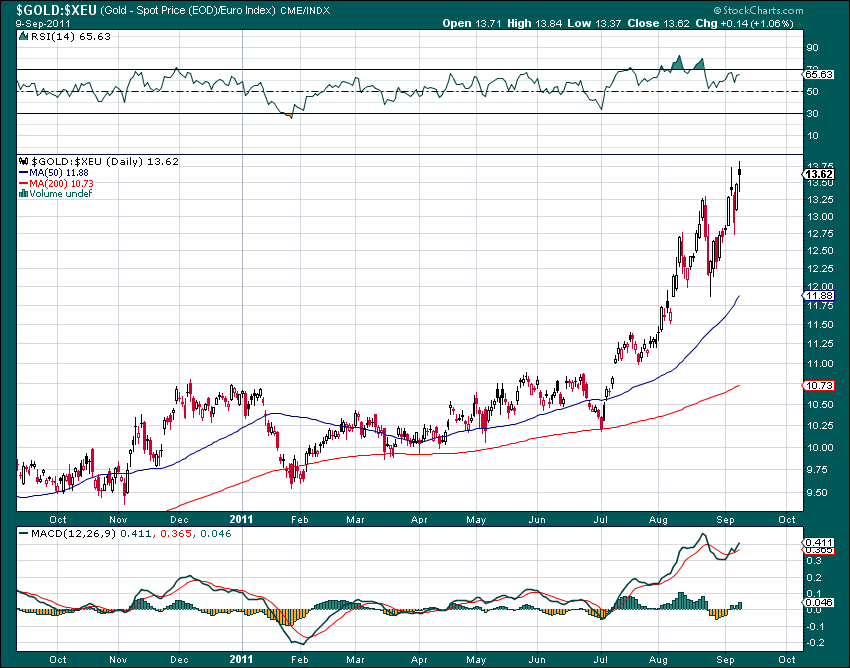 Gold in euro terms, daily – still zooming to new all time highs.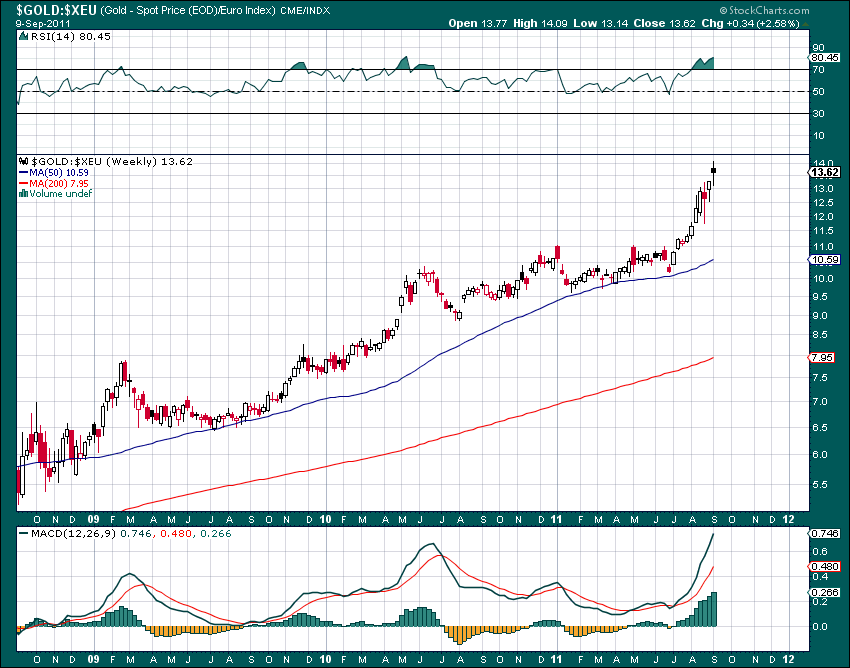 On a weekly chart one can see that gold/euro is now significantly overbought as well.
Gold Stocks
As we have noted a little while ago, a HUI-gold ratio buy signal was triggered in August. Since then, gold stocks have begun to outperform gold, but they still remain very cheap relative to gold. Note here that the HUI-gold ratio tells us that they are cheap relative to the nominal gold price. Relative to the real gold price they are even cheaper.
The HUI index has managed to break out to new highs, but it is too early to judge whether this breakout will be sustained in the short term. The index is notoriously volatile and a steep sell-off in the stock market could lead to some profit taking in the near term. There is also the fact that the sister index XAU (which has a slightly different composition) has not yet managed to break out. This disparity is indicative of the fact that although the advance in gold stocks has broadened, it remains uneven. There is not yet a move 'in concert.' As a result careful stock selection continues to be rewarded, but it also means that one must remain circumspect about breakout moves such as the one in the HUI.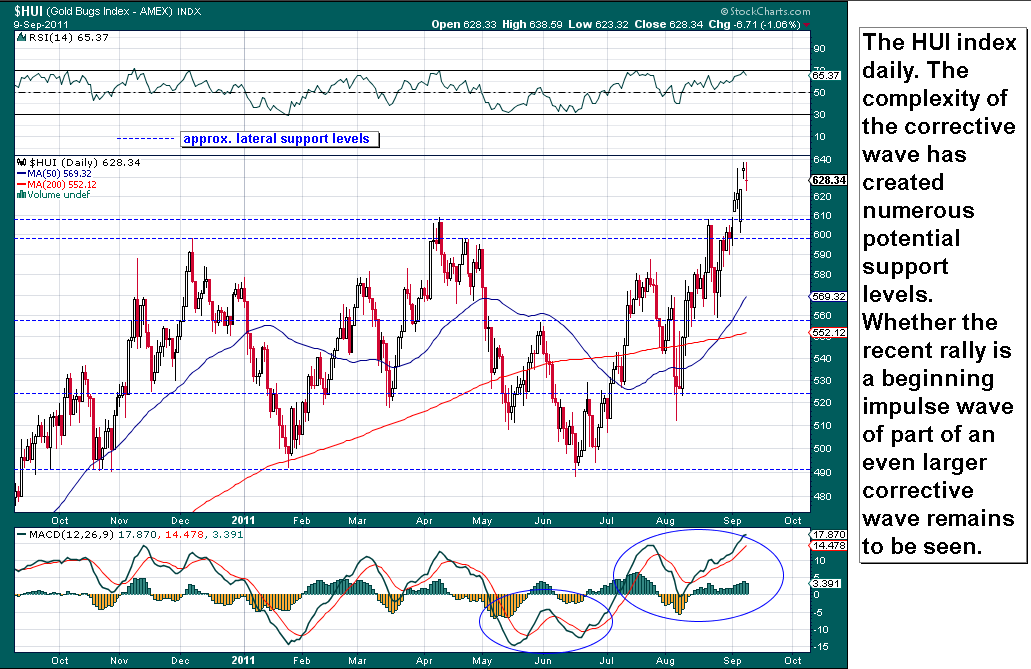 A daily chart of the HUI showing the recent breakout. This is not yet big enough to be sure it will hold in the near term – to wit, a previous breakout attempt in late April failed. It is possible that the consolidation period – essentially a complex corrective wave that has lasted ten months – is not yet finished. However, any prospective pullback should probably be seen as an opportunity given the recent sharp increase in gold mining profit margins.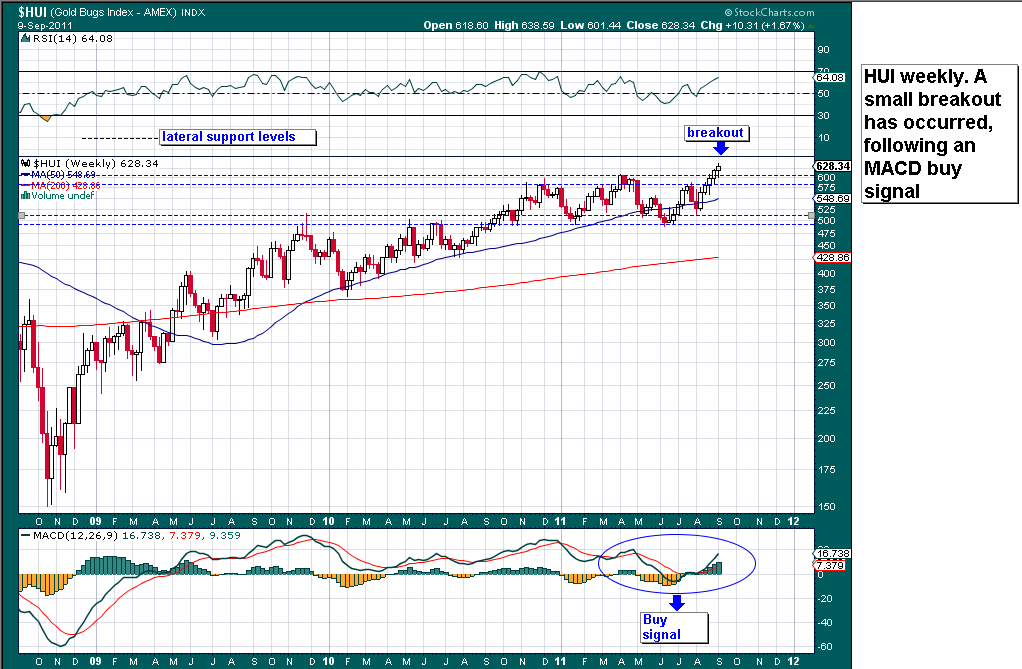 The most important lateral support levels can be easily seen on a weekly chart of the HUI. Here it is also obvious that the break-out is still slight. Alas, the index is on a weekly MACD buy signal, and the sector has certainly acted well lately – especially as it has been rising in the face of a very turbulent time in the broader stock market.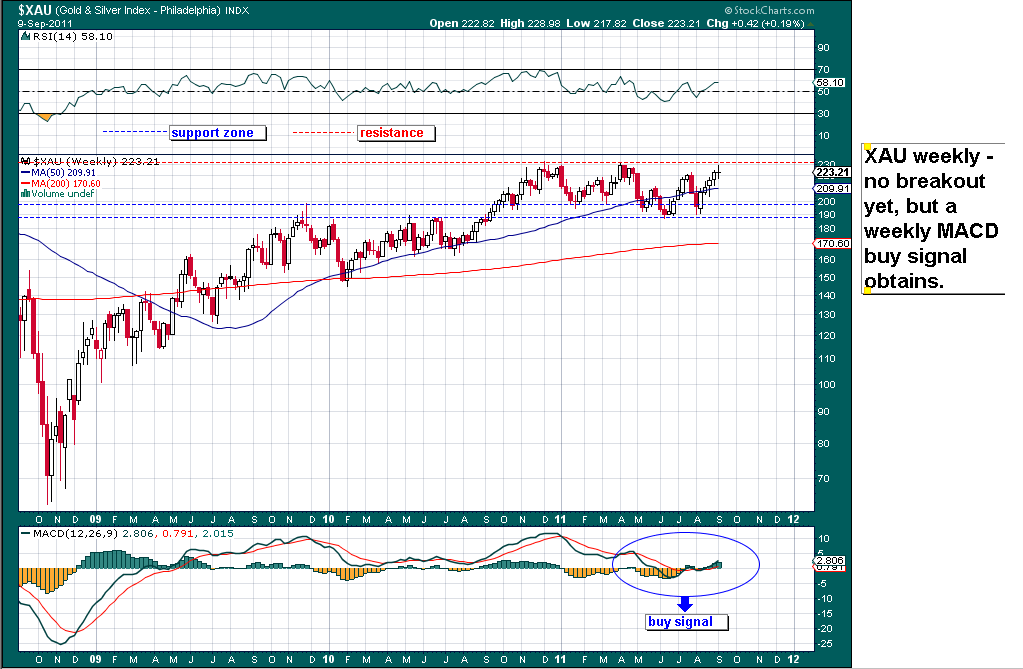 The weekly XAU sports an MACD buy signal as well, but as can be seen here, there was no breakout from the consolidation yet.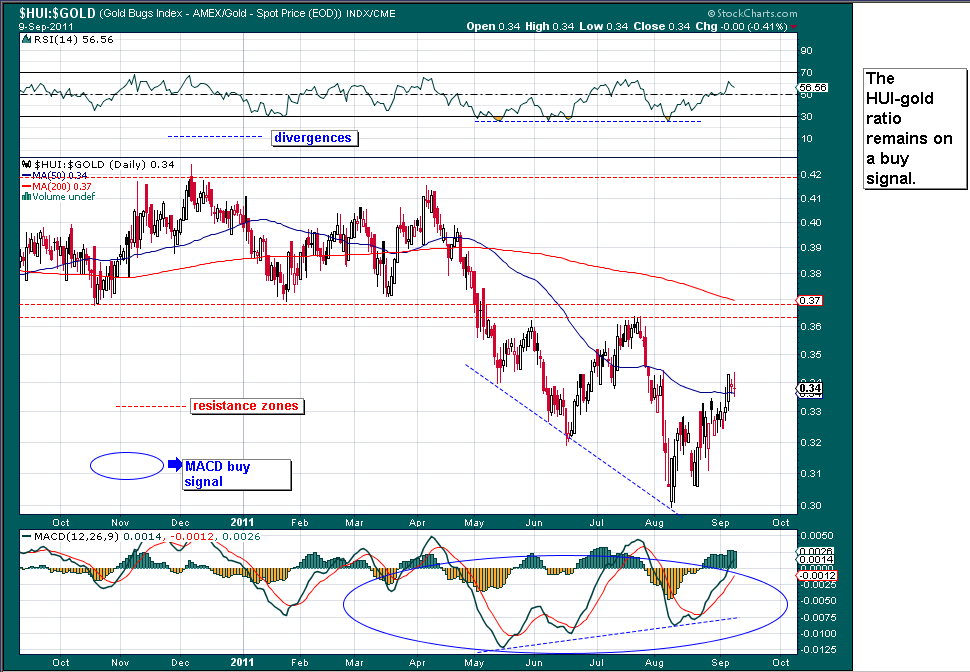 The HUI-gold ratio buy signal remains in force. As of now, gold stocks remain very cheap relative to gold.
Below we look at a few selected gold stocks. Please be aware that this is by no means an exhaustive list. We merely picked a handful of issues that strike us as interesting for a variety of reasons, mainly due a combination of fundamental and technical factors. This should not be seen as a recommendation to buy these stocks. We merely want to highlight a few situations that may be worth a closer look and merit investigation. Note that numerous risks attend investment in gold mining stocks, ranging from political to operational to gold price risk. Investors should do their own due diligence and/or consult a registered investment advisor before buying any stocks.
1. Jaguar Mining (NYSE:JAG)
Recently George Soros' hedge fund has taken a stake in JAG. This is noteworthy because Soros' fund has in the past proven to have a 'Midas touch' in terms of stock picking in the gold sector. As an example, he bought a stake in Allied Nevada (NYSEMKT:ANV) early on, which was one of the best performing gold stocks over the past three years (incidentally, ANV is certainly no longer an 'undervalued' stock).
JAG is however mainly interesting because it is a turnaround story. Due to operational problems at two of its mines and a strong Brazilian Real the company saw its stock enter a bear market in early 2010. Recently it has finally managed to overcome its operational problems and a recent weakening of the Real is liable to give it an extra boost.
Below we have indicated the sequence of events that has accompanied the making of the stock's recent low.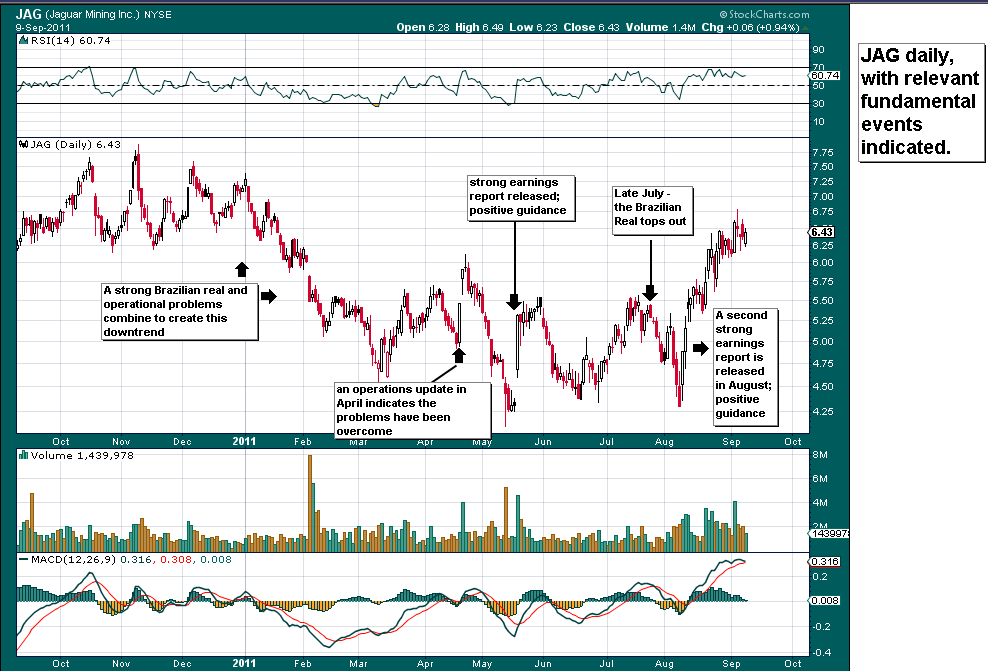 JAG, daily, with the 'turnaround sequence' indicated. The details can be found at the company's web site. Here are the April PR about the operational improvement, the first good earnings report in May and the second good earnings report in August.
The weekly chart shows that the downtrend from 2010 has recently been broken, following weekly MACD/RSI divergences with price and a series of MACD buy signals.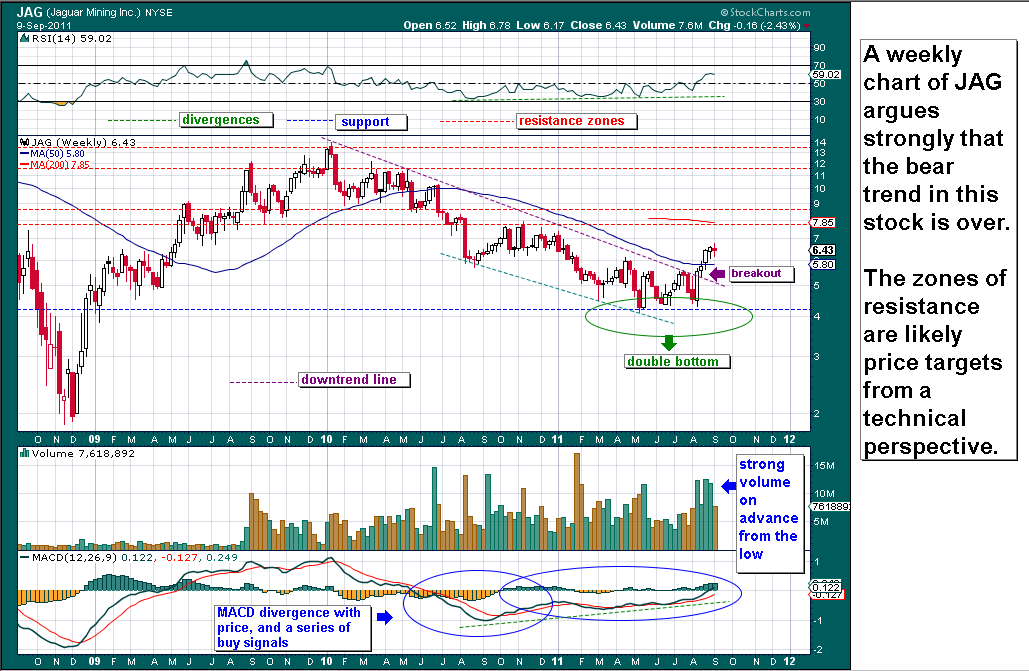 A weekly chart of JAG shows the break of the downtrend line and the resistance zones the stock needs to meet and overcome.
Below is an example of another stock that has managed an operational turnaround after several difficult quarters a while ago.
2. Aurico Gold (NYSE:AUQ)
AUQ has recently announced the takeover of Northgate Minerals (NXG) to form an intermediate gold producer with high near and medium term growth potential. AUQ has previously taken over Capital Gold, another Canadian company that has gold production in Mexico. The NXG acquisition will expand AUQ's activities into Canada and Australia. What makes this takeover interesting is that it could well be the first of many in the sector, as in spite of AUQ paying a significant premium to NXG's prevailing stock price (nearly 50%), it was actually the cheapest takeover in the gold industry since 2004, when Goldcorp bought out Wheaton. This further buttresses our contention that many gold stocks are currently quite cheap.
Before AUQ became a consolidator in the gold mining industry, it had to battle its own bout of operational problems at its flagship mine Ocampo, followed by a temporary cessation of mining activities at its second mine El Cubo after repeated clashes with a militant work force. Below you can see the chart with annotations showing when the operational problems were finally overcome, as well as when the two takeovers were announced: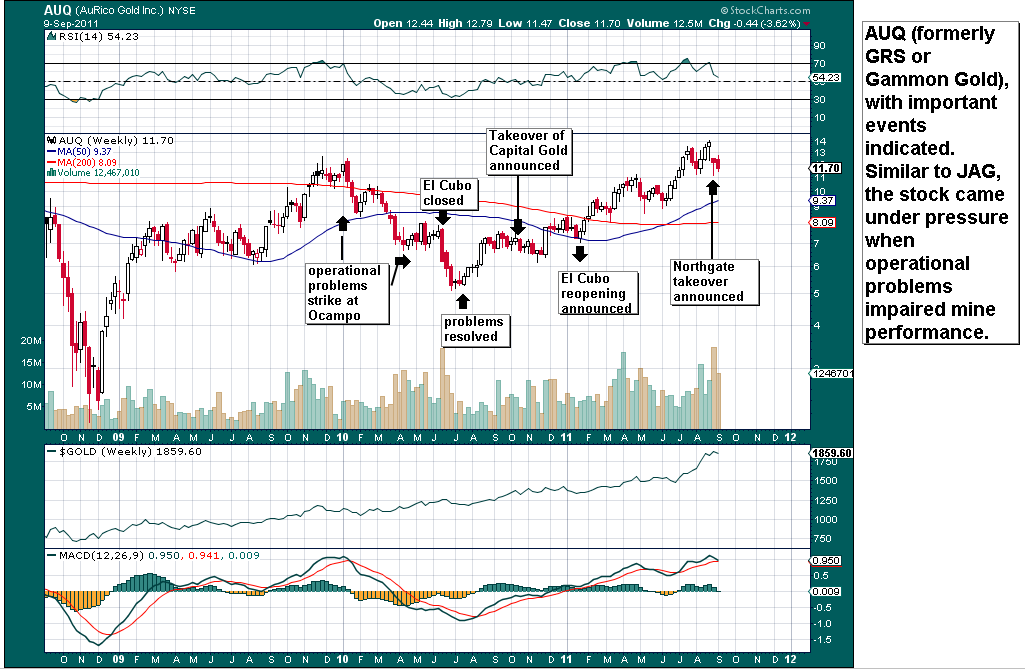 A weekly chart of AUQ. The stock entered a several months long bear market in 2010 when AUQ's flagship mine began to be plagued by operational problems. Since then the tide has evidently turned significantly.
With the takeover of NXG, AUQ will inter alia come into possession of two Australian gold mines. The gold price in Australian dollar terms has happily just broken out to new highs. In addition, at its Mexican operations, silver is a very significant by-product. The company profits greatly from the current high silver price, as silver revenue is credited to its gold production.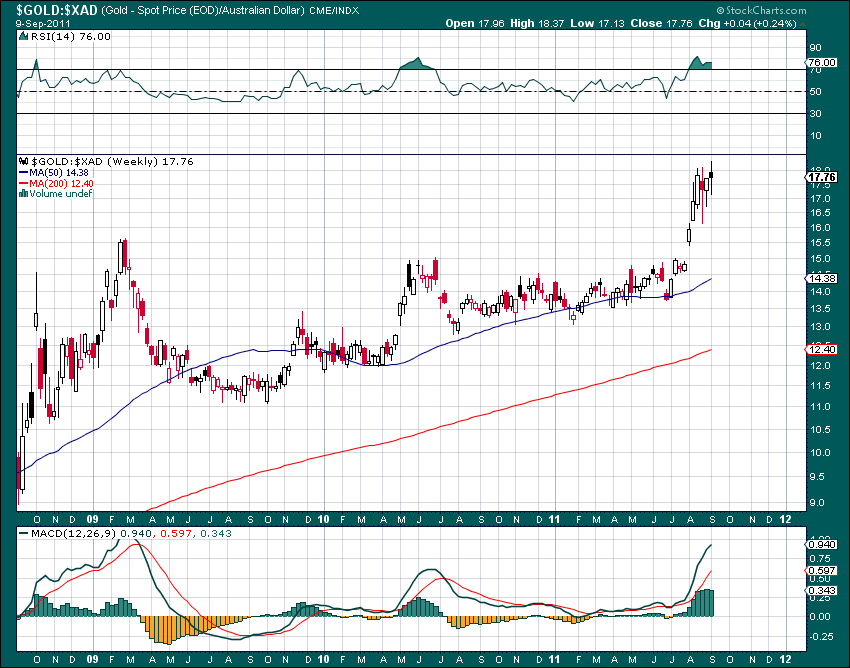 Gold in terms of the Australian dollar has broken out to new all time highs after building a large ascending triangle since the 2009 interim high.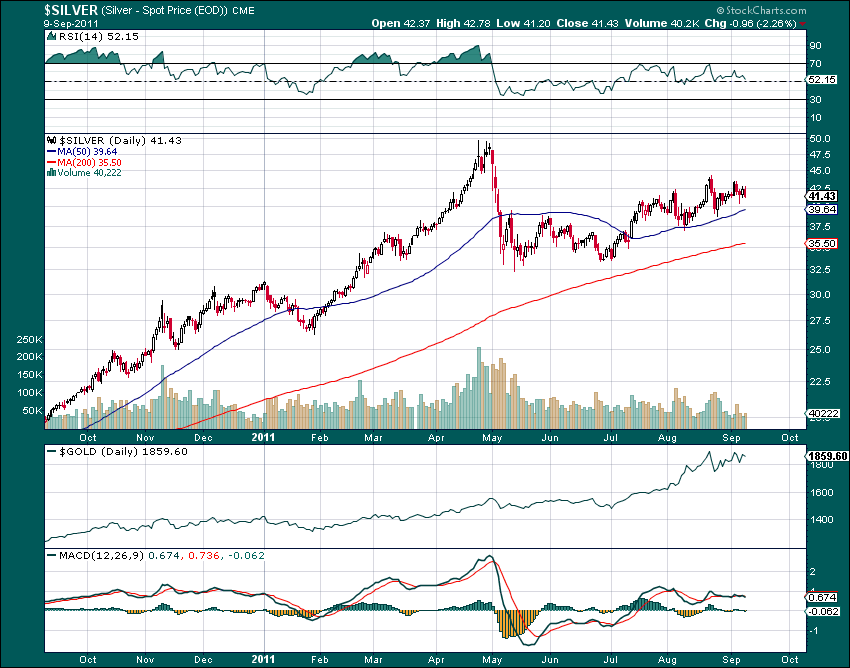 Silver, daily. The silver price has on average remained very high since the 'blow-off top' in late April. Gold mines with large silver credits profit greatly from this fact.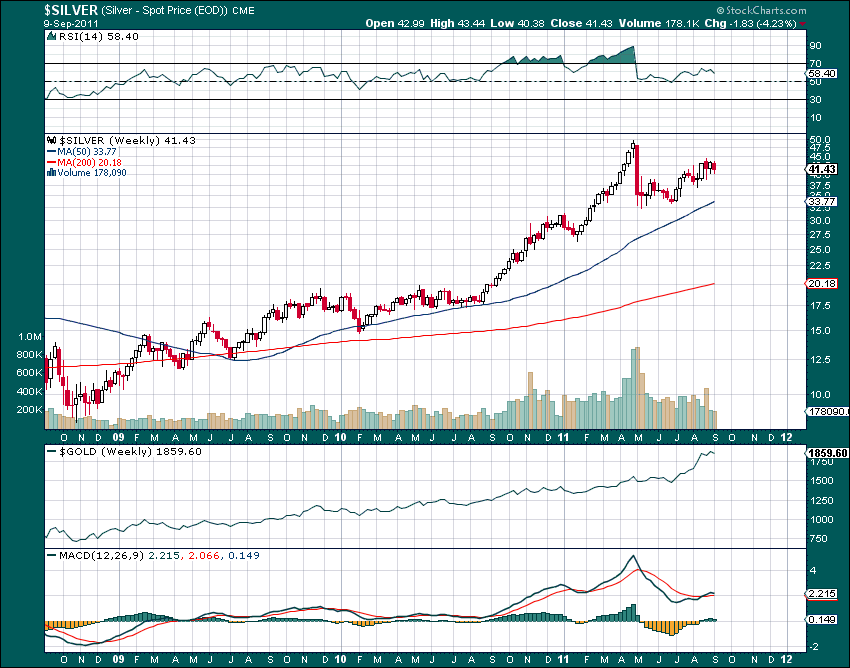 Silver, weekly. The long term uptrend appears intact.
3. Harmony Gold (NYSE:HMY)
We briefly want to also mention South African producer Harmony (HMY), which we have discussed on several previous occasions. It is well known that South Africa's deep level mines are very costly and difficult to operate. This became once again evident when HMY recently delivered a rather so-so quarterly earnings report (note however that the release of this report coincided with wage negotiations with South Africa's militant mineworkers union NUM; reporting great earnings would hardly have been politic).
Nevertheless, the fact that South Africa's producers are 'marginal', i.e. have very high production costs, means that their earnings are extremely leveraged to changes in the Rand gold price. This entails great risk, as there is only a very small cushion in case of a gold price decline. Alas, the Rand gold price has recently also jumped to new all time highs and margins should be much improved as a result.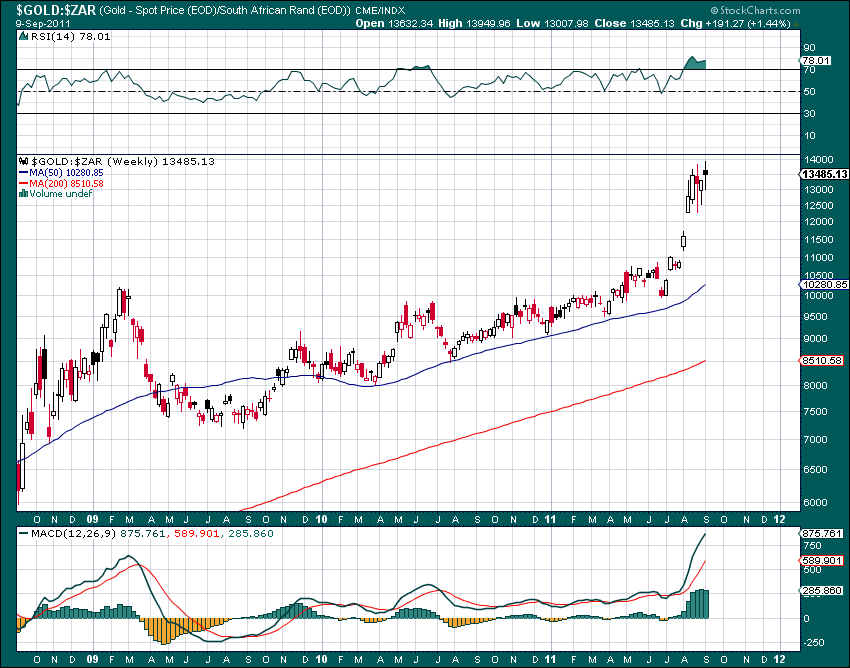 The gold price in terms of the South African Rand has made a very similar move to the Australian dollar denominated gold price. In percentage terms this is an even bigger increase, as the Rand has weakened relative to the Australian dollar. In any case, this is a great boon for SA's marginal gold producers.
Oddly enough, the shares of South Africa's gold producers do also not yet reflect this increase in profit margins. Very likely this is a side effect of recent market turbulence, but there is surely some catching up to do. Meanwhile, the reason why we originally talked about HMY was not its South African 'home base' of marginal mines, but its giant discovery (the 'gold strike of the century') in a 50/50 joint venture with Australia's Newcrest in Papua New Guinea. Over the past quarter the estimated size of the Wafi-Golpu ore body has increased from 40 million gold equivalent ounces to 70 million g/e ounces. That's a lot for just one quarter. The Wafi-Golpu discovery is largely a huge gold-copper porphyry system, albeit one with truly exceptional grades. In fact, it is the highest grade gold-copper porphyry ever discovered in South East Asia. How big it will become when all the exploration work is finished remains to be seen. We mentioned an 80million ounce gold equivalent estimate last quarter and it seems it is well on its way to that number. Maybe it will become even bigger, but already the numbers are staggering. A recent company presentation including the latest updates on the discovery and how it compares to similar ore bodies around the world can be seen here (pdf).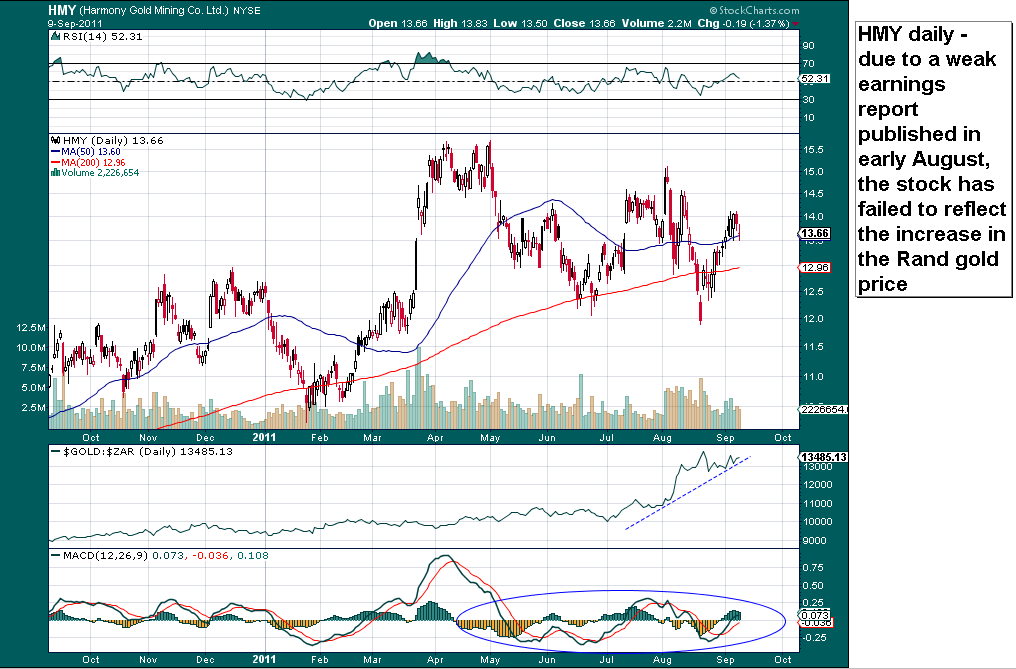 HMY – it's not going anywhere just yet, in spite of a soaring Rand gold price and a significant increase in the gold resource at Wafi-Golpu. We continue to believe that the discovery makes the company a potential takeover target, with the possibility of later spinning off the South African assets into a separate vehicle.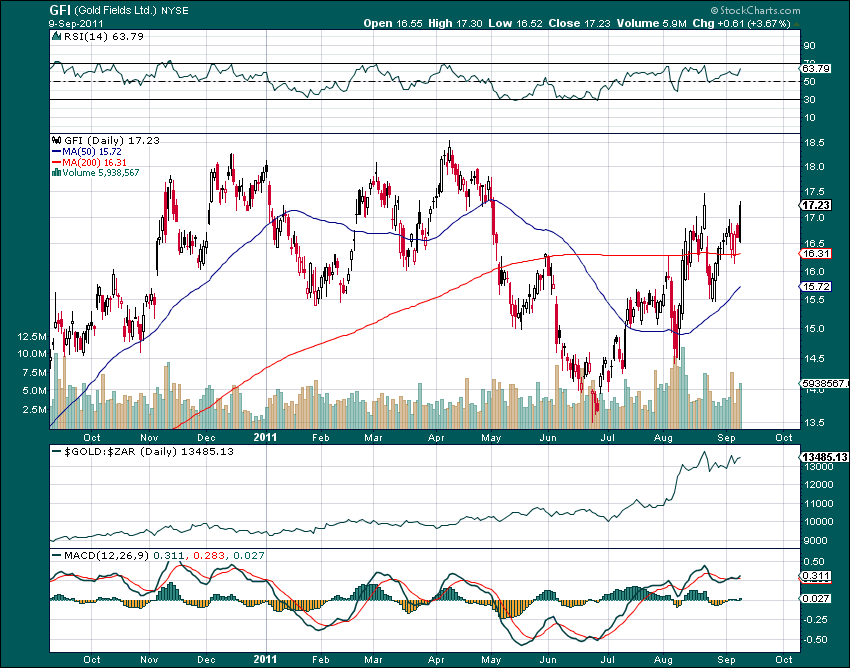 The stock of another South African gold mining firm, Goldfields (NYSE:GFI) has likewise largely ignored the huge move in the Rand gold price thus far.
Lastly, here is a look at the charts of three gold exploration companies we have mentioned in past updates.
4. Keegan Resources
Keegan has two discoveries in Ghana under its belt and is well financed. Details can be found at the company's web site. We think the stock is both fundamentally and technically intriguing. There a significant probability that it will eventually be taken over by one of the large gold mining companies operating in its vicinity. Even if this doesn't happen, it has a lot of cash on the balance sheet, so there should in principle be no obstacle to going it alone if need be.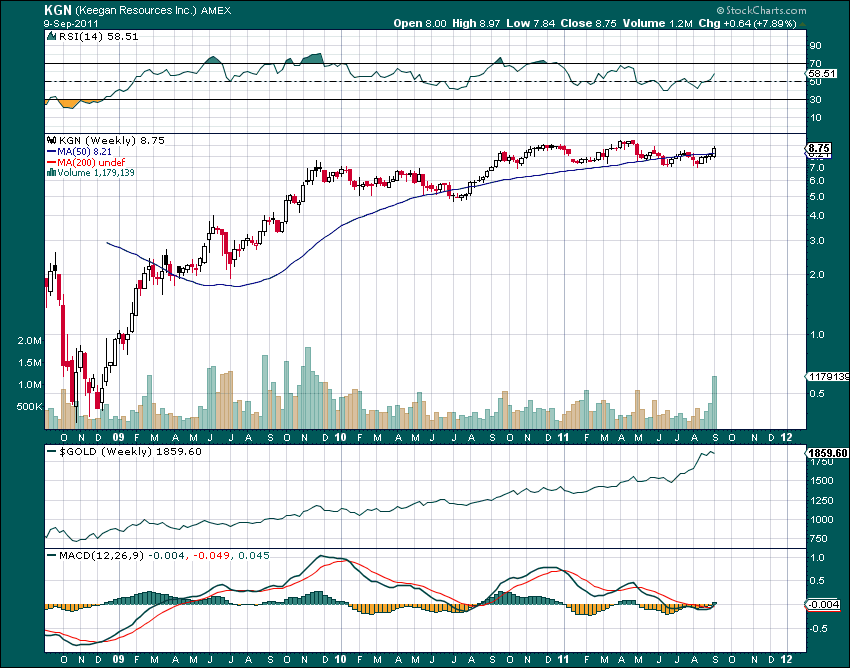 KGN weekly. The stock has been in a sideways consolidation for many months and has recently begun to move up.
5. Midway Gold (NYSEMKT:MDW)
Midway is a stock we have discussed before as well. The company is a small cap explorer with assets in Nevada. The market seems to take the potential of its discoveries seriously, as can be seen by its chart. To this it should be noted that economically viable discoveries in Nevada tend to enjoy a premium. Details on the company's projects can be found at its web site.
Below you can see that this stock has one of the better technical pictures in the exploration sector, which has overall experienced quite uneven performance lately.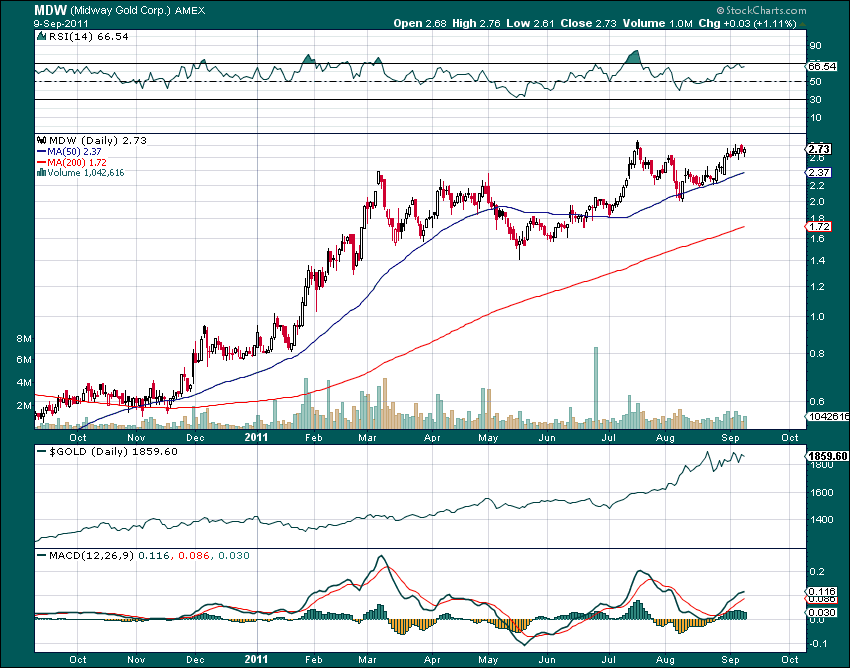 MDW continues to look technically strong.
6. Rubicon Minerals (RBY)
A lot has been written about Rubicon and its F2 discovery in the Red Lake camp (for details, see the company's web site). After delivering a slightly disappointing PEA (preliminary economic assessment) in late June, the stock sold off sharply. It should be noted to this that the PEA was likely very conservative, as the company wanted to ensure full compliance with regulations (initially, regulators declared themselves slightly unhappy with the resource estimate released in November 2010).
Then Agnico Eagle (NYSE:AEM) took a 10% stake in RBY. What's remarkable about this is that it parallels a similar foray AEM made into another Red Lake company after it disclosed a slight disappointing PEA, Gold Eagle. This company was eventually taken over at a hefty premium by Goldcorp.
We're not saying that the same has to necessarily happen in this case, although it would actually make operational and synergistic sense. One thing is clear though, AEM's involvement means that the F2 discovery remains an enticing one. It is all in all an intriguing situation.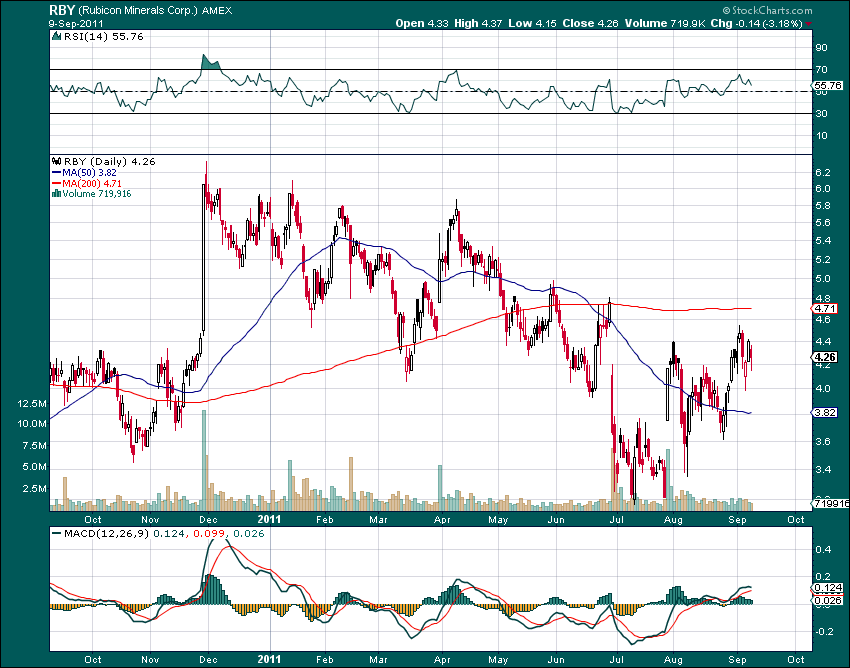 RBY's stock has recovered from its post-PEA sell-off in late June due to AEM acquiring a 10% stake in the company. Technically still in no-man's land, but we don't think there's anything wrong with the fundamental case.