Within an hour of this article hitting the wire, the Sirius XM (NASDAQ:SIRI) peanut gallery will activate its emergency telephone tree. From there, a handful of ardent SIRI permabulls will act, seemingly on instinct, flooding not only this article's comments section, but message boards across the Internet with pleas to ignore Seeking Alpha via, primarily, ad hominem attacks.

Several writers have done excellent jobs, chronicling the unbridled passion and blissfully ignorant emotion of SIRI loyalist longs. Ian Bezek might have done the best job in an article posted on August 11th of this year:
By claiming their losses are due to a phantom conspiracy rather than hard economic facts, a shareholder can shift the blame from their own bad judgment to mysterious outside forces. Don't fall for the trick. Whenever you hear claims that a company is being sunk by naked short selling, the truth is that poor management performance is the probable culprit.
Around the same time, Robert Weinstein's Keep Emotion Out Of Trading made an equally as compelling case.

Of course, the peanut gallery acted on cue in response to both pieces. At the same time, this tortured few appear to have no problem with the hundreds of 5 Stocks That Could Double... before you brush your teeth articles that include SIRI every month. It seems that those works are not part of the vast conspiracy to talk Sirius XM down.

The Sirius XM peanut gallery does deserve credit for taking control of at least a tiny sliver of the spin. If you scour the writings of the permabulls, however, you find very few instances of any of them actually addressing, head-on, the content the bears put forth. Instead, the bullish comments and articles are, most often, littered with generalizations, talking points and assertions that the bears simply have no idea what they're talking about.

Last week, I published an interview with Katz Radio's Mary Beth Garber. Well known in terrestrial radio circles as an unabashed advocate for terrestrial radio, she, undoubtedly, brings bias to the table. No question. That said, she also makes compelling points against both Sirius XM and Pandora (NYSE:P) and in favor of terrestrial.

In the interview, Garber stated the following with regard to Sirius XM when I asked about the impact satellite radio has had on terrestrial:
None. Honestly. It affected the stations in the 14 markets where Howard Stern had a big audience and revenue. But it hasn't affected radio overall ...

At first, XM/Sirius was devastating to the perception of AM/FM Radio. They had fantastic PR and ad campaigns. They convinced people they would replace radio. That was a perception hit that hurt in the agencies and with clients. But here we are 10 years later and Scarborough ratings show that less than 10% of the country uses either XM or Sirius and that virtually no one is interested in getting it in the year to come. They are not serious competition for listening time or advertising dollars.
I decided to check Garber's work a little bit.

First, she's spot on with regards to Stern. She's already correct that, "at first," satellite radio did an excellent job at making people believe terrestrial radio would go away. Today, with terrestrial radio still here - and relatively strong - Sirius/XM does little, if any meaningful advertising to further this false perception.

The Scarborough study Garber referenced covers the August 2009 to September 2010 period. Indeed, it did show that just 9.5% of adults, 18 and older, had reported listening to Sirius or XM in the past week, while 93.3% reported tuning in AM or FM radio. At the time, only 1.2% of respondents indicated they would subscribe to satellite radio over the next year. While a bit outdated, those numbers coincide with more recent data.

In conjunction with Edison Research, Arbitron (NYSE:ARB) conducted a January 2011 telephone survey (landline and mobile) of more than 2,000 people, ages 12 and over. Part of the study asked all members of the sample if they owned or used particular platforms or devices.

The first screenshot from the study displays a poor showing for Sirius XM, relative to terrestrial radio, Pandora and other sources of competition in terms of platform/device use/ownership. The second screenshot confirms the one useful bit of information we can actually take away from the peanut gallery - those who do subscribe to Sirius XM really like it. The third screenshot, however, makes what is probably the most salient point - Sirius XM simply does not have the type of market saturation and/or rapid subscriber growth to translate its modest market share and customer satisfaction into status as anything more than a niche service.

Click images to enlarge

Screenshot #1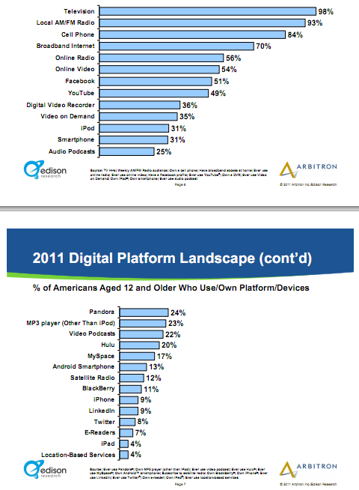 Screenshot #2

The third screenshot shows the percentage who use/own a platform/device multiplied by those who report that they "love" it. Edison/Arbitron refer to the resulting measure as a metric for "passionate users." Above, you see the platforms and devices with the lowest scores on this measure. The following fourth screenshot displays who ranked the highest.

Click to enlarge
It's no surprise that Apple (NASDAQ:
AAPL
), terrestrial radio and, though to a lesser extent, Pandora all score higher than Sirius XM on the "passionate users" metric. Size and scale and word of mouth contribute to this. And, at day's end, irrespective of the peanut gallery's futile roar, a buzz does not exist on the streets about satellite radio, no matter how many car dashboards Mel Karmazin gets Sirius XM into.
And this comes back to the intertwined notions of competition and marketing. Apple has won, is winning and will continue to win the battle for consumers' hearts and minds. Profitable or not, Pandora can ride a wave that it is the hip and cool thing, even with minimal marketing. Both Apple and Pandora report massive growth quarter after quarter, year after year (Pandora's growth pace was torrid even prior to the IPO). By comparison, Sirius XM's growth is weak, no matter how you slice it.
Consider revenue. Sirius XM's quarterly revenue
increased
by just 6.4% between Q2 2010 and Q2 2011. Pandora's quarterly revenue
jumped
by 117.2% over the same period. Apple's total net sales
rose
82% between its 2010 and 2011 Q2s. Between Q2 2010 and Q2 2011, Netflix (NASDAQ:
NFLX
)
saw
its revenue pop by 51.7%. Even Research in Motion (RIMM), a company in the midst of nothing short of a collapse, reported a 16% increase in year-over-year revenue in
its last earnings release
.
Part of the booming audio entertainment space (and it could be a bigger part of
the online/mobile sub-space
with a zestier effort), Sirius XM reaps small relative rewards of membership.
Of course, I've made what some may call apple and oranges comparisons. I accept that, however, several key points apply:
Despite what the Sirius XM peanut gallery wants you to believe, the company is not outperforming the stock. The stock is doing exactly what a stock should do when the company grows revenues at a modest 6.4% clip, particularly when several of its competitors would be punished even worse for such a paltry number.
The type of growth you see from Sirius XM is actually terrestrial radio growth. For example, Clear Channel's (CCMO.PK) radio division grew revenues by 4.3% between Q2 2010 and Q2 2011.
Not since Howard Stern signed on for the first time and subsequently re-signed has Sirius XM generated any type of notable, mainstream buzz. It must. Maybe when the company finally gets around to releasing Satellite Radio 2.0, this will happen. Or maybe it will receive a marketing infusion through some sort of M&A activity. At this point, these possibilities represent little more than the same old hopes and dreams.
Sirius XM is at a crossroads. The company needs to decide if it wants to grow like a terrestrial radio company OR if it wants to market its product in an effort to grow like the tech/Internet/new media companies it competes with. Because, right now, from a growth standpoint, these companies snack on satellite radio's lunch. Yet, Sirius XM refuses to sit at the table with Apple and Pandora, opting instead to fall behind a resurgent Clear Channel from a marketing and innovation standpoint.
As I noted in a previous article, I don't think it makes sense for most investors with modest means to short SIRI or even bet against it via options:
But, really, unless you can trade serious size or have considerable account equity and a ferocious appetite for risk, I am not sure shorting SIRI makes sense.

I ran though pretty much every put option out there on SIRI. And, in each case, the downward move you would need to turn a profit worth your time on a modest number of contracts would take the stock well below $1.50 and probably close to the $1.00 level. That's a tall order.

Unless you can trade several hundred $2.50 puts heading out to January or March, I'm not sure it's worth it. And the risk involved in selling $2.50 calls (which looks like an attractive play), for instance, is just too great for mere mortals to swallow. If a tender offer comes in for SIRI tomorrow at $4.50, you're finished.

By the same token, an outright short on the stock requires some meaningful size as well. If SIRI tanks to $1.50 and I am short 1,000 shares at $1.90, I earned myself a whopping $400. It's not worth the risk.
That said, when I wrote the above-referenced article, SIRI notched an intraday high of $1.95. That marked the top of a dead cat bounce after it plunged below $2.00 once and for all. SIRI closed Friday's session at $1.72. Unless the company can deliver meaningful revenue and EPS growth - I doubt it will, in fact, one or both numbers will likely trend flat or lower - the current move toward $1.50 could quickly turn into a move toward $1.00, making the stock a compelling short even for the retail investor.

Disclosure: No positions.