Mattel, Inc. (NASDAQ:MAT) is the toy manufacturer best known for its timeless line of Barbie fashion dolls. In addition to having a powerful grip on the young girls market, this iconic brand also produces Hot Wheels, Tyco R/C vehicles, Batman products, puzzles, Dora the Explorer toys, Disney Classics, and much more. Over approximately the last 23 months, the stock price has gone up 45%, much higher than its competitors and the market overall.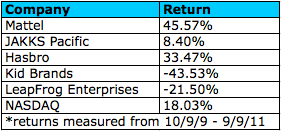 The company is also cheap, trading at 13.5x past earnings with a forward P/E of 11. Consensus targets peg the company's intrinsic value at around $32, a 22.5% margin of safety. What attracts me so much to this stock is its favorable asymmetric risk. While there is tremendous upside for investing in this iconic brand, the only immediately obvious downside is just ending up with an income stock - not too bad an outcome. The dividend yield is currently at 3.52%, and its 5-year dividend growth is around 30%. It has paid out dividends for more than 2 decades.
Going forward, I see the company having decent revenue growth for its size--increasing sales about 6.3% to $6.2B from 2010 to 2011 and 3.1% more from 2011 to 2012. The toy maker is also successfully trimming costs--approximately $240M alone over the last 2 years and a goal for $150M more over the following 2 years. Whereas I forecast COGS increasing about 4.5% to $3,031 million from 2010 to 2011, my model indicates only a 2% increase in COGS the following year. Gross margin is on a steady increase as Mattel increases its market share. Much of this intrinsic value is not being properly accounted for in the market.
Mattel also tends to bring in much more business during the second half of the year. Accordingly, while free cash flow for the first half was around -$330M, I expect that number to increase to around $1.1B by the end of the next six months of the year.
With this leading income stock selling cheap, I also see its highest potential as a buyout target. Toys "R" Us, for example, was taken private in 2005 by KKR, Bain Capital, and Vornado Reality Trust, following a failed offer by Cerberus Capital. Mattel also has a very sustainable business with exceptional management and could be potentially made even more valuable as a private company. By the end of the fiscal year, they do have a large amount of cash to pay off any leverage and to expand.
In conclusion, I recommend Mattel both as a stock for retirement and for growth. It reminds me of Warren Buffett's recommendation to invest in great companies at great prices--value and growth. With its upside potential and margin of safety, its dividend yield and great management, this is one toy company to consider buying.
Disclosure: I have no positions in any stocks mentioned, and no plans to initiate any positions within the next 72 hours.