You don't need all superstars when constructing a stock portfolio or a fantasy football team. Steadily reliable performers are the surest ways to build real wealth and real passive income. We've espoused the virtues of dividend investing at length elsewhere, but suffice it to say, the ability of companies to consistently grow dividends over time is really what matters and these two companies fit the bill. Investing for yield is not enough. Two sound draft picks for the stock portfolio are US telecommunications giant CenturyLink (NYSE:CTL) and Canadian communications/media company Rogers Communications (NYSE:RCI).
CenturyLink (CTL)
CenturyLink is the third largest US telecommunications company and provides a range of communications services (e.g. Internet, voice, data, etc) to customers in 37 states throughout the South, Midwest, and West. The company acquired Embarq in 2009 and, more recently, Qwest, which doubled access line subscribers to 15.1 million. CenturyLink has grown from a rural wireline carrier into a steady dividend payer.
The share price of CenturyLink recently traded at the low end of its 52-week range. The ratio of price to cash flow is only 4.1, which is below a five-year average of 4.2 to 5.2. Operating cash flow in the recently completed quarter increased more than 100 percent as a result of the Qwest acquisition on April 1. CenturyLink increased its dividend substantially in mid-2008 and February 2010. Furthermore, the company has wide institutional ownership including several large hedge funds, nearly all of which have increased their stakes in Q2 2011.
(Click charts to expand)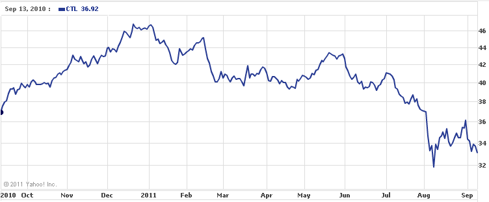 CenturyLink completed acquisition of Savvis on July 15, which moves the company into managed hosting and collocation services. This is a growth area for telecom as more businesses find cost and utility benefits from cloud-based computing and virtual environments.
CenturyLink bundles services in an effort to stem losses of fixed access line subscribers. The wireline industry has a stabilized 7 to 8 percent annual decline in users but high-speed Internet lines continue to increase. CenturyLink is transitioning into a broadband data provider by deploying the cash generated from large wireline acquisitions. The company has a history of successfully integrating network traffic and billing in order to realize cost savings. With 54 percent of free cash flow used for dividend payments in the first half of 2011, CenturyLink is positioning itself to grow its company and its dividend, which currently yields
8.7693%, for years to come.

Rogers Communications (RCI)
Rogers Communications was established in 1920 and has grown its Canadian operations to include 55 radio stations, a television network, and multiple cable television channels. The Media division also publishes magazines, journals, and directories. Rogers owns the Blue Jays MLB franchise, the Rogers Centre sports and entertainment venue, and other media distribution systems.
The Cable segment provides cable television and high-speed Internet access to approximately 1.7 million subscribers. Cable telephone services are delivered to around one million residences. About 400 retail stores sell digital equipment along with cable services, digital discs, and video games. The Wireless division of Rogers provides mobile communications and a radio service network.
The most recently declared quarterly dividend of $0.355 translates to an 3.8% dividend yield, which is not a super-juicy 8%, but is stable and growing and should continue to do so for years. This company also counts some large hedge funds among its investors including Marathon, GMO and Chilton.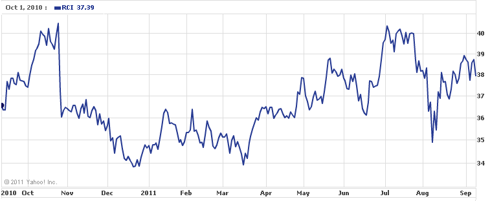 Cost reductions and efficiency initiatives for Cable plus increased advertising sales at Media provided expanding profit margins in these divisions. That offset profit margin pressures from Wireless in the most recent quarter.
Market penetration for wireless services is high in developed countries. The competitive environment continues exerting pressure on customer retention and revenue per user. With average revenue per user of Rogers voice services declining, data services becomes increasingly important. The downside to record smartphone sales is rising equipment costs for networks to carry the data traffic. Rogers is pushing to bring superior networks online over the next several months. While meeting these costs, management maintained its commitment to rewarding investors with a strong dividend.
These two dividend payers offer investors very compelling yields, but more importantly, they offer dividends that are stable and growing and can be counted on for years to come.
Disclosure:
I have no positions in any stocks mentioned, but may initiate a long position in
CTL
,
RCI
over the next 72 hours.