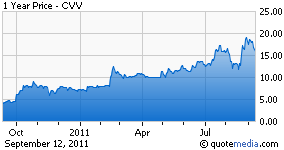 Having followed the development of graphene over the course of the last year across multiple technology websites, stock websites and most recently Bloomberg, I strongly believe this one-atom thick material is the future of multiple facets of differing industries. As Seeking Alpha contributor Marvin Clark highlights in his piece, "A Pure-Play On Game-Changing Graphene," New York based CVD Equipment Corp. (NASDAQ:CVV) is the best way to play this developing technology. Not only do I agree with Mr. Clark, but also think there's more to say.
Silicon may be at the heart of our modern economy, and it may well be that graphene will not begin to take any sort of sizeable market share for a decade if not more, so why invest in a company like CVV? Well, for two reasons:
One, CVV's graphene chips are backlogged beyond anything the company expected. Two, I believe the stock is extremely undervalued, in spite of its compelling run-up over one- and three-year periods. Extremely positive company news and more specifically news about graphene has been overshadowed by macro news leading to large, unjustified sell-offs of this fast-growing micro cap.
As Mr. Clark highlighted in his piece from CVV's most recent press release,
"Backlog as of June 30, 2011 was $22,208,000. This record backlog is an increase of 376.2% from the backlog of $4,664,000, reported for June 30, 2010. In addition, the backlog has increased 123.3% from the backlog total of $9,944,000 that we reported for December 31, 2010. During the six months ended June 30, 2011, we received approximately $24,700,000 in new orders. Timing for completion of the backlog varies depending on the product mix and can be as long as two years."
There is simply an enormous demand for a product with extremely limited supply. Though large companies and the various branches of government are experimenting with the new metal, they need to purchase product from someone and today there are not nearly enough companies to fill this demand. So even in this "pre-development" stage of this emerging technology, CVV has the backlog, demand, and demonstrated a hold on a niche that is heavily under supplied. Aside from the growing number of research universities and research companies (Rensselaer Polytechnic Institute, University of Illinois, IBM, DARPA) who need massive amounts of graphene to experiment with, solar companies use large amounts of graphene to coat their panels. Thus, CVV has customers who have already integrated its product into theirs, as well as a growing list of companies adding supply for new products. Finally, on September 7th, CVV announced a doubling of capacity at its Long Island manufacturing plant in effort to catch up with and continue to expand to meet demand.
CVD Equipment is up 446% since 2009 and 135.42% YTD, but the run is far from over for this stock. Even with the stock up 48% over the last three months, large dramatic swings negative when the broader market is down allow entry points for any investor looking to buy and hold, as well continue to add during heavy dips. These huge run ups and then short period retreats allow for entries, profit taking, and adding to overall position. The percentages may seem huge, but the future of this technology cannot be underestimated. Engadget has the following articles on graphene and its expanding list of industry uses.
CVD Equipment news goes unnoticed in the face of the overall market turmoil though it's future and its product's future is extremely bright. Trading at 44.25 times future earnings, the company is historically at the lower end of its P/E ratio (12x-125x). Finally, the news surrounding CVD Equipment has been nothing but positive, as well the news surrounding its main product, graphene (self-cooling, oil well exploration, and super conductivity). Mr. Clark's piece was spot on, the future of this product and this company is the type of technological change that will outperform macro currents for a very long time. I urge any investor to do their due diligence on the company, the product, and the news surrounding both.
Disclosure: I am long CVV.