Master Limited Partnerships have an outstanding record of growth. At the end of 1995 the Alerian MLP Index began with a value of 100 and has grown to 350. More importantly, the comparable index with reinvested income has risen to 1030. It's difficult to find any stock that can match that record. In addition, a large majority of investment income is not taxed in the current year -- a desirable feature, but it comes with tax hassle. MLP investors accept that burden if an outside preparer does the taxes, or they do their own tax prep with a helpful tax software. But there is another way to invest in MLPs without any tax hassle.

Enbridge Energy Pipeline and Kinder Morgan are 2 of the largest MLPs with excellent records of growth. Each has a second class of securities that supplement the units in the partnership. A share of the management company is backed by one unit of the partnership. Share prices track the unit prices, and distributions are paid to shareholders in additional shares, based on the amount of the cash distributions. These stock dividends mean 1099 forms are not issued. Shares of stock are welcome in a retirement account, unlike units in a partnership, which could create tax issues.
Enbridge Energy Pipeline:
* Enbrdige Energy Partners (NYSE:EEP) - units
* Enbridge Energy Management (NYSE:EEQ) - shares

Kinder Morgan:
* Kinder Morgan Energy Partners (NYSE:KMP) - units
* Kinder Morgan Management (NYSE:KMR) - shares

The 2 corporations yield over 7.5% based on the Q3 distributions paid to partnership units. 10 years of stock dividends will more than double the shares, helped by compounding effects. Distribution increases are ignored, even though both companies have an excellent record of raising distributions, as shown below. EEP has been more cautious about raising distributions; annual distributions rose from $1.85 in 2007 to $2.13 currently. KMP has been more aggressive; its annual distribution have more than doubled in the last 10 years.
Enbridge Energy distributions: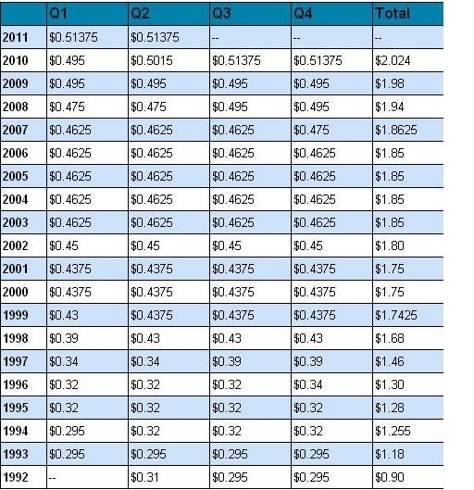 Click to enlarge

Kinder Morgan distributions: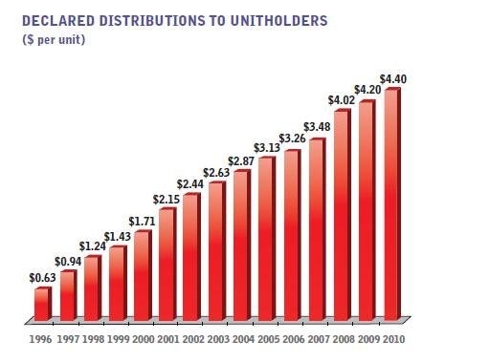 Click to enlarge

While the growth of distributions is impressive, the underlying strength of the businesses is the ultimate considerations for investment. Both have excellent records.
Enbridge Energy delivers crude oil, liquid natural gas and operating natural gas to midstream businesses in the middle and Gulf Coast regions of the US. The liquids segment has the longest petroleum pipeline for crude oil and natural gas liquids in the world, from western Canada to refining centers in the Midwest and Ontario, Canada. Canada is the #1 source of foreign oil for the US, and EEP accounts for about 65% of that volume. The natural gas segment pipelines transmit and process natural gas in Oklahoma and Texas. Expansion will be in the North Dakota pipeline capacity for liquids (petroleum) and natural gas. EEP has a target annual growth rate for any distributions of 2%-5%.
Enbridge Inc. (NYSE:ENB), a large Canadian leader in North American energy transportation, is the general partner (business manager) for EEP.
Kinder Morgan is one of the largest pipeline transportation and energy storage companies in North America, with more than 37,000 miles of pipelines and 180 terminals. The pipelines transport natural gas, refined petroleum products, crude oil and carbon dioxide. KMP also stores gasoline, jet fuel, ethanol, coal, petroleum coke and steel at its terminals. In the last 4 years KMP invested more than $22 billion in expansion projects and acquisitions. Management is guiding that additional capital projects will bring record distributions of $4.60 in 2011 (the Q3 rate).
The math seems simple. If an investor likes the businesses of these MLPs and does not need current income, the original number of shares should more than double in ten years, and distribution increases should add to investment gains.
Disclosure: I have no positions in any stocks mentioned, and no plans to initiate any positions within the next 72 hours.